Last updated on January 2nd, 2020 at 03:39 pm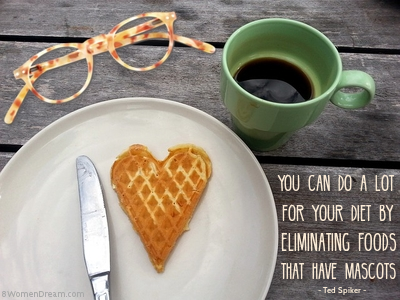 This week on my dream journey to change my bad eating habits, I've thought about how I have worn prescription glasses since I was a toddler because I have very poor eyesight. I am so poor-sighted that if I don't put my glasses in the same spot every night when I turn off my bedside lamp, I run the risk of not being able to find my glasses in the morning.
It's one of the main reasons I'm married, so I have a friend to help me hunt for my spectacles.
I also tend to misread things often.
On a recent road trip to Iowa where all directions are giving in a "drive five miles north, then two miles east" sort of way, I experienced a new form of visual sabotage.
Driving a brand new rental with only 56 miles on it, I watched the gauge go to 57, then 58, and a few moments later, I down glanced at the mileage gauge only to see it had dropped suddenly to 55. How was that possible? (My first Three Stooges thought: was I driving in a circle?) It made perfect sense after I realized I was looking at the outside temperature gauge.
You can imagine, with my eyes, and level of intelligence, misreading the bathroom scale is common.
Having dieted most of my life, I knew that if I did everything right and followed all my nutritionist's instructions, around week three of my dream to get healthy once and for all, I'd hit a weight loss wall. Because I'm a genius at dieting, I assured myself that if I just stuck to the plan, my weight loss would resume — probably by the next weigh-in.
Sure enough, there was the two-pound weight gain and we tsk'd-tsk'd and nodded at each other because my Bossy Nutritionist and I both knew it was nothing to worry about.
Until it happened the next week again.
Weight gain — or as I like to think of it — an unexpected reverse weight loss — is common during dieting efforts. Part of it is your body adjusting to actually receiving balanced nutrition. It just doesn't know what to do. Your body may be so accustomed to conserving fat to fuel you on days when you only eat mints and drink light beer; it refuses to burn fat. I find that when this is going on in my body, my body demands an afternoon nap. Only I never remember this warning sign from diet to diet. (I told you, I'm a Dieting Genius!)
This kind of weight gain is not to be confused with wolfing down a big bag of barbecue potato chips when no one sees you followed by an egg-white omelet for dinner and wondering what happened.
Losing weight is simple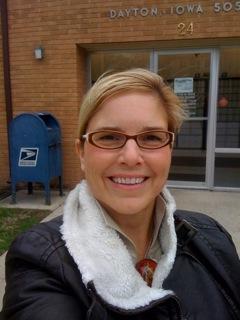 You eat nutritious food and move your body to burn calories. If you burn more than you eat, you lose weight. But this equation doesn't honor the five-year-old-at-the-cocktail-party-you inside your head encouraging bouts of magical eating like finishing off a jar of peanut butter with your finger, and thinking because you didn't use utensils, it won't count. OR, eating a box or bag of anything, wrapping the wrapping in several bags until no one looking in your garbage would know what's in there and thinking that will make it not count.
I've concluded that for me, the internal child's voice and thoughts are there because I'm a little bit scared to take control of my weight — despite it being an easy and straightforward thing to do.
Lately, I've had many more adult days in my efforts, and I've lost about 13lbs. When visions of caramel corn for breakfast dance in my head, I tell myself that's just fear rearing its ugly head. Sure, fear dressed in caramel is pretty irresistible — unless you've finally reached the point where despite personal dieting myopia, you finally can see what you're doing and why.
I may still need help finding my eyeglasses, but I don't need anyone to remind me what to eat, when, or why. I know I can eat nutritious food, feel good, lose a little weight, increase all of my health metrics, and get on with my damned life.
Thanks to my nutritionist, the numbers on my bathroom scale may go up or down, but overall, I'm on the right dream path to healthier habits.
Rayne Wolfe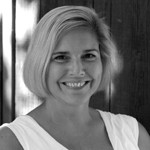 Rayne Wolfe is a freelance writer, and a former New York Times, Seattle Times, San Francisco Chronicle, and Sonoma Media, journalist. Her first book, Toxic Mom Toolkit: Discovering a Happy Life Despite Toxic Parenting (CreateSpace) was released in December 2013 and is available on Amazon. Rayne's non-fiction work is published in the Chicken Soup for the Soul series and Glamour Magazine.
Note: Articles by Rayne may contain affiliate links and may be compensated if you make a purchase after clicking on an affiliate link.