Last updated on April 2nd, 2012 at 11:49 am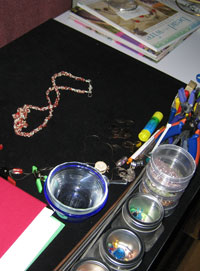 If you're like me and you are managing your dream of multiple small businesses, you'll soon find that it is essential that you keep your projects well organized.
I have a tendency to work on my jewelry business all throughout my home to make it easier to work on pieces when I am in a certain room. This is a great way to get jewelry projects finished, and spend time with my family, but it can get a bit cluttered after a while. I soon have papers, beads, books and jewelry stacked all over the place, thus losing track of where I am on any given project.
It begins to feel like out-of-control creative chaos.
It's at this point that I have to stop and get re-organized. I have a designated place for my jewelry work, complete with drawers, tools and lighting. I have found that if I place my jewelry in progress within some soft cloth bags, then I know that these bags contain pieces that I need to finish along with the beads to finish them. It's a way to contain my creative chaos.
While organizing a piece I am working on, I realized that I could use your help. I have a new piece (on my work table here – red and white with silver wire) that kind of came out of nowhere and would love feedback on your ideas for naming it.
I've been using synonyms of the color/elements used and variations on "dreaming" to name my other items. Got ideas on what the name should be? Please add your comment to share.
Last but not least, the excitement of getting to know our newest dreamers on 8 Women Dream, and hearing about their journey is a great inspiration. Welcome ladies and thanks for sharing!
How do you contain your creative chaos?
Here's to your sparkling dream kind of week –
~ Heather

Heather's dream is to have multiple streams of income, starting with launching an e-commerce website that showcases her one-of-a-kind designer jewelry, which are crafted by her. Her newly launched sites are couture jewelry available through For Your Adornment, For Your Adornment on Etsy.com, and Twitter background designs on Twitter And Beyond Dot Com. She also teaches Social Media tactics for business, besides being CEO of her own web design company. Heather's post day is Thursday.

Heather Montgomery is a fitness writer, triathlete, and serial entrepreneur who is devoted to sharing what she has learned about becoming a triathlete after age 40. She uses her Metabolic Training Certification to help other women struggling to get fit in mid-life. She lives and trains in Santa Rosa, California, the new home of the Ironman triathlon. You can find her biking the Sonoma County wine trails.
Note: Articles by Heather may contain affiliate links and will be compensated if you make a purchase after clicking on an affiliate link.