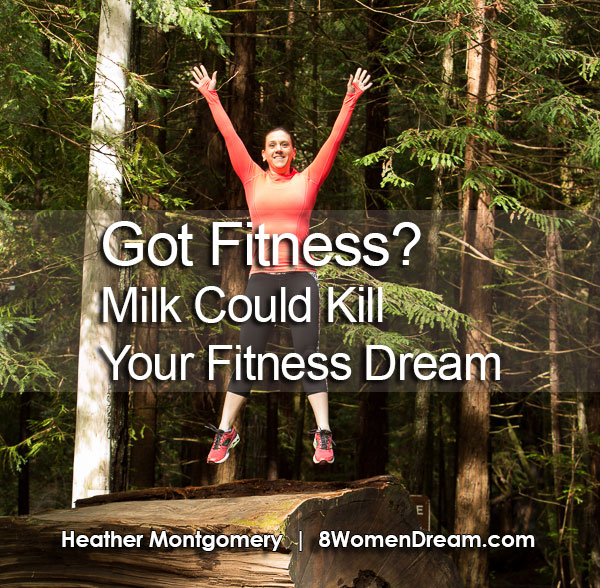 Americans grew up with dairy milk in our homes and typically on our tables for one or more meals a day. But are the choices we make to continue using milk in our diets today the best option? Especially if our goals include gaining fitness and health.
The advertising campaigns around milk are epic. Milk does a body good. Got Milk. Or the brand new campaign "Milk Life", focusing on the power of protein.
I had a close personal relationship with milk.
I am not lactose intolerant. Honestly, it would make some of my food craving so much easier. Melted cheese, and creamy ice cream would be permanently off the menu. I was a fan of milk over cereal, with dessert, and in some cases poured over dessert if it was my favorite type of cake.
That said, I have not had a glass of milk in over a year.
My concerns with milk actually stem from what is usually consumed with milk.
I call this the milk and carbohydrate trap.
Walk down the center isles in most grocery stores and you will find at least 2 that are dedicated to the use of milk. Cereal, cookies, cakes.
Most of these milk related products have one thing in common: tons of low quality carbohydrate and sugar.
When I started my weight loss journey, I relied on that exact combination a couple times a day for almost a month: cereal and 2% milk.
That short period of time was about 2 years ago and since that time I relied less and less on cereal and milk, and processed foods in general.
Just because it's a breakfast tradition does not mean milk is good for you.
It all started out with the best of intentions. Cereal came into existence as a health food. The goal was to try and solve the deficiencies in the diet around 1886. It stayed pretty healthy for a while, until the first sweetened cereal was introduced in 1939. There are some fascinating twists to the story and you can read more here at PBS.org, "What's for Breakfast? Discover the History of Cereal"
Although as an online marketer, I have to appreciate a great bit of advertising when I see it.
With all the healthier options for calcium available to us, why do we still drink milk?
The discussions continue on bone density and bone health. In the past, this was one of the the main reason to consume milk.
While the jury is still out on the impact of milk consumption benefiting osteoporosis, there are so many other lifestyle choices we can make. Choices that will not only improve health, but limit the effect of osteoporosis for our future.
I loved seeing that top lifestyle factor on this Harvard study that notes exercise as the primary factor to bone health.
Preventing osteoporosis depends on two things: making the strongest, densest bones possible during the first 30 years of life and limiting the amount of bone loss in adulthood.

There are a number of lifestyle factors that can help with the latter:

Getting regular exercise, especially weight-bearing and muscle strengthening exercise.
Getting adequate vitamin D, whether through diet, exposure to sunshine, or supplements.
Consuming enough calcium to reduce the amount the body has to borrow from bone.
Consuming adequate vitamin K, found in green, leafy vegetables.
Not getting too much preformed vitamin A.

Source: Harvard School of Public Health, "Calcium and Milk: What's Best for Your Bones and Health?"
Ask your body. Milk or no milk?
My body is fairly tolerant of milk, or I am tolerant of what I've noticed milk does to me over the years. I tend to get phlegm. That's a gross word, but there's no other way to describe it.
I had to ask my Facebook peeps what they were up to. In my super scientific poll, most are still drinking milk in some shape or form, even if they don't drink it every day. Any health related question is a great way to get opinions.

Will quitting milk make you feel better?
That is the real test. Try going without milk for a couple weeks. Ideally cut out the milk enablers too (a.k.a. cereal, cookies, etc.).
Listening to our bodies is not something I was taught growing up. It is something I had to learn for myself, and am still getting better at. Everyday is still a challenge to make food choices that support my health and fitness goals.
My current favorite milk alternatives? Unsweetened Almond or Coconut milk.
Want an alternative breakfast idea? This is my favorite protein shake recipe so far:
1-2 cups Unsweetened Coconut milk
1 scoop of plain or vanilla protein powder
1/2 banana
1 cup crushed ice
Blend it all together and enjoy an island treat to start your day!
Comment please! Why do you love milk? Why do you hate it? Have you switched to milk alternatives like soy, rice, almond or coconut?
Go get your fit on – Heather

Heather Montgomery is a fitness writer, triathlete, and serial entrepreneur who is devoted to sharing what she has learned about becoming a triathlete after age 40. She uses her Metabolic Training Certification to help other women struggling to get fit in mid-life. She lives and trains in Santa Rosa, California, the new home of the Ironman triathlon. You can find her biking the Sonoma County wine trails.
Note: Articles by Heather may contain affiliate links and will be compensated if you make a purchase after clicking on an affiliate link.