Dreaming of a zombie apocalypse is not something most would look forward to.
Most mothers would love to have a bouquet of flowers or breakfast in bed for Mothers Day. This fitness dreamer wanted to get covered in mud and run like a crazy person through a 5k obstacle course with my son while being chased by zombies. Come on, doesn't that sound fun?
The day was already warm when my husband, son and I started the trek a few hours away for a day I had been looking forward to for almost a year. I ran across the zombie run event "Run for your Lives" by accident and immediately knew I had to find a way to participate. At the time, the closest event was in Southern California. I had made a mental note to keep an eye on when they came to town.
It took a while for the "Run for your Lives" team to find their way north, but I was on it as soon as they posted the event!
My son Jake had some out to see my triathlon and was totally in for an afternoon to being chased by zombies. I was excited to have the chance to race with him before he heads off to college and starting his own life.
Race day tip: Check the weather.
My regular routine for race day was altered slightly by the purpose of the event – surviving the zombie attack while running over dusty trails and muddy pits. If I had done a quick weather check, the clothes I was racing in, and the clothes I had brought to change into, would have been much lighter.
Plus, I would have remembered the sunscreen.
Like most racing events, I find that everyone is willing to help. A few borrowed spritzes of sunscreen and I saved my face from scorching.
We spotted zombies as soon as we headed to check in for the race. The enthusiastic zombie hoard ranged from benign bloody outfits to all out costumes that in the almost 100 degree heat, had to be toasty.
When preparing for the zombie attack, always have a plan.
The zombie race works like flag football. You put on a belt with 3 "health" flags that the zombies have to steal from you. In essence once you lose all your flags, you're dead. The good news is you can still finish the race, even if you lose all your flags.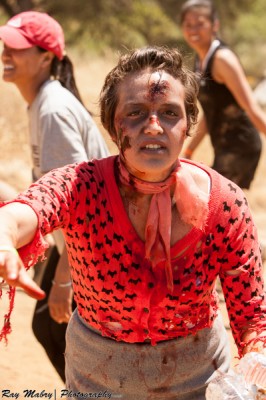 Jake and I are in shape enough we had the grand plan to run the course. Our goal was to reach the end of the race with at least one health flag, booking past the zombies and surviving to the end. Seemed like a perfect idea at the time!
Waiting for our race wave time, we watched the last part of the race course and started to notice a trend. There were very few racers making it to the end with any of their flags. Most of the people crossing the last trial before the finish line had no flags left. I started to think this may be harder than I considered.
It was time for our start so we lined up before being let out into the attacking hoards. The start line was obscured by fog and the race began.
The race was held on a motocross course and only a few feet in teh inches of dry dust were airborne. I immediately regretted not carrying my water bottle as I avoided pits and uneven surfaces that would happily twist my ankle. I briefly glanced Jake as he took off into the leaders and got ready for the first zombies.
Lets just say the first group of zombies were tricky.
Little girls are still totally cute, even with zombie theatrical makeup on, until they team up and grab your flags before you can even try and outrun them. Obstacles started as walls that you had to crouch to get under and other walls you had to jump up to and clamber over.
Did I mention there were zombies surrounding me while attempting these feats?
A few turns down the course and I spotted Jake off to the side waiting for me. Good thing he waited since we noticed a strategy that the groups were using. Fake to one side with someone as bait, and let the racers with the most flags get past the zombie hoards as quick as possible.
Since I was losing my flags like crazy, I acted as bait while Jake ran past, twisting to keep his flags close to his body and harder to snag.
We hit the hills and slowed to a crawl. This course would be a blast on a motorbike. On foot, the steep inclines were slippery and rutted, and a few of the downhills had me pausing at the top.
Never failed that as soon as you crested a hill, out of breath and no energy to dodge and run, there were zombies!
After a mile of heat and dust, water obstacles were a welcome site. I kept being distracted by the complexity of some of the zombie costumes, forgetting they were "out to get me" and complimenting them on the great outfits instead!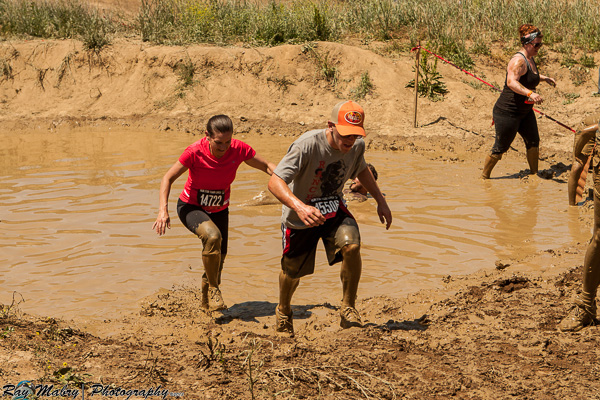 Water stations were a welcome site and we drank too fast to avoid a cramp, even dumping a few cups of the cool clear liquid over our heads in the heat. Ray caught up to us while we had a relatively quiet moment, before we headed back into the fray.
Some of the obstacles I did skip. The dark covered maze filled with fog and hanging electrified wires was a no-go. But I did manage to jump over all the barbed wire looped up a hill. Yes, real barbed wire was used. This is not a lovely walk in the park, after all.
My flags long gone, our only goal was to keep Jake's remaining flag intact with about a mile left to go. One clever hoard had a plan of their own and as I faked and Jake ran by, the zombie took chase. I yelled at Jake to book it and he out ran him… only to have his flag grabbed by another crafty zombie ready and waiting around the corner.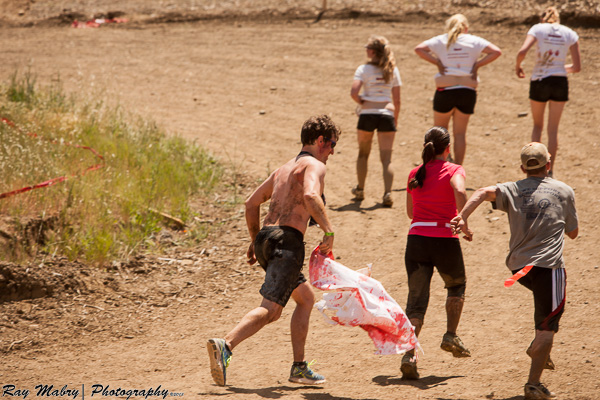 That chase was awesome and since we were both flag-less now, we just enjoyed pretending like we had flags so the zombies would try and chase us. Of course a few time they had a bit of encouragement from Ray who gave them a heads up we were coming, and to give us a hard time. It made for some great chances at photo opportunities!
It helps that I love to be chased. I'll scream the whole time, sort of like a roller coaster ride, but trust me, I'm having a good time.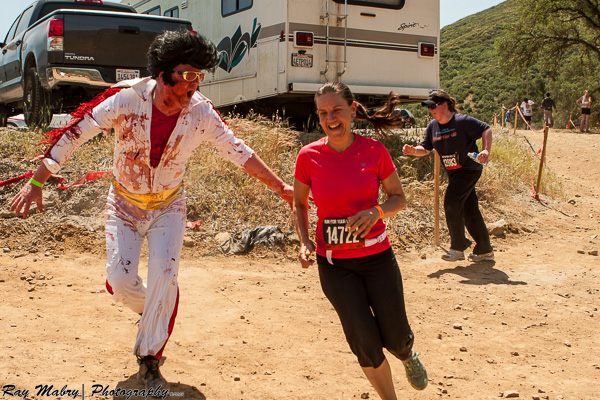 The final obstacle proved that I need to play on jungle gyms a little more. I couldn't seem to master the ability of letting go on the monkey bars that were over the muddy water pit. I chose to voluntarily jump in the water and wade across.
Unfortunately this had a side effect once I reached the electrified fence that required a belly crawl to get through. Wet clothes have absolutely no insulation to the static-shock feel of contact with that fence.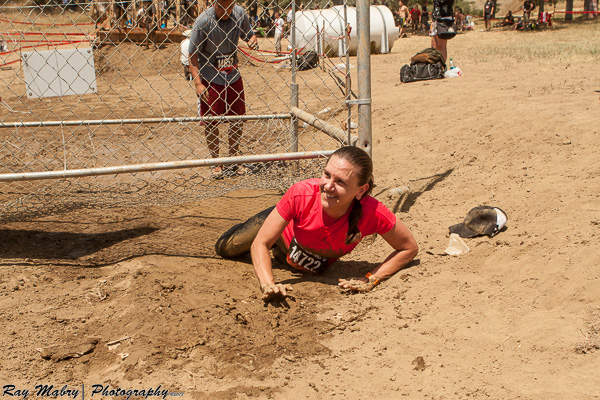 How to know if you would you like being chased by zombies
A zombie 5k obstacle course mud run may not be for everyone. If you don't like being chased, I would plan on avoiding this one, but here are some of the parts I absolutely loved:
Checking out all the different outfits the zombie participants came up with. They had to costume themselves, and the event provided makeup for all the ghoulish effects.
High fives on the course from someone that looks like you should stop and help them
Mud pits. If you haven't waded through one on a 100 degree day, you don't know how wonderful they really are.
Obstacles. Where else will you get to try to jump over fences and hop barbed wire?
Running with my son. Just having the chance to experience this with him made my day.
Your dream may have days that feel like you survived your own version of a zombie apocalypse, so here's some advice on those rough dreaming days.
Don't forget to fake right, and go left.
– Heather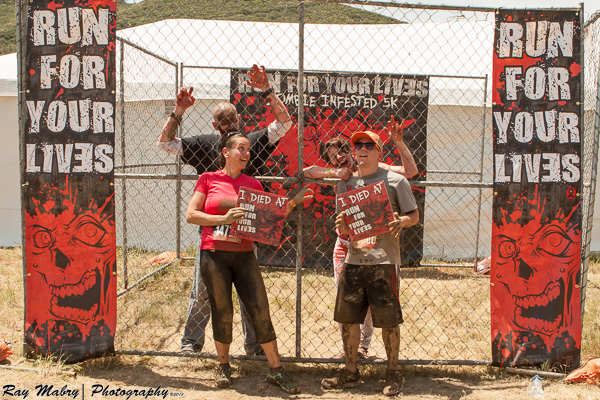 Heather Montgomery is a fitness writer, triathlete, and serial entrepreneur who is devoted to sharing what she has learned about becoming a triathlete after age 40. She uses her Metabolic Training Certification to help other women struggling to get fit in mid-life. She lives and trains in Santa Rosa, California, the new home of the Ironman triathlon. You can find her biking the Sonoma County wine trails.
Note: Articles by Heather may contain affiliate links and will be compensated if you make a purchase after clicking on an affiliate link.