Have you ever noticed how much you stay on track with a dream milestone on the calendar?
Fitness challenges work best when they are on the calendar too, and the gorgeous sunshine filled day was a perfect start to my latest 5k. A few months back, I knew that a small race on the calendar after my triathlon adventure would be a good way to keep moving. Having a running buddy was a good plan too!
After discovering the Girls on the Run event this Sunday, I asked my niece Jazlin if she wanted to run it with me. She had been involved in the program a few years back and enjoyed the experience.
We set up a handful of training runs in the last few months, and I'm sure there were days she was so ready for me to drop her off back home! We had a wonderful opportunity to chat on these runs, away from parents and family get-together distractions. I have to admit that this was an unexpected side effect that I looked forward to.
Dream milestones are big with the girls on the run organization
Girls on the Run is an international organization that offers support and prepares girls "for a lifetime of self-respect and healthy living." I may not have jumped on the bandwagon when I was their age, but the program has an amazing impact on girls form 3rd to 8th grade.
Girls on the Run is a life-changing, non-profit prevention program for girls in the 3rd through 8th grade. With a mission to educate and prepare girls for a lifetime of self-respect and healthy living, our 24-lesson curriculum combines training for a 5K (3.1 miles) running event with health-based lessons that inspire girls to:

become independent thinkers
enhance their problem solving skills, and
make healthy decisions.

All of this is accomplished through an active collaboration with girls and their parents, schools, volunteers, staff and the community.  Girls on the Run Sonoma County is an Independent Council of Girls on the Run International, which has a network of over 200 locations across the United States and Canada.
Jazlin and I were running on our own, without their coaching programs through the school, but still received these cute t-shirts so we looked race ready this morning.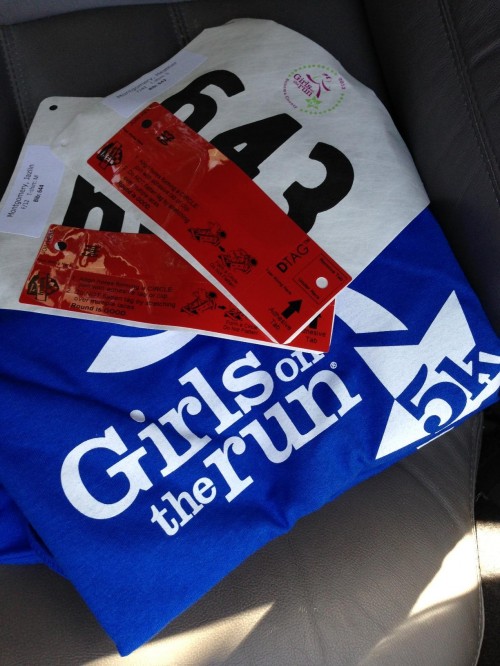 Tip: Pick up your race packet early. You never know what might slow you down that morning and having everything ready to go makes race morning run smooth.
The photographer/husband Ray drove and we all piled in to head down to the event, just a few miles down the freeway. Jazlin and I had our cheer-leading crew in tow – Mom, Dad, and Ray.
The event had some great vendors and snacks and we walked around to see all the different outfits the school teams had chosen. You gotta love wild tutus and a station to add spray color to your hair! Jazlin opted for orange stripes which went perfectly with the pristine blue satin bow in her hair.
Running with the girls
The place was hopping with little girls of all ages, cute matching outfits, and lots of girl energy. Rainbow tutus, sparkly hair ties and adorable matching knee-high socks. We headed to line up for the start and found our way through the crazy crowd of almost 900 participants.
There was a moment of silence for those touched by the Boston marathon bombings. It was incredible that with all the ages of children that we were all able to really be absolutely silent and have a the opportunity to send our positive energy and support out to the families.
Just moments later we were off!
Jazlin and I had a chat before we were at the race about the plan for the run. The plan was a nice easy start to keep a slow pace and work toward a strong and steady finish. The easy start was a piece of cake while we worked our way through the crowd.
The path had us running around the community center and down a gorgeous creek path. I knew the path was there – I drive past it daily when taking my son Jake to school – but I'd never been on it all the way through town.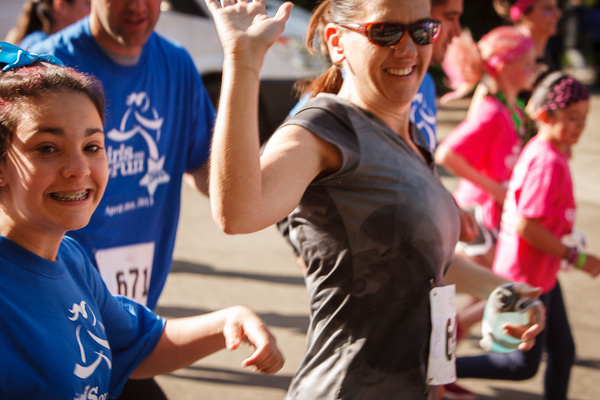 Shaded and pretty with the creek bed filled a bit with rain water, it was a serene run through a lot of greenery on a perfect warm day. Most of the girls and their coaches took small walking breaks and most everyone remembered the rules of slower runners on the right.
It was a blast to encourage other groups as we passed by. "Tutu power!" became our cry of support when we ran by the groups who were totally decked out. Who knew tutus looked so good on the run?
The back yard tour of a city I used to live in was fun as we ran over busy streets that were perfectly lined with local police to keep an eye on things and lots of cheering supporters with hands outstretched, ready to offer high fives to all the runners on the way past.
It got pretty hot for Jazlin after we made it a mile it. I do love collecting race t-shirts but I really don't like running in anything cotton. We made some adjustments to help keep her cooler and made sure to cycle through walking and running.
The cheering intensified as we made it to the halfway point that had an amazingly staffed water station. So many volunteers were on hand to keep the hydration flowing as we took a break and Jazlin grabbed a cup. We waited off to the side and cheered on the crowd then joined the fray once again.
There are some older wood bridges along the path and one of the larger ones served as the turnaround point, taking us back down along the opposite side of the creek. We were able to see runners across the creek and kept up the pace for a bit.
The tummy full of sloshing water didn't help Jazlin about half mile in so we kept a fast walk and tried upper body stretches to help setting her stomach. I know how that feels, and it is not pleasant!
I noticed the mile 2 marker and asked if she was up for running. It helped we were close to another road crossing where more cheering fans were waiting! There is a boost of energy that comes from getting cheered along a race route.
Pacing our way back, we started to see the group pack in again as we were headed to the finish. The mile 3 marker was right before we turned back on the main road.
"Are you good?" I asked Jazlin as we were in site of the finish.
"Yep."
"Ready to sprint once we turn into the driveway?"
"Oh yeah!"
We took that final turn and put on the speed!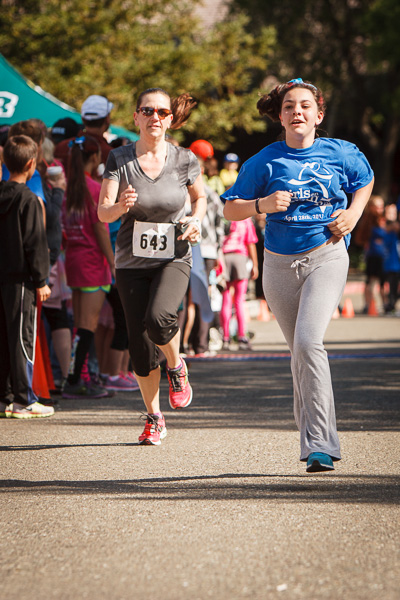 She booked around the curve and kept on the speed all the way past the finish line. I saw Ray getting shots as we flew by and made our way through all the coaches and girls hugging and congratulating each other.
Events like this are so cool to be a part of. I wasn't running for time, or even for a workout, but the positive reinforcement and support that was flying all over the place was a huge boost to my energy.
This was still a great finish time for us both!

A nice surprise to this dream milestone? Apparently I'm a role model!
A few weeks back I heard from my sister-in-law about a recent homework assignment from Jazlin. She had to write a paper about her goals for the future and her thrid goal listed was a triathlon because "my aunt is doing one and I think it's awesome."
Who have you inspired this week just by going after your own dream milestone? Share in the comments…
Go get your fit on – Heather

Heather Montgomery is a fitness writer, triathlete, and serial entrepreneur who is devoted to sharing what she has learned about becoming a triathlete after age 40. She uses her Metabolic Training Certification to help other women struggling to get fit in mid-life. She lives and trains in Santa Rosa, California, the new home of the Ironman triathlon. You can find her biking the Sonoma County wine trails.
Note: Articles by Heather may contain affiliate links and will be compensated if you make a purchase after clicking on an affiliate link.