Last updated on January 22nd, 2019 at 02:08 pm
With everything we have around us reminding us to workout, why would anything want to be bitchy?
With your week done, and your rest day officially here, glancing at the metrics all your hard workouts produced can be your virtual pat on the back. Proof all that sweating was worth it to rack up the miles, activity minutes, and calories burned.
That is until you get the weekly email showing all your hard work in a pretty graph. Plus one red sad face staring back at you.
Why are fitness metrics bitchy?
This sad face shows up every week from my faithful fitbit tracker. My regular readers will know I've been using this little tech gadget fitbit for several years now. It's been with me since I started my weight loss journey through triathlon training and kept me bouncing as a fitness trainer [link].
What truly annoys me every week is this one little graphic that shows up in my stats.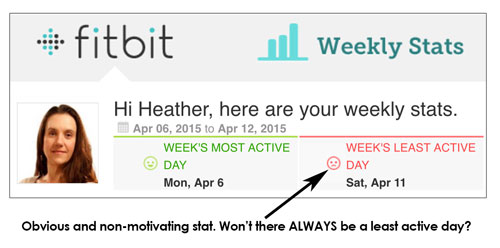 This one little sad face takes down a notch my excitement over all my other accomplishments. It is right at the top of the email, next to a smiley green face declaring my most active day. The sad face is simply telling my least active day.
There will ALWAYS be a least active day!
Telling me something I don't already know. No matter how you slice workouts during your week, odds are there is one day that will be less than the others. So why remind anyone of that fact?
All the trackers have some level of checking in, making sure you are on track with your self-imposed goals. To an extent these can be amusing, entertaining, or downright annoying.
Just like real life, it probably depends on your mood.
Runkeeper is a not a wearable fitness tracker, but rather an app on for your smartphone. Running and cycling are easy to track and you get great feedback during and after your workout for overall pace, split times and distance details.
Until it pops up on your phone and tells you to work out again, right now. So why aren't you sweating already?
I guess the option to have Runkeeper remind you to work out again at the same time or day is easy to click. I didn't realize I had apparently turned this feature on until a week later when a friendly pop-up told me I was due to repeat the awesome bike ride one more time. Let's go!
I think it comes down to wanting to decide when my work outs happen.
Fitness metrics can be as bitchy as you want them to.
For some a bitchy reminder can be the kick in the butt we need to get to that next workout.
I stared at the results from my fitbit for years. Watching the weight loss tracking turn into a fun graph, let me pat myself on my back occasionally. Giving yourself a high-five along the way to any goal does keep you motivated.
Leader boards are another fitness metric that can add to the competition feel of our day to day movement. I was so pumped when I was near the top of my fitbit leader board. That was when my only activity was walking or running. You tend to rack up the steps with this exercise option.
When I switched to the varied exercises that triathlon training covers the step count started to plummet. And so did my love of that damn leader board.
Although I have to admit it did help me increase my desire to track everything I did. Depending on your perspective, this could be a great annoyance or a great pain in the butt.
Do bitchy reminders or fitness metrics motivate you?
Keeping moving is really the only goal. Whether you have something buzz, beep, ding or ping you to do it.
Your motivating factor might change along the way. You may need more of a push, or a different kind of fitness metric to track all together.
What's working for you now?
Heather Montgomery
Go get your fit on
[fbcomments]

Heather Montgomery is a fitness writer, triathlete, and serial entrepreneur who is devoted to sharing what she has learned about becoming a triathlete after age 40. She uses her Metabolic Training Certification to help other women struggling to get fit in mid-life. She lives and trains in Santa Rosa, California, the new home of the Ironman triathlon. You can find her biking the Sonoma County wine trails.
Note: Articles by Heather may contain affiliate links and will be compensated if you make a purchase after clicking on an affiliate link.