Last updated on January 23rd, 2019 at 10:36 am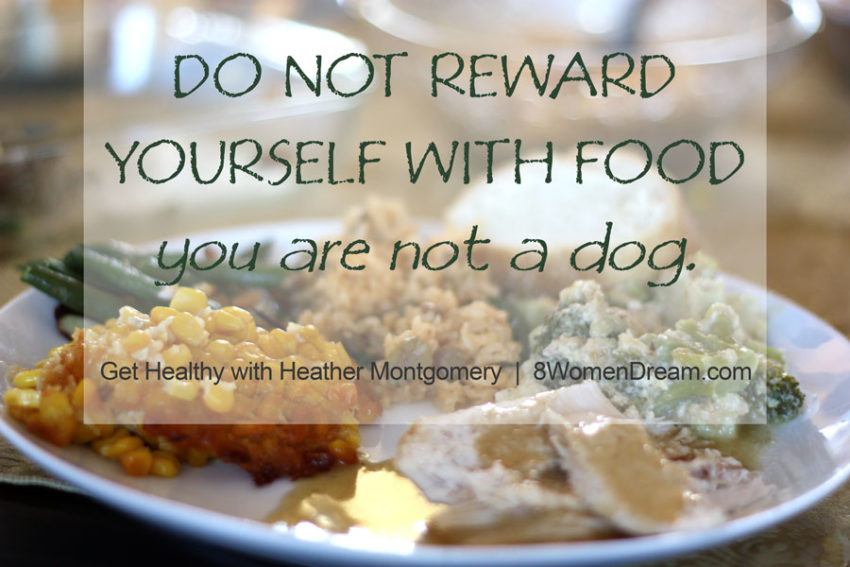 Fitness dreams take a lot of hard work. A good amount of that is physical, requiring actual sweat and occasional tears. After all that hard work, we deserve a reward, right?
Here in the States we are getting ready to celebrate Thanksgiving. This week is the perfect time to remind ourselves of this important fact.
Food is not a reward.
One of my favorite quotes is in the image above. I chose it because it epitomizes my relationship with food most of my life. Celebrations, needing a break, gathering with friends are all punctuated by food.
Where to meet when meeting friends starts with the question "What are you in the mood to eat?". Having a bad week at work can easily slip into the draw to a cocktail every evening, or that dessert you have avoided.
Stress can make us make bad choices. Food is one of the easiest ones we tend to allow ourselves to indulge in. Without too much guilt.
You deserve a bigger reward for your fitness dream.
I mentioned stress, right? For most of us, even though the holidays can be an enjoyable time of year, they can add stress. Extra things to do, extra people to visit or that come visit you.
Thanksgiving is a day most of us are surrounded by food. The holiday season has a soft-launch at Halloween and kicks into full gear at Thanksgiving.
For me the holidays means baking. The days get shorter, the weather gets rainy and I turn on my oven. Enjoying the gooey pecan and spicy pumpkin pie is all part of the experience for my family gatherings. The task at hand is to keep that enjoyment of the holiday exactly that.
One day of giving thanks and sharing time with family and friends over one amazing meal. Enjoy the day and avoid extending the holiday feast. It's easy to keep the eating going by reaching for just one more treat… because it's the holidays, dammit.
If you have been working on your fitness dream this is the time of year that will put your resolve to the test.
4 ways to give thanks for your fitness
Giving thanks for your fitness goals means taking time to appreciate what you've accomplished so far. Dig deep and recognize how much work went into getting where you are.
1. Look at some older photos
I have a few photos of myself that I use as continued inspiration to keep my fitness goals on track. I know how much work it took to change the way I feel and I do not want to put that much work into losing again.
I'm thankful I stayed committed to my fitness dream.
2. Look in the mirror and be kind to yourself
When you aren't feeling your best the tendency is to avoid mirrors. The opposite is true when you keep your own self talk positive. Stifle that negative criticism and turn it around. Here's an example – instead of "My butt is too big", say "My curves makes my waist look smaller".
I'm thankful that I have improved my inner monologue every time I catch my reflection.
3. Get a massage
Taking care of yourself has a wonderful side effect. No matter where you are in your fitness dream, getting a massage can help you appreciate your body and encourage better eating habits.
I'm thankful for the ability to find time to take care of myself with regular massage.
4. Be grateful for your health
Being grateful about life in general is always a good practice. Staying fit and keeping your health lets you keep dreaming big. Try this for a week – wake up every morning and think of everything you are thankful for before getting out of bed. A positive start to your day improves immune system and heart health.
I'm thankful for so many improvements in my health including better mobility, stronger muscles and no more knee pain.
Feeling thankful for fitness this Thanksgiving
This week means a lot more on your plate – busy schedules make it easy to use it as an excuse for piling more food on too.
Give thanks for your fitness first! Comment on how you plan on staying thankful for your fitness this year.
If you need some more tips on how to survive Thanksgiving, read my post on Top 8 Tips for Surviving Thanksgiving.
Enjoy the holiday and go get your fit on – Heather
[fbcomments]

Heather Montgomery is a fitness writer, triathlete, and serial entrepreneur who is devoted to sharing what she has learned about becoming a triathlete after age 40. She uses her Metabolic Training Certification to help other women struggling to get fit in mid-life. She lives and trains in Santa Rosa, California, the new home of the Ironman triathlon. You can find her biking the Sonoma County wine trails.
Note: Articles by Heather may contain affiliate links and will be compensated if you make a purchase after clicking on an affiliate link.