Last updated on April 2nd, 2012 at 12:29 pm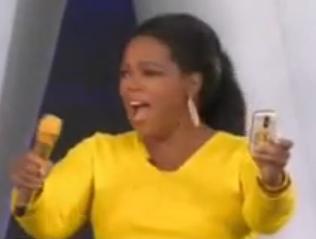 O to the P to the Rah! Rah! Rah!
Every time I try to write my rap, Ode to Oprah, I feel a panic attack coming on. Oprah and final season in the same sentence freaks me out.
It's the way of the dreamer who dreams big dreams.
When I think I have enough information gathered and start to put my rap on paper, I realize how much I'm missing. Missing her already and afraid of missing important moments in her 25-year run. I'm going to give you a sample.
Please, please tell me your most intimate moments with O. What made you laugh or cry or both. I will include them in my final rap draft.
I just don't think she truly has any idea how she has become a girlfriend to so many women.
O to the P to the Rah Rah Rah
I'm rapping a cheer for you
Oprah, awesome Oprah
Without you, what will we do
In our living room every day
For 25 years, showin' us the way
And the one thing we all know for sure, is you laid it down Girl
Big Honest and pure
Turned us on to so many things
The kind of stuff that surely brings
Thought provoking growth for all
I so wish I was at the legends ball.

No more Oprah, holy shit
Don't tell me this is really it
You know you are a Girlfriend to many
I've never been out for coffee without any
Discussion you weren't involved in
From cleaning house to getting thin

With you we've cried and laughed so hard
Re-done our kitchens and cleaned up our yard
We learned about hoarding and waterboarding
Rescue pups and the perfect cups
You took us to Oz and around a strip pole
And I loved, absolutely loved you in every movie role

And what about that good ole boy Phil
It must be such an amazing thrill
To have Tom Cruise jump around your set like a crazy man
There's no possible way I can
Tell you just how big of a fan

I am and so thankful too
Thank you Oprah for doing what you do
O to the P to the Rah Rah Rah
You're a world class feminine hero
And even though we know
You have to go fulfill your destiny
We just prefer to have you on T.V.

Talkin' to us everyday
So long Oprah
Wish you could stay
OK, I need to hear from all you Oprah lovers. Tell me your favorite O moment. This might be a very long rap song.
Keep on dreamin people!
Big Love,
Laurie
Laurie has several amazing dreams going on in her life at this time. She left 8 Women Dream in November of 2010 to work on her Club B dream and her NIA business.


Enjoy this special 8WomenDream Guest Contributor story submitted by new and experienced big dreamers throughout the world, edited and published to capture a dream perspective from different points of view. Do you have a personal dream story to share with 8WomenDream readers? Click here to learn how to submit dream big articles for consideration.
Note: Articles by Guest Post Contributors may contain affiliate links and may be compensated if you make a purchase after clicking on an affiliate link.