Last updated on March 8th, 2010 at 04:10 pm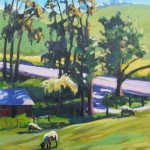 The month of May is rushing to and end.  It has been several months since I joined the support group  8 Women Dream with the goal to become a successful International artist.
Recently,  I  felt like my dream was drifting further away. With my impending birthday this week, I began to be revisited by old Mr. Doubt whispering once again in my ear
"You're too old, not talented enough, too much competition . . ."
In my last post I spoke about "Seven Ways To Sabotage My Success" and concluded it came from fear of success and insecurity.  I spent time this week reading our member's posts and thinking about how to face my own fears and find that confidence.
I realized, after reading Danelle's post here on 8 Women Dream that there were past moments when I felt quite powerful and successful.    Focusing on those  moments seemed to help me put it all into perspective.
I decided to  challenge myself and work though my seven steps of sabotage and make an effort to address each one.  It is a little scary because I have allowed so much time to elapse but I also know that I need to do this to move forward.   I have seven steps and seven days to address them.  One a day.
Yesterday was a stellar day.  I went to a wonderful meeting in the morning, painted in my studio and deposited a check from my dentist.   He bought two paintings from me this week.  To top the day off,  I received an acceptance letter from San Luis Obispo Plein air competition.
(Wendy's dream is still to become a influential international artist, but she left 8 Women Dream in March of 2010 to complete grad school.  She is still a strong supporter of 8 Women Dream and you will see her in the comments on the blog.)

Enjoy this special 8WomenDream Guest Contributor story submitted by new and experienced big dreamers throughout the world, edited and published to capture a dream perspective from different points of view. Do you have a personal dream story to share with 8WomenDream readers? Click here to learn how to submit dream big articles for consideration.
Note: Articles by Guest Post Contributors may contain affiliate links and may be compensated if you make a purchase after clicking on an affiliate link.