Last updated on November 6th, 2019 at 01:10 am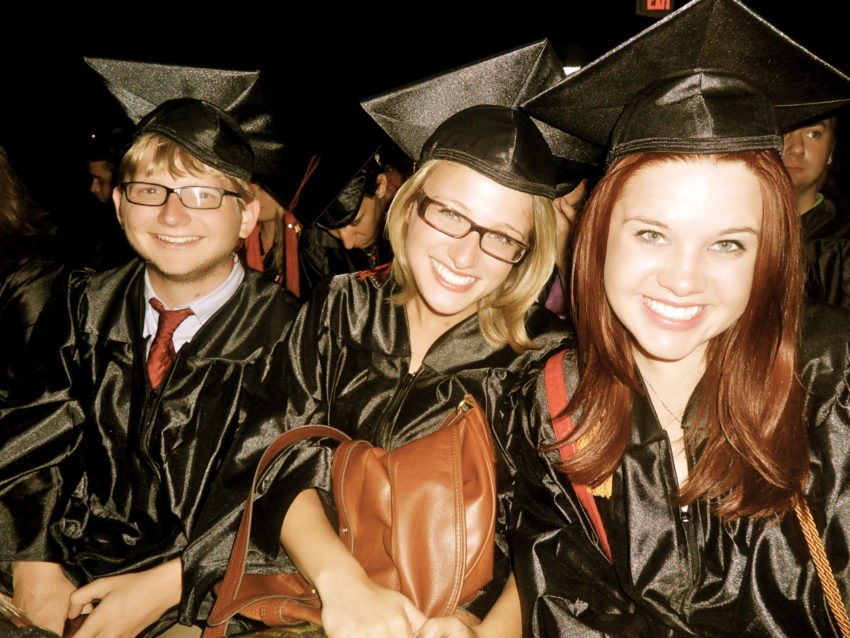 This week and today, in particular, is a celebration of big dreams coming true.
I want you to think about what you have accomplished in the past six months and this past year. Each and every one of you have come so far from that point in your life and you are continuing to press forward.
We are each pursuing the future and our dreams, and that in and of itself, calls for a celebration.
My particular dream celebration is two-fold. I had the opportunity to go back home last weekend and walk in my college graduation ceremony. I graduated from college early then I moved across the country to San Francisco to start a new job and launch my career.
It was a true blessing to fly back home to spend a few days celebrating graduation weekend with my college best friends.
Most of my friends were in the midst of packing up their temporary college homes and coming to terms with our last few days in our paradise of a college town. For me, all of these tasks and all of these feelings were forced to come a little early with my decision to move.
It was very hard to jump-start my dream and make "the rest of my life" happen a little sooner than I thought, but it has been a very good move for me. I felt for my friends who were overwhelmed with feelings of graduating and leaving–it is an indescribable, strange feeling to leave a place of comfort, happiness, and pure bliss to embark on an unknown future.
Instead of being overwhelmed with these emotions and bits of sadness during my visit, it was jam-packed with joy and celebration.
I was excited to see everyone, to have one last "hurrah!" together, to spend a ridiculously fast 48 hours with friends that turned to family. Today, I'm looking back on my weekend and smiling at the celebrations. Not only did I graduate college with a strong degree, but I also left with a fantastic set of friends, thousands of lessons learned and more experiences, stories, and memories than I'd ever dream possible.
More importantly, I left college genuinely better and happier than I came into four years previously.
I'm celebrating friendships, life milestones, growth.
One year ago today, I started my personal blog. I've never had a blog that truly reflected my voice and personal thoughts. With my personal blog, I've been able to share words of encouragement and inspiration. Little do readers know how much I'm learning from everything I've posted. My life is an absolute winding road of adventures and experiences–both good and bad–and I've learned to accept all with a smile and a whole lot of enthusiasm.
I'm celebrating finally finding my voice, using my experiences to challenge and motivate others, life.
Six months ago, I began submitting dream stories to 8WomenDream, and have seen more blessings pour into my life. I am so thankful for the community of women (and some men!) who inspire and encourage me to live my life in the best way possible and to keep pursuing my dreams.
So today, let's toast our dreams! Even if we haven't accomplished everything on our "dream to-do list," it's important to take time to celebrate and appreciate just how far you've come. I am far from completing all the dream goals I've set out to do this year, but I am proud and happy to check a few off my list. Even more, I'm proud to be living out my dreams each and every day.
I'm reminded of a fabulous quote: "Celebrate we will; for life is short but sweet for certain."
Andi Taggert

Enjoy this special 8WomenDream Guest Contributor story submitted by new and experienced big dreamers throughout the world, edited and published to capture a dream perspective from different points of view. Do you have a personal dream story to share with 8WomenDream readers? Click here to learn how to submit dream big articles for consideration.
Note: Articles by Guest Post Contributors may contain affiliate links and may be compensated if you make a purchase after clicking on an affiliate link.