Last updated on April 2nd, 2012 at 11:31 am
I'm entering a phase on my Confessions of an Undutiful Daughter writing project that scares the bejesus outta me.
A book like mine, a confession, theoretically is all sloshing around up there in my cranium, percolating like a cassolet. I just have to grab the pot and tip it.
But how best to serve it up?
A memoir from a nobody like me has to have exceptional flavor to make up for a lack of original ingredients. Am I the only daughter of a toxic mother? Oh lord no. Am I the daughter of the most toxic mom ever?  I'm still breathing, so no again.  Are my experiences so unique that they deserve telling?
Well, my friends say so.
On a recent brunch date my friend Jen asked me what I'd do if I won the lottery. I happen to have given this a lot of thought. I already knew that it all comes down to world travel.
Say you win $100 million. First you pay your bills, and then you pay the bills of those you love. Then you buy a house or two and have some shared experiences. But after a while, it's really about the ability to go see whatever you want.

The Vatican on Easter Sunday? Amen. Front row seats at the Paris Opera, the shimmering Aurora Borealis or the running of the bulls in Pamplona?
Easy-breezy-peezy — with millions.
Jen agreed I had a point. So where would I go with my Lotto winnings?
"Oh, I wouldn't go anywhere, I'd build a small suite onto our house and hire a Gurkha houseman," I said. "I've wanted a servant in a white jacket all my life."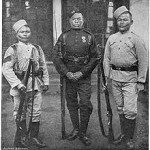 Nepalese Gurkha's have fought alongside the British for hundreds of years and are considered among the bravest and most loyal fighting men on earth. When they retire from military service many work as bodyguards or house managers to those with security concerns.
Jen's eyes bugged out.
As a fellow undutiful daughter she knew that any story blurted out like that certainly had something to do with my mother.
She grabbed the edge of the marble café table and said, "Tell."
When I was little and the doorbell rang at our San Francisco flat my mother would grab me from behind – one arm around my tiny waist and the other over my mouth — drag me to the hall coat closet stepping in backwards to hunch in a corner behind the vacuum cleaner.
With our faces smushed against musty woolen coats we'd wait until the coast was clear.
Yeah, I know.
But maybe I'm not the only one as demonstrated by this great short film entitled "Door. Bell. Ring" by Brandyn Johnson:
As an adult I can guess she was afraid of something.
Was the rent overdue? Was my mother avoiding man complications?  Was it the truant officer?
I'll never know for sure.
But I do know for the little kid who still resides in my brain:
Nothing is scarier than a doorbell.
Not too long after I confessed my closet story to Jen, the mister and I bought our current house. It took that long (nearly eight years of marriage) for him to realize that I avoided answering the door. He asked me why. (Dang, he's so logical!)Â  Learning that I was carrying around my mother's fear of doorbells he devised a regime of nearly constant random doorbell ringing and timed me on my responses.
What started as a 2 to 3 minute ordeal of looking out windows and through peep holes was whittled down to one super charged moment of dread as I flung open our door. Yes, he successfully desensitized me but truth be told, I'd still pay someone to greet visitors.
Lotto gods willing, I'd hire a Gurkha.
You never know, one day it could be my mom on my stoop.
See you next week,
Rayne Wolfe's dream is to write her first book Confessions of an Undutiful Daughter by the end of 2011. She completed her dream journey May of 2011 on 8WD after a year living her dream. You can find her at Toxic Mom Toolkit on Facebook.

Enjoy this special 8WomenDream Guest Contributor story submitted by new and experienced big dreamers throughout the world, edited and published to capture a dream perspective from different points of view. Do you have a personal dream story to share with 8WomenDream readers? Click here to learn how to submit dream big articles for consideration.
Note: Articles by Guest Post Contributors may contain affiliate links and may be compensated if you make a purchase after clicking on an affiliate link.