Last updated on October 1st, 2012 at 12:00 am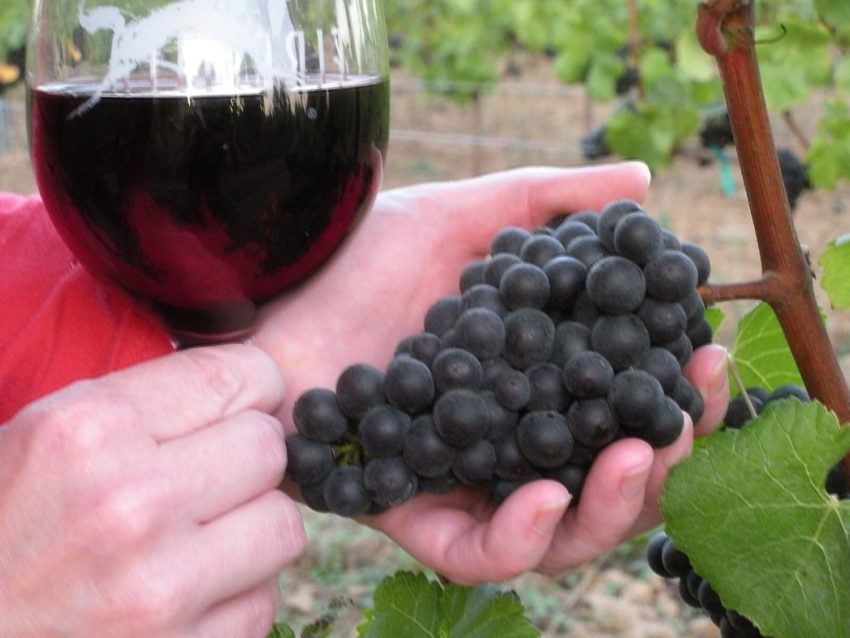 Our pillow talk/coffee chat this fine February morning focused on pigment development in our red wines and how we could achieve greater color by a longer cold soak of the pinot noir at harvest prior to introduction of yeast and primary fermentation.
Cold soaking helps lend a helping red and purple paint stroke of anthocyanin release that is water soluble. These little pigment compounds found in red skinned grapes, are affected by alcohol and will dissolve to a degree if not stabilized, which is where tannins, then, come into the pretty red picture.
Tannins come mainly from the skins of the grapes.
When the tannins bind to the anthocyanins they stabilize color during the fermentation process and ultimately give us a darker finished wine.
My winemaking husband and I were enjoying our hazelnut lattes in bed and speaking about longer cold soaks for the 2012 harvest because it's one of the greatest areas of difference (and bones of contention) for those who enjoy red wines.
It's thought that deeper color, like that found in cabernet sauvignon, merlot, syrah, etc. is indicative of higher quality and better taste. This is not so.
For several comparative tastings we have used black glassware to prove that color, while a factor in determining some things, does not mean that the wine is of poor quality or inferior.
Pinot Noir is a thinner skinned grape by nature.
Pinot is also a very difficult grape to grow successfully. It's kind of fickle. It likes cooler climates but like all vines, grape vines are most interested in producing more vine with more leaves, than it is in highly offering forward developed flavor found in its "berries" and clusters.
So; cooler and wetter can be a very good thing for growing excellent Pinot Noir, but also well drained soils and vines planted on southern slopes are important so they don't get too much water, and it drains away from the roots.
Knowing as much as we can about viticulture and enology and producing delicious and excellent wines is a passion for my winemaking husband and for me.
We met twenty years ago while working at Silverado Vineyards in Napa Valley, and my husband, Bryan, made his very first cabernet sauvignon from second crop that he hand picked and saw through to hand bottling, which I am proud to say I participated in.
It was delicious. We opened a magnum last year, and it is still amazing.
In keeping with our pursuit of continuing to make and enjoy excellent wine, we attend the Unified Wine and Grape Growers Symposium held in Sacramento, California every January.
There is much to be done here on our little farm on the vineyard in the weeks prior to taking our show on the road from Willamette Valley, Oregon in the trusty mini van, in the middle of winter, to northern California.
Making sure the chickens, rabbit and two cats have food and water for at least a week is priority one.  Next comes the packing list including home school supplies and computers. Baking and freezing is a part of the preparations, as well as pre-slicing cheeses and meats and loading the ice chest.
The food I pack is not so much about a way to limit meal stops and make better time, as it is about the sheer giggly joy I get from having made healthful yummies and passing them out to my children and husband as we drive merrily along.
I adore a good road trip.
Clothing this time of year is fun because we can face snow, rain, hail, freezing rain and sun, so it's warm boots, snow suits and swim wear.
This year's trip was to be extraordinary.
For the first time since our relocation to Oregon in 1996, where Bryan and I married and started our family, we were going back to Silverado. Returning to visit the place where this girl met this boy was something I have dreamt of ever since my wonderful bon voyage party at Silverado in March of 1996.
Some people might think of this experience in the same vein as a "bucket list" kind of thing to do. I find this term a bit too negative and macabre for me, but the idea is basically the same.
When I say I have dreamt of going back, I am being very literal.
Every week since my last week at this Walt Disney Family owned winery, I have dreamed many vivid versions, starring many different players, in just about every space at the place where I became a grown up.
Learning on the job, at a winery filled with excellence in every barrel, being poured from every bottle, is where I discovered my passion for fine wine.
The very special events for which it was my charge to orchestrate from A to Z, was where I succumbed to the pleasures of the amazing world of culinary delights and worked side by side with some of this country's most incredibly talented, celebrated chefs of the time.
I knew when I was experiencing my six years here at this magical place that I was being forever affected.  Two years into my time at Silverado Vineyards I made a dreamy connection with a brand new tasting room employee and fresh out of U. C. Davis graduate, Bryan Croft.
It was friendship at first sight.
The next three years were spent cultivating a deep and abiding friendship as well as honing our palates.  Bryan and I were the two crazy kids who wanted to step out of the tasting room and seize any opportunity to shovel out a tank or spend an afternoon on the bottling line to know more about how great wine comes into being.
This was IT!
I fell in love with great wine and I fell in love with the idea of sharing excellent wine and experiences with other people.
And during one very incredible Napa Valley Wine Auction event, I fell deeply in love with Bryan.  The sunny, spectacular Saturday, January 28th return to Silverado was surreal.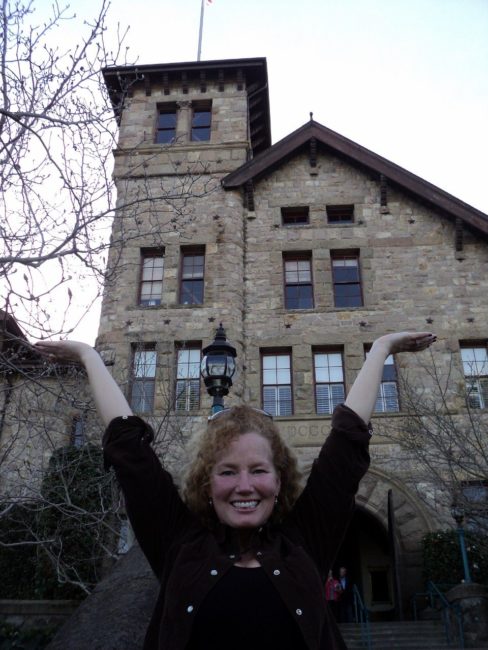 Jonathan Emmerich is the winemaker now. He was the assistant winemaker when Bryan and I worked and played at this winery, and after a big "home coming" embrace for me and man shake to Bryan, he lead us on a very special tour of all that is new since 1996.
It's marvelous to experience the beauty and "no expenses spared" on the expansion of this lovely winery, to be sure.
At the end of more than three hours of swirling, sniffing, laughing and story telling, Jonathan took us over to the "old side" of the enormous building, where we once shared an office. It was overwhelming in the very best way. Everything was exactly the same, only now this was not a place where the public toured and tasted. It was well preserved and just for the office staff.
I was glad about it. Bryan, with his arm around me gave me the silent "knowing" look which told me he was glad of it too.
Being here with him, with my love, in the place where all of our passions grew from seeds was a gift we gave to ourselves in honor of our relationship.
It was a loving and perfect present to each other and a full-circle moment that made me reach down and twist the gold band that has been on Bryan's finger since our wedding day in 1998.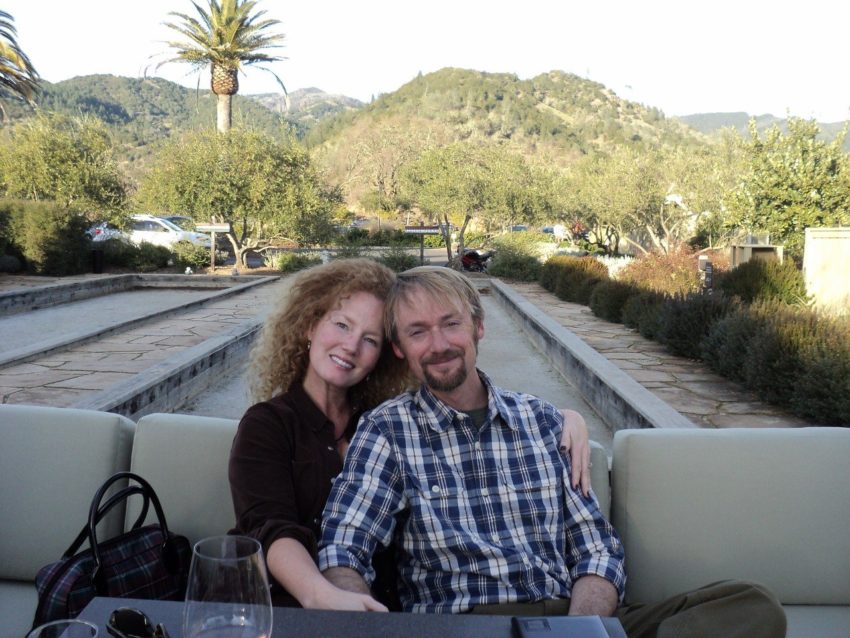 Another adoring, knowing look, a few more photos with old and dear friends and we were riding off into the sunset toward Calistoga, "up valley" along the Silverado Trail, just like those many years ago…only this time, in the mini van, as partners in all that we do and with a renewed, stronger vision of creating our very own dream, inspired by the treasure of the gift of where we came from.
Shellie

Enjoy this special 8WomenDream Guest Contributor story submitted by new and experienced big dreamers throughout the world, edited and published to capture a dream perspective from different points of view. Do you have a personal dream story to share with 8WomenDream readers? Click here to learn how to submit dream big articles for consideration.
Note: Articles by Guest Post Contributors may contain affiliate links and may be compensated if you make a purchase after clicking on an affiliate link.