Last updated on December 10th, 2010 at 12:06 pm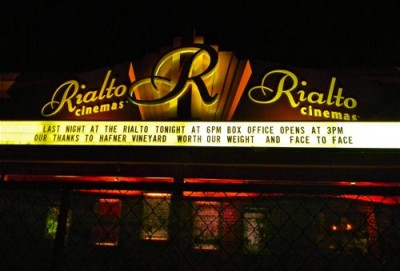 As the dreamer with a dream to have a screenplay produced, you can always find me at the movies. Sonoma County California is where I live and dream, and I am broken hearted over the impending loss of a community movie treasure.
Needless to say I am devastated.
The Rialto Lakeside Cinemas, a true movie theater icon, who showed independent and art films, documentaries and live opera simulcasts, will soon be forced to close it's doors. Will this be the end to owner Ky Boyd's dream of owning his own successful theater?
Last night, the Rialto Lakeside Cinemas held a farewell party to show it's appreciation to their long-time loyal patrons.
The lines snaked around the building, reminiscent of being at a Hollywood premiere. The throng of theater goers were paying homage to the owner, Ky Boyd, for his relentless pursuit to bring intelligent, thought provoking films to our community for the past ten years.
The Rialto Cinemas lost it's lease and will have to vacate the premises by the end of the month.
Despite the valiant efforts of Ky's patrons by writing letters to both the property owner, Lynn Duggan, and to the local newspaper, The Press Democrat and establishing a Facebook page dedicated to "Saving the Rialto", it soon became apparent that this was a battle not to be won.
"We are actively searching for a permanent new location in Sonoma County", explains Boyd. "In the meantime, we have plans to take the Rialto on the road after August 31. We may have lost our lease, but we haven't yet lost our passion for bringing the best films to this community that has been so supportive for the past 10 years. We didn't devote ten years of our lives to throw in the towel just because someone doesn't want to lease a building to us. Rialto Lakeside Cinemas will find a new permanent home and we are confident that our loyal audience will make the journey with us."
The Rialto is the indie/art/foreign movie theater's answer to the chain-owned multiplexes, and . . .
Has won Best Movie Theater in Sonoma County California for nine consecutive years.
Consistently ranked as one of the top 50 art houses in the country.
Was the first theater in the country to present the annual Oscar shorts program. It has led the way for shorts to be screened in 125 theaters nationwide annually.
Offers Movies in the Morning.
Exhibits the Metropolitan Opera Live in HD.
Shows London's National Theater live programming.
Over the years, Ky Boyd has helped raise money for a number of organizations . . .
Face to Face
Council on Aging
Sonoma County Library Association
KRCB
Jewish Film Festival
Santa Rosa High School's Art Quest Program
He estimates that the Rialto has successfully raised over $100,000 annually.
The Rialto's Farewell Party was a tribute to Ky and his partner Michael O'Rand's for their tireless efforts to bring the best films to Sonoma County. Wine and hors d'oeuvres were served along side their world famous popcorn and their diverse assortment of toppings.
Don't forget the homemade lemonade, locally made chocolate, coffee and Hagen Das ice cream bars. (One could stow away in the snack bar for a few days for some serious noshing!) When purchasing a ticket, patrons had their choice of the five movies to be shown on this final night.
I thought I had purchased a ticket to see Alfred Hitchcock's "To Catch A Thief" but when I checked in to get my wristband, I was told that I would be seeing "Music of the Heart". Initially, I was disappointed but as it turned out, lady luck was on my side. Not only was Pamela Gray, the screenwriter of this inspirational movie in the house, but we were the only theater that was treated to a Q & A session with Ky and Ms. Gray after the movie was shown.
Ky told us that at an early age, he opened up his own theater, "The Electric City Theater" in his basement.
Even at that tender young age, he knew to put up a curtain in the middle, so he could "show" two movies at once! His lifelong passion for sharing movies with others brought him to where he is today.
His childhood dream has been realized ten-fold.
And this is why I wanted to tell you this story. Dreams can take on a life of their own and lead us down roads where we are forced to deal with small town politics, back-room deals and family feuds.
It can, at times, make your heartache. It can, at times, slap you in the face.
Choked up and shedding a few tears (he wasn't the only one with wet eyes), Ky told the crowd,
"Operating this theater for the past ten years has been the most rewarding experience of my life, and I thank you for that. What good is a theater without an audience?"
I was tempted to ask , "What good is audience without a Ky Boyd theater?"
He announced that he will be able to continue to present the next season live HD simulcast of Metropolitan Opera performances from New York in large part to teaming up with the Jewish Community Center of Sonoma County in this effort.
The 6th Street Playhouse a local theater group in Santa Rosa, California will play host when Ky shows short-run and one-shot films beginning on October 4 with an encore presentation of "Phedre", the Greek tragedy starring Helen Mirren.
A patron in the audience asked the question, we all wanted to hear answered.
Ky Boyd cautiously announced that he hopes to have secured a new building for his theater within the next twelve months. My fingers are crossed that this will come true and all will be right in the theater world.
It's so very important to support local businesses and people living their dreams. They are the ones who have more than money on their minds when conducting their businesses. They are the heartbeat of every community. They care deeply for those they serve.
Ky Boyd has given so much heart and soul to this community. Wouldn't it be sweet to envision him securing a venue to bring back those magical movie experiences he has spoiled us with for so long? He is determined not to let temporary circumstances stand in the way of his dream.
Does anyone want to share a memorable experience you have had at the Rialto or at your own hometown theater?
Or have you ever had to fight for your dream?
Lights out –
Toni
Toni left 8 Women Dream in November of 2010 to work on her screenplay full-time and focus on Club B.


Enjoy this special 8WomenDream Guest Contributor story submitted by new and experienced big dreamers throughout the world, edited and published to capture a dream perspective from different points of view. Do you have a personal dream story to share with 8WomenDream readers? Click here to learn how to submit dream big articles for consideration.
Note: Articles by Guest Post Contributors may contain affiliate links and may be compensated if you make a purchase after clicking on an affiliate link.