Last updated on March 30th, 2012 at 12:37 am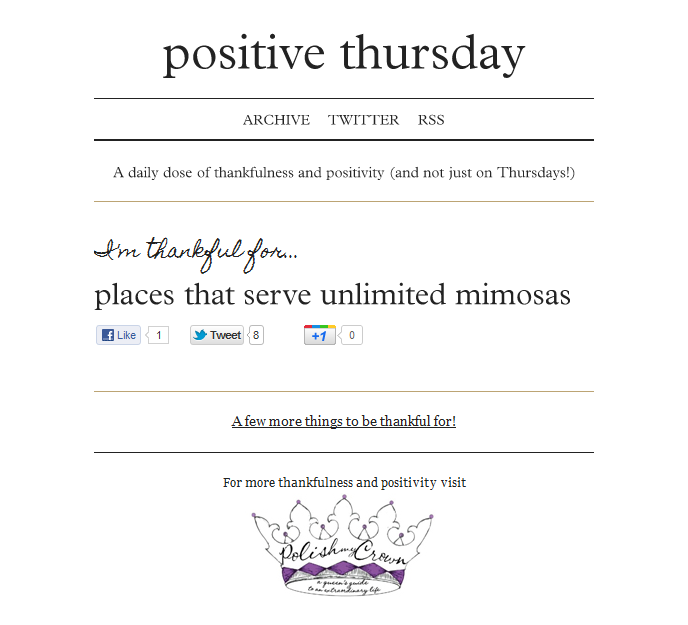 Hi dreamers – hope you're having a great week!
A few weeks back, I shared my 10 Tips for Those Struggling With Pain and Sadness. I hope you found them helpful! Today, we are reversing the direction a bit and focusing on the present and future – with a positive spin of course.
I'm thrilled to announce the launch of positivethursday.com. On Sunday, we launched this blog as a way for people to quickly and easily remember little things to be thankful for and positive about.
The site is super simple; think Thursday Thankful Lists but in individual posts. When you click "Find more things to be thankful for!" you will be directed to another random post.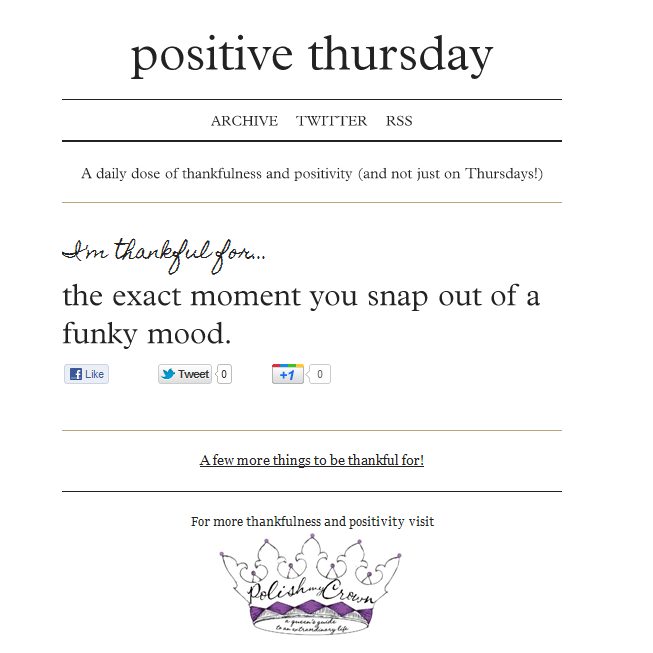 As you know, Thursdays have been my favorite day of the week for a long time. My friend and I started referring to Thursdays as "Positive Thursdays" because we were trying to force ourselves to be optimistic on that specific day. It's easy to be optimistic and happy on Friday and the weekend; for obvious reasons! I'm thrilled to have a way to document positivity and happiness and share with a larger community (and not just on Thursdays!).
Of course, I'll be writing on Polish My Crown still; this new site is just a way to provide people a quick dose of joy and happiness with one simple click of a button. I'm always on the lookout for little things I'm thankful for and that make days a little better.
A few things I'm thankful for today? Wearing layers, a hot cup of tea (morning or night), a community of love and support, chatting with old friends, cough drops, fuzzy socks, sunshine peering through the window and good news.
What are you thankful for?
Until next Positive Thursday,
Andi

Enjoy this special 8WomenDream Guest Contributor story submitted by new and experienced big dreamers throughout the world, edited and published to capture a dream perspective from different points of view. Do you have a personal dream story to share with 8WomenDream readers? Click here to learn how to submit dream big articles for consideration.
Note: Articles by Guest Post Contributors may contain affiliate links and may be compensated if you make a purchase after clicking on an affiliate link.