Last updated on May 17th, 2012 at 07:50 am
It's hard to believe that last Monday morning, I thought I woke up from a dream. Although my body was sore from climbing 10 miles out of the Grand Canyon, I remained intoxicated from the flood of waterfall images and experiences I devoured at Havasupai Falls. The tropical paradise that I camped in, swam in and hiked around all last weekend seemed too good to be true. Even a week later, it still seems that way.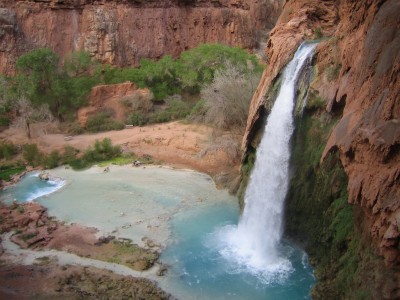 Everyone who saw my pictures and talked to me about my trip wanted to see this desert oasis for themselves. They, too, must have been in shock as mush as I was that quite a place existed in the continental United States.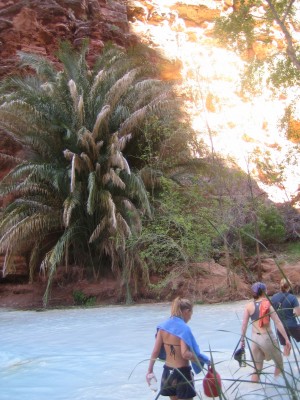 "Is that Costa Rica?"
"Where did you go? I want to go there now!"
"That looks like paradise!"
"Is the water really that blue?"
The most common question I got was, "where is that place?" When I explained that it was not only in Arizona, but at the bottom of the rough, rugged and sandy Grand Canyon, people were in shock.
"There's no way that's in Arizona. Isn't Arizona all desert?"
"That's in the Grand Canyon?! I thought the Grand Canyon was just a big hole in the ground."
"Wow! I must go there. How can I get there?"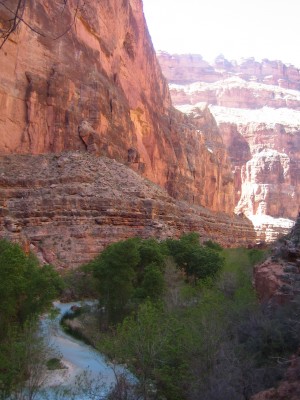 I have been living in Arizona for exactly one year now, which means I'm not stranger to explaining the hidden beauties of this incredible Grand Canyon state to out-of-towners. On my quest to prove that Arizona is more than just desert and that the Grand Canyon is more than just a hole in the ground, I will provide more pictures of Havasu Falls in this post, but more importantly, I will give you the easiest tips for planning a trip to Havasu Falls for yourself.
"Baseball, it is said, is only a game. True. And the Grand Canyon is only a hole in Arizona. Not all holes, or games, are created equal." -George Will
1. Start planning early. There are two ways you can go–with a guided tour/group or with a self-guided group. Depending on your comfort level with hiking and you familiarity of the Grand Canyon, I would suggest going on a guided tour. That's not to say that you can't go on your own with a group of people. I just think it's easier to go with people who know the area. The biggest thing to keep in mind is that you will need to require a permit from the Havasupai tribe (it's their land) to camp there. No day hiking is allowed. Everyone needs a permit. Getting a permit can take 6 months to a year. If you go with a guided group, they will do this paperwork for you. (How to get a permit for Havasu Falls.)
2. Decide if you want to hike, helicopter or travel by horseback. You don't have to endure the 10-mile hike down to see this paradise with your own eyes. The Havasupai tribe offers trips in and out of Havasu Falls campgrounds with their horses and mules. There are restrictions on how many pieces of luggage you can bring, but if you have the cash, you can do it round trip for around $187.00. (How to reserve a horse or mule at Havasu Falls.)Â For a pricey fee and a fancier arrival, you can take a helicopter from the top of the Grand Canyon or from Las Vegas–there are multiple services.
3. Train for your hike. This might sound pretty obvious, but it never fails that people don't prepare properly. I am fairly active, live in a high-altitude area, am used to the Arizona heat and I still go dehydrated. Even though I trained everyday for two months, specifically focusing on recreating the hiking situation, I still failed to hydrate myself properly. Not crucial, thankfully, but enough to make me–or my lips–feel 100%. Plan to take at least four liters of water for your hike down. And plan to start training for the hike at least 6-8 weeks in advance.
Like I said earlier, there are many ways to go about traveling to Havasu Falls. While I suggest going with an experience tour group, you can easily do it with your own group. As long as you start planning early and put in for your permit in time, you'll be on track to have one of the best travel experiences in America, if not the world.
Katie

Enjoy this special 8WomenDream Guest Contributor story submitted by new and experienced big dreamers throughout the world, edited and published to capture a dream perspective from different points-of-view. Do you have a personal dream story to share with 8WomenDream readers? Click here to learn how to submit dream big articles for consideration.
Note: Articles by Guest Post Contributors may contain affiliate links and 8WD will be compensated if you make a purchase after clicking on an affiliate link.