Last updated on July 27th, 2014 at 10:19 pm
Only two days left of completing my first semester of grad school!
How do I feel?
Happy, elated, exhausted and ready for vacation.
This semester has been a roller coaster ride.  My confidence as an artist was challenged and I learned how to persevere.  I have to admit, I did not like hardly any of the artwork I created this semester but reminded myself throughout the  semester that  "it was the process" I was to focus on and not the outcome.
Then last Friday it happened.
After four months of struggle there was a silver lining.
I missed a class in October do to being out of town for a painting competition.  My teacher informed us that for every class missed we had to do two workshops to make up the absence.
So Friday, in the rain and cold, I dragged myself to the 5:30 bus to ride into the city for my last make up class. And for the first time I drew a picture I liked.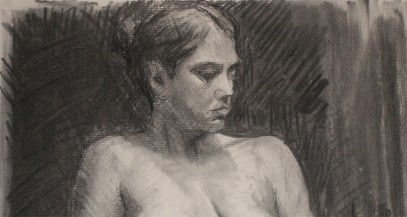 That one drawing was worth the extra four hours it took me to get home when the bus I was flagging down drove by without stopping.
The holidays have arrived in abundance.
It is Saturday night and the second night of Hanukkah. My husband lit the menorah candles before he left to work his night shift.
There is something peaceful about watching the glowing candles in a dark room slowly burn down.
I am thankful.  Thankful for our amazing group of eight women. Grateful for my family, my home and the ability to dream.
Wendy
(Wendy's dream is still to become a influential international artist, but she left 8 Women Dream in March of 2010 to complete grad school.  She is still a strong supporter of 8 Women Dream and you will see her in the comments on the blog.)

Enjoy this special 8WomenDream Guest Contributor story submitted by new and experienced big dreamers throughout the world, edited and published to capture a dream perspective from different points of view. Do you have a personal dream story to share with 8WomenDream readers? Click here to learn how to submit dream big articles for consideration.
Note: Articles by Guest Post Contributors may contain affiliate links and may be compensated if you make a purchase after clicking on an affiliate link.