Last updated on February 26th, 2023 at 01:07 pm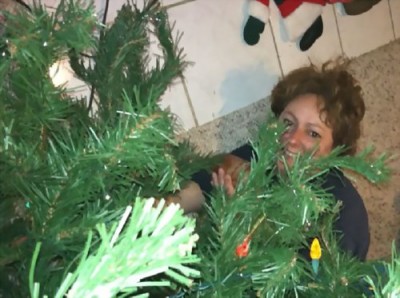 I am overweight.
I've mentioned before that I thought it was another result of the stress and poor habits after Hurricane Katrina, but to be honest with you it isn't just that.
It started well before Hurricane Katrina.
It started around the year 2003 when I decided to begin taking an antidepressant to control my anxiety attacks. I went through a few of them that ended up giving me some scary side effects.  They were probably scarier to me because I have anxiety issues.
I admit I was afraid of the medication, but in order to not be afraid anymore, I had to take the medication.
When I found the right medication for me, I began to feel better and more relaxed. Feeling relaxed helped me to enjoy eating more than I already did which produced a side effect: weight gain.
I'm not blaming my weight gain on antidepressants. I'm not blaming my weight gain on anything, but I used to. I have learned to love myself and I want to take good care of myself, but I cannot lie and say that I love my body. I sometimes wonder what happened to make it become bigger and softer.
I was in denial about it for a while, but the bottom line is that it didn't happen overnight. I'm uncomfortable. I'm ready for a change and I am SURE there is no "quick fix" unless I choose to live on cocaine. I also know there is no miracle solution.
This means stepping away from some of the foods and drinks that I love. Not goodbye — just more,  "I will see less of you later."
One of the toughest aspects of reducing the amount and frequency of food you love is that you begin to crave it with a vengeance the second you've decided you'll no longer eat it.
Suddenly your thoughts are filled with visions of ice cream, chocolate, and red wine – or whatever it is that you love. Like a love-smitten teenager, you begin to obsess about all the foods you've decided you can no longer eat.
Why?
Because our brains are hardwired for pleasure. Notice how you feel when you tell yourself "no" to something you want, especially if there's a strong desire for it. It's almost like a toddler who isn't getting their way. You can hear her having her hissy fit.
Oh I know, we all flex our willpower muscles around um, January 1st each year… then we stay strong for a while but about February our knees start to buckle and we begin to go back to our old behaviors.
We are not at war with food or our bodies
If you think managing your weight is tough, imagine cooking, thinking about, and tasting food all day as a chef. And we're talking about really good food here. It's a challenge I face all the time. My dream career dictates that I must taste the food I am preparing, which I figure adds to thousands of calories each day.
I have also developed the habit of not sitting down to a full meal, which is a common habit for chefs.
While I am cooking, I am not hungry.  As soon as I am home and relaxed on the sofa, I'm famished and I find myself digging for the pizza delivery's phone number like a junkie looking for smack.
There have been times when my willpower muscles stay flexed for quite a while and when they do, I lose weight. I lose inches. I feel good. I can see a difference in myself in stages or sometimes all of a sudden
I'd like to share weight loss practices that have worked for me in the past at making my butt look smaller.
Eating in the morning.
It doesn't have to be "breakfast food." I dislike breakfast food. I don't like to cook it and I don't like to eat it, but I must if I want to stay on track with self-control. Some of my favorite morning meals are a leftover piece of chicken, or fish, a small piece of sweet potato, and roasted broccoli. Sushi rocks also, but only a couple of pieces with some veggies. Remember, it's easier to control how much you're eating when you're not starving.
Eating small portions several times a day.
You've heard this before, "lean protein the size of the palm of your hand." OK, whatever. You don't have to literally put fish or a spoon of beans in the palm of your hand and you don't have to start buying portion scales, etc. Use the logic that God gave you. Eat on a small plate. What works fastest for me is lean protein, a larger portion of veggies, and a little bitty portion of a whole grain like quinoa, brown rice, wild rice, or barley. Use marinades or dry rubs on your protein so you don't feel like you're on an ulcer diet.
Keep fruit and nuts in your car, laptop bag, or anything that moves with you. If you eat a whole piece of fruit, it will not spike your blood sugar because it takes longer to break down. Juicing that same piece of fruit will spike blood sugar.
Cutting back on the booze.
You were waiting for this one huh? Chefs like to drink after they are done.  But booze is full of empty calories. I've heard, "Drink vodka, it's better for weight loss, but scotch is the skinny girl's drink." You don't have to become a Mormon but lay off alcohol for a bit. Drink sparkling water, iced tea, or a sugar-free beverage from a wine glass.
Unearthing real motivation for eating healthy.
Ask yourself, "What will losing weight do for me? What will I be able to do after the weight is gone that I can't do now? Will I really feel good emotionally after I reach my weight goal?" Many of you will realize that what you really want is not weight loss, but something much more intrinsic, such as self-confidence and closer relationships with loved ones. When you understand the bigger purpose for your change, you may realize that eating ice cream like a maniac is really preventing you from living the life of your dreams.
Not depriving oneself.
Women are people-pleasers and we tend to put ourselves last. We deprive ourselves of many things on a daily basis, such as restorative sleep, relaxation, and fun. So many times we don't connect our cravings for brownies and red wine with a lack of healthy self-care. If you're looking at a menu and you're looking at the salads, but your eyes keep going to that burger, get the burger and ditch the bun. Save yourself some pain and order it without the bun and with extra lettuce. Assemble it like the bun was there and eat but eat it slowly and really taste it with each bite. When you are physically full, stop and ask for a to-go container. Don't feel guilty. Think of men. Men don't do guilt and I think they're on to something.
Moving the butt.
Don't join the latest "dance class" because it's the newest and hottest thing. Be an individual. Do what you like to do. When I go to the gym, the first thing the employees at the desk do is throw me a basketball. It is one of the sports I adore. I played in high school and in adult leagues for many years. I play half and full court by myself and pretend that I am part of a team playing for the championship. I hit 3-pointers with just a net. I even sometimes make the sound of the crowd cheering. I also sweat my ass off. I mix that up with other physical activities, but they are always things I am in the mood to do and mostly things I love.  Don't say, "I hate to sweat" if you do, get over it and start liking it. I highly recommend it. Walking works too.
I met a personal trainer when I first moved to California and when I complained about my weight. She said, "I lost 100 pounds." I'll bet you can guess what my next question was" How did you do it!?" She said, "I walked around a lake every day. It equaled a mile. When I started dropping a few pounds and my body felt a bit healthier, I walked around it twice. I slowly started adding more strenuous things but kept it simple. It took a year." She then took out a sticky note, wrote on it, and handed it to me. She said, "Oh, and don't forget this, it's part of the deal."  It said "CALORIES IN, CALORIES OUT, LOTS OF VEGGIES." It fell off of my refrigerator probably from opening it so much, but it has never left my mind.
OK, my foodie friends, so there are my 2 cents on healthy eating and developing a plan of healthy habits which lead to healthier chef dreams.
Hang up one of your favorite outfits that you can't fit in anymore. Better yet, try to put them on periodically. That'll tick you off enough to motivate you. Here is a picture of me in the '90s with my dear friend Gene who I've mentioned before. Yes, that's me.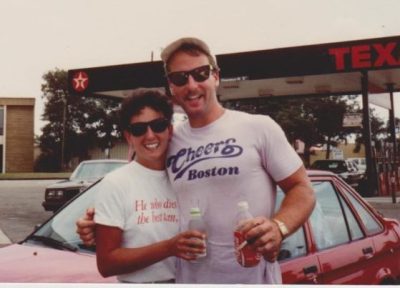 Tequila Glazed Grilled Chicken Thighs or Breasts
Yes, it's healthy and it's awesome.
1 1/2 teaspoons ground cumin
1 teaspoon chili powder
3/4 teaspoon kosher salt
1/4 teaspoon chipotle chili powder
6 bone-in chicken thighs or breasts, skinned
3/4 cup pineapple juice
1/3 cup tequila
1/4 cup honey
2 teaspoons cornstarch
2 teaspoons water
2 teaspoons grated lime rind
3 tablespoons fresh lime juice
1/4 teaspoon crushed red pepper
Cooking spray
Preheat the grill to medium-high heat using both burners. After preheating, turn the left burner off (leave the right burner on). Combine the first 4 ingredients in a small bowl; rub evenly over the chicken.
Bring the pineapple juice, tequila, and honey to a boil in a small saucepan; cook until reduced to 3/4 cup. Combine cornstarch and 2 teaspoons water in a small bowl, and stir well. Add the cornstarch mixture to the juice mixture, stirring constantly with a whisk. Bring to a boil, and cook for 1 minute, stirring constantly.
Remove from heat, and stir in lime rind, 3 tablespoons lime juice, and red pepper. Place chicken on a grill rack coated with cooking spray over the right burner –direct heat. Cover and grill for 5 minutes on each side, basting occasionally with juice mixture. Cook 5 minutes more per side if you use bone-in chicken breasts. Move the chicken to the grill rack over the left burner (indirect heat). Cover and grill for an additional 5 minutes on each side or until the internal temperature is 160 degrees. Baste the chicken occasionally.
If you would rather not use tequila, you can substitute 1/3 cup of pineapple juice. Please note that the safe temperature for poultry is 165 degrees. I cook it to 160 degrees because the carryover cook time will bring it to 165 degrees. If the chicken is still pink, cook it until clear juices run from it.
———-
Maria Vieages

Enjoy this special 8WomenDream Guest Contributor story submitted by new and experienced big dreamers throughout the world, edited and published to capture a dream perspective from different points of view. Do you have a personal dream story to share with 8WomenDream readers? Click here to learn how to submit dream big articles for consideration.
Note: Articles by Guest Post Contributors may contain affiliate links and may be compensated if you make a purchase after clicking on an affiliate link.