Last updated on May 23rd, 2012 at 11:23 am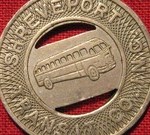 My dream, to write my first memoir book, "Confessions of an Undutiful Daughter" has been taking a toll on me in the home stretch.
Not only have I been struggling with bouts of lethargy, self-sabotage and fear-induced weepiness, I'm entering a phase where I really wonder if anyone will ever read my book.
My husband says now he knows why writers drink.
And yet, in my darkest hours as I ramble around my house, at nearly every turn there are inspirational tokens of my dream that, if I just let them, give me courage and help me re-focus my energies.
These little things I think of as Dream Tokens are what I use to avoid dead ends and travel to the next point in my journey. Just seeing them, touching them or holding them in my hand for a moment pays the fare to my next healthier mental destination. Sometimes, they sit like guards around my PC screen.
Back when I was a novice freelancer I dared to dream that one day I'd be an author too. At that time I was collecting little bits of printing and writing ephemera at flea markets and antique stores that I would use to fashion little art constructions. I had been inspired by Joseph Cornell's shadow boxes, which can be quite hypnotic. Of course, mine were smaller, funkier and I had no expectations that mine would ever hang in a museum.
But a couple of them did end up hanging in my office where I write.
One, in particular, has been a touchstone for many years. Incorporating vintage childrens' stamps, printers blocks and an old metal light bulb tin, I created "Write the book 4 U," to remind me to never try to guess what I should be writing, what the market wants. I've always been convinced that your best story is your most difficult personal story and that really, first you have to write the book for yourself.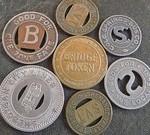 Another dream token that has helped me is a very small framed photograph of myself at about age two or three, taken by my father.
In it I look happy and trusting and at peace. On writing days when I wonder how my mother could have done the things she did I look at that photo objectively and I know that anyone who could have mistreated that child was truly sick. The photograph helps me cut way down on doubting my memories or doubting the need for this book.
Dream tokens aren't always treasured items hung on walls to be noticed and pondered. Sometimes the most powerful tokens are kicked around, unappreciated, even lost for long periods of time.
I have recently acquired one of my most treasured dream tokens. In my life, it is iconically powerful like the sled, Rosebud, in the movie Citizen Kane.
When I was a little girl our neighbor had a little getaway place in Calistoga, CA. Today, Calistoga is a Wine Country destination full of spas and restaurants and shops. Back then it was a dusty old town, not unlike the setting of To Kill A Mockingbird, where a big summer day was pulling soggy golf balls out of the creek, selling them back to the duffers and taking those quarters down to the rock shop to buy polished tiger eye or quartz.
In Calistoga we watched the adults play bridge, cribbage and gin, while we tried to master 52 pick up. They drank cocktails and we begged for Tang or root beer. There were so many small fry with so many demands for drinks that the mothers decided that each kid got one plastic cup and somebody got the bright idea to write our names on each one in nail polish.
It had been 30 years since I'd been in the Calistoga house, but about a year ago there I was in the house I only remembered with a counter top sight line.
We started talking about the cups and a quick search revealed all the cups had disappeared over the years, except mine. Did I want it?
Did I WANT my old blue cup?
You bet I wanted it.
I wanted that chintzy dime store relic, cracks and all because it too was a token of sorts. At the beginning of my life it was a big vessel, difficult to hold when full. Now I hold it cupped in my hand, sure that the handle will give any day. That little cup is one of my best portals to the way my life was as a little girl. It may leak but it still has the power to hold so many childhood stories and memories and dreams that inspire me in my work.
Dream tokens are all around us if we just look and trust that the bus will come and we will get where we need to go.
Rayne Wolfe's dream is to write her first book Confessions of an Undutiful Daughter by the end of 2011. She completed her dream journey May of 2011 on 8WD after a year living her dream. You can find her at Toxic Mom Toolkit on Facebook.
p

Enjoy this special 8WomenDream Guest Contributor story submitted by new and experienced big dreamers throughout the world, edited and published to capture a dream perspective from different points of view. Do you have a personal dream story to share with 8WomenDream readers? Click here to learn how to submit dream big articles for consideration.
Note: Articles by Guest Post Contributors may contain affiliate links and may be compensated if you make a purchase after clicking on an affiliate link.