Last updated on June 10th, 2012 at 08:38 pm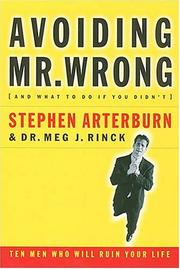 Ever since I picked "finding Mr. Right" as my latest dream quest, family and friends have been screaming for the chance to have some fun at my dating expense.
Maybe they should just choose my dates.
Sometimes I think having them chose my dates couldn't be any worse then my choices in the past.
But is giving your family or friends authority in deciding who you go out with, good idea or bad idea? Maybe it's better to identify the Mr Wrongs myself and avoid those past mistakes on my own. Thanks to author Stephen Arterburn and his book, Avoiding Mr Wrong, I have some great examples of the type of men who should not have the honor of my company – or yours.
1. Mr. Detached.
This man finds intimacy too much work. To avoid emotional engagement he works all the time, travels all the time, never leaves the garage/home office, or is always engrossed with the Internet, books, movies, sports, music or anything to avoid connecting with you on a regular basis.
2. Mr. Control Freak.
This man usually looks like Prince Charming, who will take care of everything. At first, this may be alluring, but to keep control he must rule with an iron fist. He is really a man who is afraid and likes to project his fear on to his partner.
3. Mr. Too Wonderful.
This man is to good to be true. He is so wonderful – and he knows it – and he expects to always be the center of attention. He will stop at nothing to keep the attention focused on him.
4. Mr Cowardly Lion.
This man always gives in to peer pressure, takes the easy way out, and stays in failing relationships rather than leave. He stays at jobs he hates and works for bosses who abuse him. he won't stand up for you, your children or himself.
5. Mr. Angry.
This man is violent. Some of the signs that he will eventually turn violent are that he is jealous, insecure, possessive, blames others, views sex as the answer to any issue, threatens to harm you or your loved ones, and finds another relationship quickly if there is a break-up.
6. Mr. Mama's Boy.
Regardless of age, this man is still living at home. He might appear perfect because of his devotion for his mom. There is only one person that can have priority in his life and that one person is his mom.
7. Mr. Deceiver.
When truth is relative, then truth can change from day to day or hour to hour. Loyalty, fidelity, and commitment become concepts that do not exist.
8. Mr Addicted.
This man is the life of the party and can be fun to be around, but his irresponsibility, mood swings, lack of money from all the substance purchases and lifestyle choices, ultimately interfere with this man having a truly committed relationship, or be responsible in one.
9. Mr. Eternal Kid.
This man is Peter Pan, the eccentric genius, or Gilligan – the type we think of when we picture the man who never grows up. Like Peter, this type of man can be very charming and fun to be around, but someone in the relationship has to be the adult – and that person will always be you – because this man will never be responsible.
10. The Ungodly Man.
This man hash no concept of spirituality and it is imperative to him that he is right about the existence of God and all believers are wrong.
In the following video, Cathryn Michon of iVillage discusses how to look out for Mr. Wrong —
When you begin dating again after 50, you must be able to immediately identify characteristics in the opposite sex that are changeable, those that will never change, and those that are potentially dangerous, so that we don't waste valuable time with someone who is completely wrong for us.
Where's the good news? You have control over who you are willing to date.
You also aren't doomed to a lifetime of bad relationships. If you monitor the company you keep, you can control the quality of men in your dating arena. If you surround yourself with men who do not fall into the Mr. Wrong profile, then sooner or later you will be attracted to one of the "good guys".
If you pay attention to the signals that your body, mind, and spirit send you, you will make better decisions about your relationships.
I know I will.
Just remember to have fun –
Veronica
Veronica rotated off 8 Women Dream after successfully completing 2 dreams.


Enjoy this special 8WomenDream Guest Contributor story submitted by new and experienced big dreamers throughout the world, edited and published to capture a dream perspective from different points of view. Do you have a personal dream story to share with 8WomenDream readers? Click here to learn how to submit dream big articles for consideration.
Note: Articles by Guest Post Contributors may contain affiliate links and may be compensated if you make a purchase after clicking on an affiliate link.