Last updated on February 26th, 2023 at 02:42 pm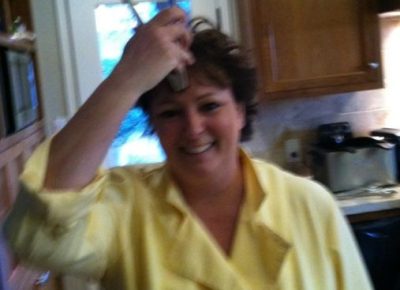 I have endured my share of negative experiences: Childhood sexual, emotional, and physical abuse, living with the fact of being gay and hiding for most of my life, 4 deaths in one year including finding my mother dead, surviving Hurricane Katrina, and starting over 3000 miles away at middle age (Alone, with nothing).
No one in the universe can say I do not have a reason to be tired.
But there is this part of me that is so full of drive, determination, and tenacity, not a thing can stop me.
Because I believe:
As I continue to express myself and put my dreams into action, great things will happen.
That the universe nudges us where we need to go but we need to pay attention.
That God has a plan for me.  It is why I've endured so much hardship and have landed in California.
And frankly, I am scared to death of my power.
A few days ago I created a lunch for 25 people. I'd been feeling good and taking care of myself. The morning of lunch I woke up and I thought someone had beat me with a bag of oranges during the night.
I immediately knew I had a fever and my throat felt like there were little people having fun with razor blades. Of all days for me to wake up sick. I'd had several days off but NO, I awoke sick on the day I have a lunch scheduled.
Cooking for 25 people is nothing to most chefs. It can be done blindfolded, but I felt like crap. Outside the rain was coming down in sheets and I had to get moving. I managed to get everything cooked. I started to call staff and people I knew to see if they could deliver the lunch for me (of course for pay). It would have been a huge break for me to be able to go back to sleep instead of going out in the rain.
No one was able to help me so I loaded my trunk with food, got soaked by the rain, and delivered the lunch. By this time, my voice was almost a whisper. I made it through the day and collapsed once I got home. My fever was rising and my throat was now on fire. Then I remembered that I had a cooking demo for 32 people the next day.
Nice.
I lay there thinking "OK, if I sleep now, I can wake up at 6 and I will feel better. I will get my prep done and my staff will help pull it through."
Oops, there's a problem: how am I going to speak?
Anyone who knows me is aware that I do not need a microphone to talk to a crowd of people. I hold a cooking demo for this particular client every year now because the "students" love my show. I contacted the client and told her what was going on with me. She told me to call her in the morning and we'd decide whether I could do the demo or not.
NOT.
I traded my demo for a doctor's office visit. I brought a pen and paper with me. When the reception desk asked how I was feeling, I held up a " thumbs down". When I saw my doctor, she examined me and told me the news:
You have strep throat or infectious mononucleosis.
It all depended on if my body responded to the first round of antibiotics.
Mono? Really? The kissing disease? I wish. I wrote across the paper in all caps, "CODEINE." She honored my request.  Part of this blog post is brought to you by a person in a reclined position with an interesting buzz from a mixture of Alka Seltzer cold medicine and Phenergan with codeine. It's actually pretty cool.
I prepared for another dinner Saturday night and delegated most of the tasks to my staff so I could heal.  I didn't want anyone but me to make the mashed potatoes though. I just couldn't let it go.
Besides it being difficult for a self-employed person to call in sick, I don't feel like anyone on this earth can make mashed potatoes like me. I learned from my mother years ago and I didn't want the guests to have less-than-perfect mashed potatoes.
Mother of God.
As I drove to pick up the meat for the party Saturday, I get a private message tone from Facebook on my phone. I speed-read it and see that it was about an interview with someone from the N.Y. post.
What?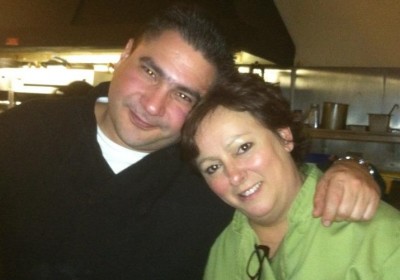 I pulled into a parking lot and read it. It was from a media contact. She told me I had to contact Susie Q by 3 p.m. and give her all of my pertinent business information. I looked at the clock. It was 2:25 p.m. and I had no voice. I found Susie's e-mail address and sent an email telling her my situation.
I decided to take a hot bath to relax before crawling back into bed. I brought the phone with me into the bathroom. As SOON as I dunked my head underwater, what do you think happened?
The effing phone rang and the caller ID said N.Y., N.Y. Couldn't this happen 5 minutes earlier? Well Hell no. I wipe my ear dry and answer the phone. They hang up. I looked up to the heavens and said, "Is this sarcasm?"
Some say that I'm going down the wrong path.
Here's the thing: when you love what you do and you love the people who do it with you, nothing else matters. Sure, I am kind of burned-out and sick, but I have to tell you, I am patting myself on the back for going from 102 temps and strep throat to getting vertical and pulling off a dinner for 20 people that resulted in 2 more culinary bookings.
The best moment of the night was when we were plating the entrée. It gets very intense because of the timing and the focus involved. You have to be completely in the moment when you do this which is actually very menial and quite relaxing.
My chef, Aaron, and I finished the last plate as the servers took the food to the seated guests. I cannot describe the feelings we had when that last plate went out. We looked at each other and did a hard high-five. It was total relief and a complete high.
I'd forgotten how sick I was and how tired I felt. I'd forgotten that my back hurt and that my throat was scratchy. Tears welled in my eyes as I said to Aaron, "You see? Do you feel this? I am high. Are you high? I have this deep love for where I am right now and what I am doing. I
just can't seem to have it all of the time and we're good. We are good, dammit. So many crappy chefs are busy all year round and I deserve to be busy all year round because I have so much to offer."
Aaron put his arms around me and said, "You have to find a way. I know you're tired but you are so worth it."  Tears rolled down my face as I buried my head in his chest.
It was a moment of truth, power, and surrender.
This is how bacteria was a catalyst for realizing my power:
I contacted a reporter from the New York Post right under the deadline with no voice for an interview (and received a positive response).
I cooked lunch for 25 people representing my hometown of New Orleans, Louisiana. which resulted in 4 more lunch bookings.
I planned, executed, cooked, and managed a dinner for 20 which lead to 2 more dinner bookings.
I finished my blog post for this week including the layout (which needs a bit of work but feels great).
Maria Vieages, you magnificent son of a b**h. You should get sick more often.
You have more power in you than you know. Just do what you adore and be around the people who are in your boat. I truly believe that you are born with every single thing you need to transcend situations, but your humanness can get in the way.
We get all screwed up with "thoughts and doubts," but being sick and continuing to actively live your dream is a simple test of how badly you want it. Next time you get sick (and you will at some point) while living your dream, notice how much energy you can put towards your dream.
Notice how much time you spend thinking about your dream between blowing your nose and swigging NyQuil. That's your clue.
When I was at my worst point, I was still emailing clients who have upcoming events to let them know I was sick and not blowing them off. I worked on my blog post every day.
Today's blogosphere is filled with pictures from the finale of the "Non-Contagious Strep Throat Dinner" I was concerned about.
Silly me for ever doubting my abilities.
Maria Vieages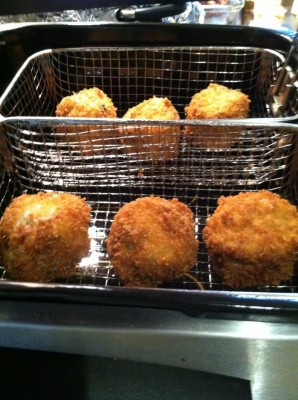 Here is your recipe for the crabcakes in the picture. Don't think, make them.
Crabcakes from Heaven
Serves: 6-8 regular eaters or my mother and my Aunt Bee
1 pound lump crabmeat ( picked over for shells )
A small handful of diced red and yellow bell peppers
1 green onion, sliced thin
Butter for sauteing
Good mayonnaise
Panko bread crumbs
Salt
White pepper
Cayenne pepper ( be careful )
4 eggs, beaten
More panko for dredging
Canola oil
A deep fryer or a pot with a lot of oil
Special tools:
a 2" high cylindrical cookie cutter
a "spider" or large slotted spoon if frying in a pot.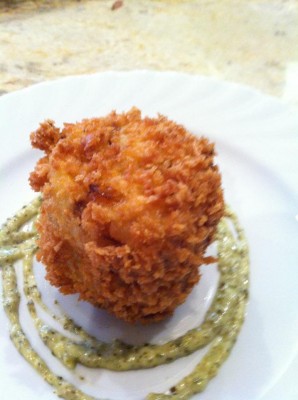 Sweat green onions and bell peppers in butter until slightly wilted. Add to crabmeat in a large bowl. Add seasoning. Add mayonnaise and Panko ( not too much ) until you can close your hand and the crab mixture keeps its shape.
Taste. If you are satisfied with the taste and texture, pack the crab mixture into the cookie cutter/mold. Place the crab towers on a pan and refrigerate so they will set.
When you are ready to cook them, heat enough oil in a pot or fryer so crabcakes will be submerged. Heat oil to the point where it looks shiny and when throwing a few Panko bread crumbs in, they rise and sizzle a bit. Dredge crabcakes in egg then Panko and put in hot oil.
Cook until they are brown and crispy ( this won't take long and they will not be greasy ).
Put them on a paper towel-lined pan or on a baking pan if you need to hold them in the oven for a few minutes. If holding them in the oven, put them in at 250 degrees and it will keep them inside hot. Don't keep them in the oven longer than 10 minutes to be safe.
Serve them with basil aioli, remoulade, or your favorite sauce.

Enjoy this special 8WomenDream Guest Contributor story submitted by new and experienced big dreamers throughout the world, edited and published to capture a dream perspective from different points of view. Do you have a personal dream story to share with 8WomenDream readers? Click here to learn how to submit dream big articles for consideration.
Note: Articles by Guest Post Contributors may contain affiliate links and may be compensated if you make a purchase after clicking on an affiliate link.