Last updated on January 8th, 2013 at 02:22 pm
This page is the official 8 Women Dream media page where we offer our media kit, logo, screen-shots and various presentations about 8WomenDream.com.
The 8 Women Dream Vision Statement:
To bring dream inspiration to every woman in the world.
The 8 Women Dream Mission Statement:
Our purpose here on 8 Women Dream is to openly express our willingness to be successful at dream achievement by committing 100% to the goals we set for ourselves in front of our readers.  We further promise to deliver our very best writing on the subject of dreaming big and how we overcome our fears, setbacks, stalls, and sometimes even ourselves to make our dreams come true, so that we can inspire the women of the world to do the same.  

And if in the process we inspire some men to dream big too . . . all the better.
8 Women Dream Media Kit:
To download, please be sure to click on the images.
In pdf –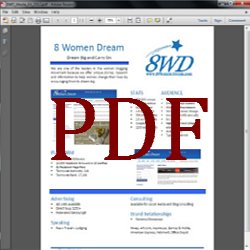 Click on image to open in pdf
In MSWord doc –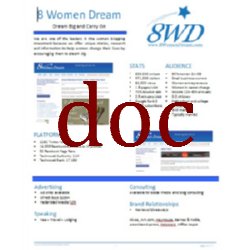 Click on image to open in doc
Logos:
The following graphics can be used online, for basic Word documents and most smaller printed materials. If you have any difficulty downloading or using them, please contact Catherine Hughes or Heather Montgomery at pr(at)8womendream.com. Clicking on the images will open them in a new tab/window for downloading.
8WD only 125×70 png –

8 Women Dream with URL 390 x 270 png –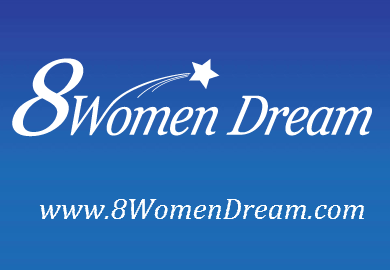 8WD Sponsor Ad 250 jpg –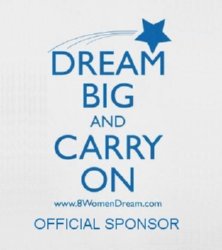 I'm a Dreamer Slogan ad 240 x 240 jpg –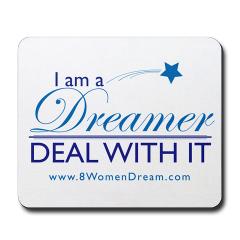 8WD Slogan ad 336 x 400 120 dpi in png –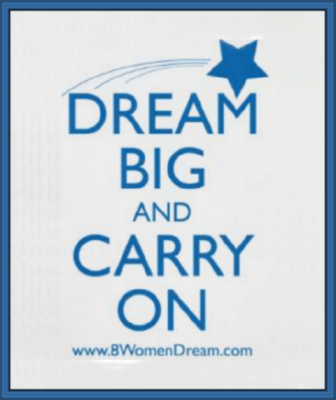 8WD Slogan ad 336 x 400 300 dpi in png –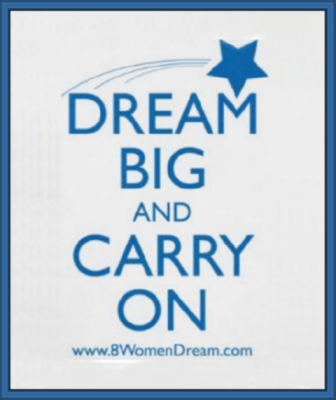 Need more information? Different logos or graphics? Please email pr(at)8WomenDream.com. We're a very small team here at 8 Women Dream and we receive a high volume of emails each day, so we apologize in advance if we're not able to get back to you immediately. If you're on deadline, please include the word "URGENT" and the date and time of your deadline in the subject line of your email message, and we'll get back to you as soon as possible.
If you'd like to invite a speaker from 8 Women Dream for an event, please complete this form (form in progress, in the interum email pr(at)8womendream.com)