Last updated on November 28th, 2012 at 07:16 pm
I didn't initially start this website to make money off the visitors.
I started this website because too many people were spending their lives doing what they thought they were "supposed to be doing" instead of what they were born to do. I worked with too many unhappy coworkers who were in a job strictly  for the money and not because they had any passion for the industry.
I saw too many living in quiet desperation like sagebrush fighting the desert wind — growing more and more brittle and prickly over time. I was tired of watching people work long hours at jobs they hated to support a lifestyle they found suffocating. Yet, they kept on doing it as if their life was merely a leaf being pushed down stream by a strong current without a way to change an inevitable outcome.
And I saw a lot of unhappily employed women.
I began to wonder if I could change this way of looking at making a living — at least, for women as they followed men into careers where they once weren't welcome. Could I change the way we look at how we live our lives? Could I help you solve what it takes to change your life and be brave enough to do what you feel called to do?
Was it even possible…?… Could technology and the Internet hold the answer?
8 women dream became about changing one small corner of the world — one reader at a time — online.  And I have to admit, I've felt about monetization in much the same way Mark Zuckerburg felt about Facebook monetization. Let's build it big first.
As this website rolls into year 5 — the year that 8 Women Dream will explode — I am asked more than ever about making money online.
This is what I have learned about how to make money blogging  —
1. Making money online is not as easy as it looks.
Have a day job and a back-up plan. People are funny about how they like to spend money on the Internet and you need to spend time getting to know your readers first. You need to test your blog posts, what you've chosen to write about and engage with your audience. You cannot sell to an audience you do not understand. You have to know them like you know your friends. This means everything from how your content is placed on your site to how your logo is designed. It's all about building trust.
2. Online (banner) advertising comes in many forms.
There are several forms of online advertising. The most popular type is to join online advertising networks and list your website. Based on the numbers you provide (you need to be running Google Analytics, or stats from companies they approve of) advertises will approve of your blog/website for their advertising. Some of the most popular are Chitca, Blogvertise, Linkshare (8 Women Dream uses Linkshare), Bidvertiser, and Google Adsense (there's more, but these are the most common).  These advertisers are known as "Pay-Per-Click" (PPC) ads, where the blog owner gets paid when a visitor clicks on the ad. Verses "Pay-Per-Impression" ads where the advertiser pays the blog owner each time the ad is displayed to a visitor (per 1,000 views).
Think about your blog traffic for a moment and imagine how many times you have clicked on ads yourself on the Internet.  You can begin to imagine the volume of traffic and the amount of clicks you need to make a living on ads (if you manage to pick the right ads, from the right advertiser showcasing the right product to the right demographic on your blog).  The problem is with these type of ads are the amount of traffic you need to generate enough clicks in order to make $100.00.  You could have 100k visitors a month and still have only a few hundred visitors click on your ads.  And depending how long they stay at the advertiser's site once they click through, you could see a third of a penny, or maybe $15.00 in a year, depending on your traffic volume and the ads.
What I use these types of ads for is legitimacy and statistics because of the amount of traffic it takes to be accepted by these major brands.  I also see reports on visitor behavior that tells me a lot about visitor habits on 8WD and what they are interested in.  Plus, if a major advertiser wants to buy space on 8WD, I have statistics I can share.
(There are other forms of advertising models like pay-per-links and pay-per-post that run on the basic same ad model as Google Adsense)
3. Ad agencies do exist.
Ad agencies like Federated Media and it's sub-darling company, Lijit are two of the better known ad agencies out there.  But! You have to have a lot of traffic (over 100k) and be very popular on the Internet before agencies will sit up and take notice of you. Federated Media (FM) is one of the largest ad agencies in the world and you can ask to be considered as a client on their website, but don't be surprised if they never get back to you. They are more the type of company to find you because of all the noise your site is making on the Internet, rather than the reverse.  Not making any noise? Not getting lots of site visitors who stay around clicking through your site? Then ad agencies are definitely not for you — yet.
And here's another conundrum:  Lijit picked up 8 Women Dream last year and the impressions were good, but the pay out was so small compared to what it was costing 8 Women Dream in site load time that I had to let it go (and our Lijit rep still hasn't even noticed that we've stopped with the ads). The ever-changing block ad on the left side of 8WD would hang up the loading of the site more times than not at a pay out of about $4.00 a month. I decided it wasn't worth losing  visitors for such a small amount of money. Besides, rumor has it that the display ad model is dying a slow death online.
4. Affiliate relationships are better.
Affiliate relationships are a better way to make money over display advertising, but you still have to know what you are doing. Amazon Associates offers affiliate relationships where you sign up for an account and display Amazon products on your blog. If purchases are made, then you make money. The problem is, as with the advertising model, you have to sell a lot of items before you make your first $100.00.  Your success depends on how good you are at picking products your visitors will like, which can be very time consuming in its own right. You make about 5% per product – when it sells. There are also other affiliate companies such as Living Social, Google Affiliate Network, and selling other bloggers e-books and WordPress designs (like Thesis).
Some top bloggers, best-selling authors and website owners enter into affiliate relationships with each other to share email lists and cross promote each others' products (on websites and on Amazon) and it's not fully transparent to the visitor that this is what is going on. Let's say I could be friends with the developer of the WordPress Thesis theme, install it on 8 Women Dream and then talk about how it is responsible for a certain amount of traffic and refer you to a link if you would like to try it and Thesis pays me money every time that happens.
5. Developing your own products.
Developing your own products to sell is probably the best way to make money, but it's not easy either.  If you are a writer and your blog has been around a while and people really flock to what you have to say on a certain subject, then you probably could sell an ebook.  But you will still have to write it, get it edited, set the book format, get it into Amazon, and promote it like you would any other book (every single day for a year or more).  You can easily develop a product line at CafePress, but again, you have to have a design aesthetic and a graphic designer who can work with you.  CafePress takes a huge chunk of the profits, but they take your graphics, add it to the products you've chosen and ship it for you to the buyer.  Word has it that you make better money with a premium account, so you have to invest both time and money in an attempt to create a product your visitors might buy.
There's always creating something people will pay enough money for that you can make cheaply at home and allow 6 weeks to get it to the person, but do you want to deal with the post office at least once a week? And what happens when you are a success? Do you want to be stringing jewelry beads every night until 3 in the morning?  You see these types of entrepreneurs on the TV show, Shark Tank where they have a hot product but no money to mass produce it to scale and make any real money.
Oh and yes, 8WD has a CafePress shop. Was it easy? No.
6. Offering classes or workshops online.
You can teach what you know about a particular subject and offer an online course, either by video and standing in front of your audience (think teaching something that needs a whiteboard), by filming your computer and showing how (think Photoshop tutorials), or by writing a course and making it available for download. you could also make an audio recording (think of a great meditation) and sell it. But whatever you choose, you still have to have the equipment, money, knowledge and the time to create the content.
7. Having a membership site.
Membership websites are not easy. You need to have the time and skill to run them. You have to provide in-depth, high value crisp content the members want, without ads, delivered as promised.  It's a business online, so don't expect it to be some part-time job. If you don't put in the effort, your members will cancel their subscription.
An offshoot of the membership model is to create a magazine website for tablets where you charge per issue. You will still need to come up with quality content that is error-free and worth the price of the subscription. You must run it like a publishing business and never miss a deadline. And you'll need some start-up cash.
8. Being sponsored by a company.
Sponsorships are rare. You must have a high traffic, semi-famous Internet site for companies to consider offering your site an exclusive sponsorship. You have to have high-value visitors who match the sponsors' demographic and a long-standing, trust relationship with your visitors. You have to look like a site that will be around in the next 5 years.
9. Don't believe everything you read, or see about making money online.
Just because a blogger says that they are making money does not necessarily reveal their entire financial picture.  The blogger may have started with a lot of money in the bank to invest and had the time (and money) to create a great site and product.  Maybe the blogger has a spouse that makes enough money to support the family and help the blogger launch a product, buy Google Ads and run promotions.  Maybe the blogger belongs to a Mastermind group that they've paid to join that is helping the blogger be successful.  Maybe the blogger knows someone famous online who shared their product with a large email list.  Maybe the blogger has a product Oprah picked out as one of her favorite things.  There can be any number of reasons a blogger is making money online that are not easily determined from the image they present online about why they are a success.
10.  Everything online requires lots of hours in a chair.
Whatever you try to make money with online is going to demand that you work at it at least as a part-time job (on top of your full-time job).  You'll find yourself sitting in your chair until your body aches. It's not something you can do only 4 hours a day and then go play at the ocean. It's like any business. It takes time, money and effort along with the willingness to change course and adjust as you go. It is not easy.
One of the biggest reasons people don't make money online is that they think "I will build it and they will come"  — that you just need to put up the website, or launch a campaign with a wonderful product that you just know "everyone will love" and the money will come rolling in without much effort and you can go lay on a beach in Bali.
Most online ventures resemble offline businesses in as they don't start seeing success until year five.  Once a website is big enough to garner enough attention on the Internet (which takes several years of hard work to do and hundreds and thousands of visitors) then specific money-making plans can be launched.  Too many blog owners lose motivation to continue posting content and making their content better week after week because no one has offered them an advertising sponsorship and they feel like nobody is really reading their posts.
I've seen bloggers feel this way even when traffic is good —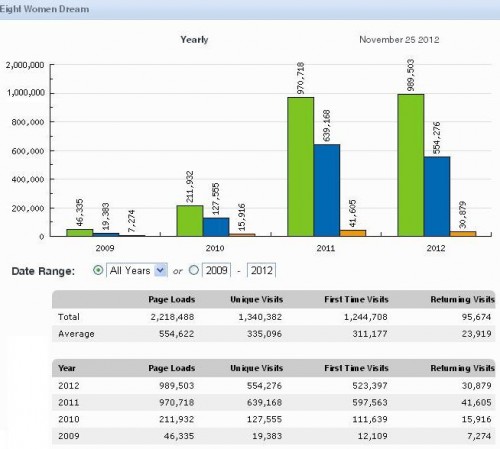 You have to love it enough to stay at it when you hate it and don't feel like working on it anymore.  Having a top blog is work — REAL WORK.  Having posts people will want to share is REAL WORK.  Making money online is REAL WORK, which means blood, sweat, and tears mixed with a lot of trial and error.  Sometimes you take your own money and hire an expert to coach you through a successful online money making idea — whether it is a product launch or an affiliate model.  Sometimes you have to trust someone else.
These are the reasons why I wanted to take it slow with 8 Women Dream, build a readership and following, get the content up to a high Internet standard, study what the best-of-the-best do online and position 8 Women Dream to be something of great value to the readers.
And yes, I do have a plan for making money with 8 Women Dream.  I'll be sharing this as we move into 2013.  I look forward to your feedback and your own personal experiences making (or not making) money online.
Catherine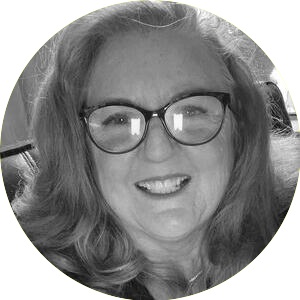 Catherine Hughes is the editor and founder of 8WomenDream. She's also a magazine columnist, content creator, blogger, published author, and former award-winning mom blogger. Catherine collaborates with companies to craft engaging web content and social media narratives. Her work, highlighting stories of the resilience and success of Northern California residents, appears in several print magazines. Outside of work, she treasures motherhood, her close friendships, rugby, and animals.
Note: Articles by Catherine may contain affiliate links and may be compensated if you make a purchase after clicking on an affiliate link.