Last updated on April 25th, 2012 at 06:54 am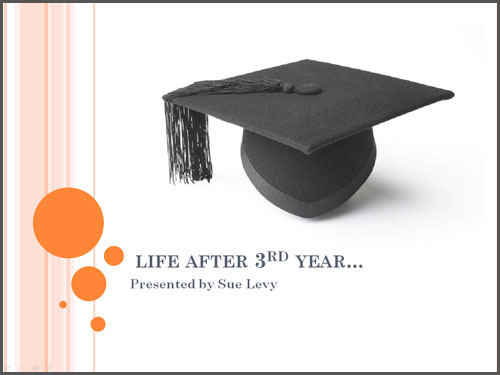 As I am writing post, I have such a huge smile on my face. I'm in a good place right now.
My dream of becoming an International Motivational Speaker and Author is starting to sink in now as I attempt to take baby steps to achieve it.
I was asked to give a presentation at my previous place of education, The Cape Peninsula University of Technology (CPUT). The university always gets in a few speakers who are Alumni to share some experience and a word of advice with their final year class. I graduated in 2006 with an ND qualification in Multimedia Technology, so it was an honour for me to share my story with the 3rd year Multimedia class and share the stage with a buddy from my graduate class, Clement Newton.
I decided to not show samples of my design work, but to take the opportunity to give them some advice, so my presentation was called: Life after 3rd year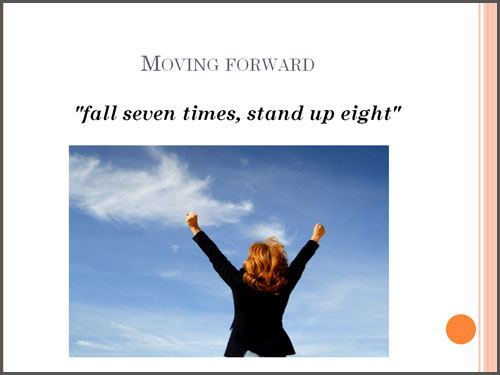 I decided to be very honest with them, as I called one of my points "The Ugly Truth" and other was called "Moving Forward." It was not my intention to scare them but I wanted the students to realise that the Concrete Jungle is filled with many surprises, unknown to all graduates. I really want the best for them as students, wanting them to succeed is my heart's desire, as they are so young and have the ability to be awesome, they just don't know it yet.
My aim was to sow the seed of motivation and the more I spoke, the more I realised what I have been through since graduation. I just smiled when the world came out of my mouth because all the low moments I had brought me to THAT moment right there.
On a lighter note, the presentation went well and as I was asking for any questions I was caught off guard by someone shouting "Are you single?" Oh Lord! The embarrassment! I didn't expect that. The lecturer Tanya Daniels, who is also a previous colleague of mine then said "You can answer that by introducing our next speaker." I then smiled and introduced My Husband, Aslam . The class started laughing. What a moment.
Seeing Aslam present was a real proud moment for me. His presentation brought back so many memories of the trials and achievements that we went through as post-graduates, and how we persevered through so many rejections to be where we are as professionals in the Media and online space.
It all ended well and it seemed like the students had learned something. We were politely thanked by a student and it felt amazing.
I was approached by a young lady who needed some advice about her direction in her career after graduating.  She reminded me of myself at age 20 — so enthusiastic, yet so afraid of what is yet to come. I immediately told her not to put so much pressure on herself. Speaking with her made me realise that this dream of becoming a Motivational Speaker was infact becoming a passion I never knew existed. I was happy to see her feel inspired by what I had to say.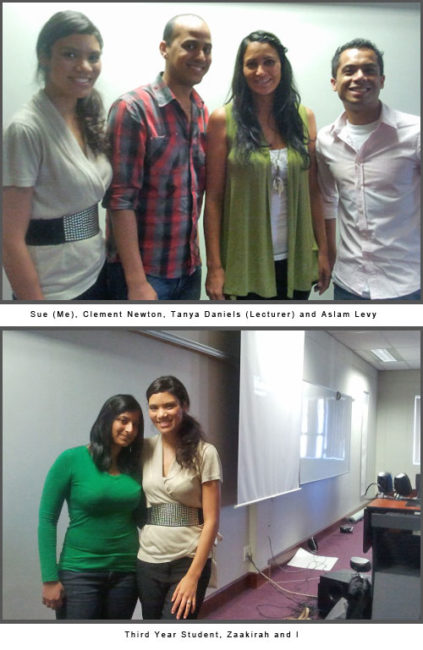 I received this lovely comment from one of the students:
Hi Sue,

I have become your newest reader, I met you today and it was an amazing experience. To meet someone who is similar is completely out of this world. Just this morning I was saying that I need advice from someone who has been in my position. You have inspired and motivated me with your presentation and I really appreciate it.

 Thank you for giving me a sense of direction in the field I would suit best in.
This comment brought elation into my heart. I felt so humbled by her words and teared up because I made a difference in someone's life. Even if it was just one person — it was one person closer to a world of "Inspiring others," my kind of world and my dream.
-Sue
PS. If you are interested, here is my presentation on Slideshare 
Sue Levy is the founder of the South African Just Pursue It Blog and Inspirational Women Initiative. She's a motivational writer and media designer, who is obsessed with everything inspirational with a hint of geek. She thrives on teaching women how to be brave and take big chances on themselves. You can find Sue on her Twitter page @Sue_Levy.
Note: Articles by Sue may contain affiliate links and 8WD will be compensated if you make a purchase after clicking on an affiliate link.