Last updated on January 23rd, 2019 at 10:36 am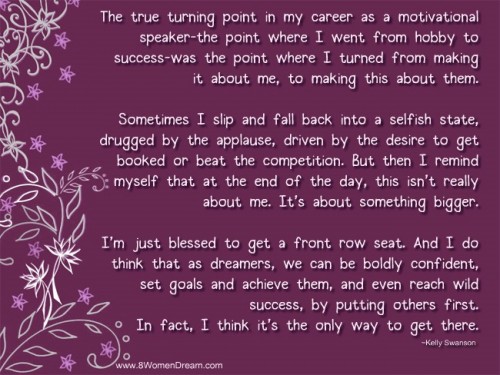 As dreamers, we set a lot of goals, both big and small. Or at least we should.
Are you setting clear concrete goals? Are you celebrating when you reach them?
If your dream is too broad, you'll never know when to celebrate victory. And it doesn't always have to be one goal. Make many dream goals in different sizes –  that way you get to spend a lot of time popping the cork to celebrate.  And I don't know about you, but I like popping that cork.
Or in some cases, that chocolate bar wrapper.
So today I'm popping the virtual cork with you, and celebrating a tiny victory that's really not so tiny, at least for me.
Do you need to take a moment and celebrate completing a goal?
I don't know if I ever told you, but a secret dream of mine has been to seek the respect of my peers.  I don't need it to feel good about who I am and what I do. I just want it.
Respect from your peers when you're an artist is very cool. Kind of like in country music when the young musician gets a nod of respective from their legendary hero.
It just feels good.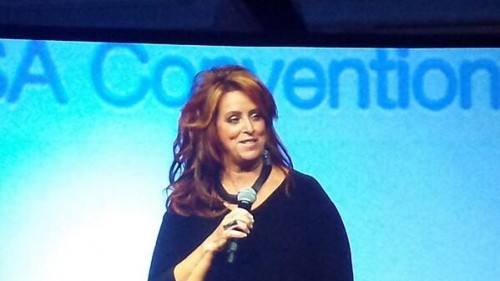 And I never knew how much, until this summer, when I got to open up at the Foundation Dinner at the NSA (National Speaker's Association) Annual Convention.
My twenty minutes in the spotlight.
At the danger of sounding like a diva, I won't drag it all out. But in my career, it was one of the best moments of my life. And today, I'll share it with you in the video below, followed by some important lessons that came with it.
Kelly Swanson Performs An Original Story Written For the Motivational Speaker
Sometimes when I stand in a dream fulfilled, I like to take a moment to look back to see how I got here. And I'm always amazed that it wasn't the path I expected. Here's what I learned as the dust settles on such a great moment.
8 Lessons Learned From Completing Goals–
1. There wasn't one thing that I did to get the opportunity.
When I look back, it was a series of tiny little things that led to other tiny little things. And none of those tiny things were done with the purpose of getting here. Here just happened as a result of all those tiny little things.
2. It wasn't about who I knew, or the connections I had.
But it was because of the relationships I had formed, based on serving and giving and helping others with no ulterior motive.
3. It wasn't about an agenda to get there.
It was about living into a spirit of just wanting to serve my industry. In that process, they grew to know me and my work. I simply showed them what I do, instead of telling them what I do.
4. I didn't ask for the opportunity.
It came to me when the time was right.
5. I never wasted a moment to be and do my best.
Even if in that moment I wasn't being paid, or the audience was small. I still gave them everything I had. People don't forget that. Never underestimate the moment you are in, and who is in your audience. Never waste a moment to be brilliant. You never know who's watching.
6. I didn't focus on getting to know the right people.
I focused on treating everyone as the right people. Period.
7. It was scary knowing I had that only one moment to "show them."
That is, until I realized this wasn't about "showing them". It was about doing what I know I was born to do. It was about trusting in my own gifts. I had nothing to prove. I had already proven myself for years. This wasn't earning my right in the spotlight. This was just sharing my gift with other artists, as one more way to share the music.
8. I made it about them.
For a little while, as I prepared for the moment, I made it all about me. What did I want them to see? What would serve me? What would shine me in the best light? What would show them all that I can do? And then I remembered that thinking like that had never worked for my audiences.
So why start now? And I shifted. This went from being a moment to "showcase" myself, to a moment to serve my audience. And my entire view turned to the message THEY needed to hear. How could I serve them in this moment? What gift could I give them?
In closing, I think there's one word that pops out above all the others when it comes to lessons. And that word is SERVE.  This business, and life, has taught me that when you go in it thinking of serving others instead of serving yourself – you win. Period.
And now my goal, is to hold myself up to that word in every day and every moment – to ask myself, "Who are you doing this for?"
I think that when I do that, I truly embody the spirit of a motivational speaker, with the desire to motivate others, whether it brings me success or not.
The true turning point in my career as a motivational speaker  – the point where I went from hobby to success – was the point where I turned from making this about me, to making this about them. Sometimes I slip and fall back into a selfish state, drugged by the applause, driven by the desire to get booked or beat the competition. But then I remind myself that at the end of the day, this isn't really about me. It's about something bigger. And I'm just blessed to get a front row seat. And I do think that as dreamers, we can be boldly confident, set goals and achieve them, and even reach wild success, by putting others first. In fact, I think it's the only way to get there.  ~KSwanson 
Kelly Swanson
You. Your story. Make an Impact!
[fbcomments]
Kelly Swanson is an award-winning storyteller, motivational speaker, published author and TV personality who is passionate about helping women harness the power of their stories to connect, influence, and get the results they dream of accomplishing. Laughing the whole way, Kelly teaches women how to master the art of connection through the power of strategic storytelling. You can find her on The Fashion Hero show airing Fall of 2017 on Amazon Prime or on her website MotivationalSpeakerKellySwanson.com.
Note: Articles by Kelly may contain affiliate links and may be compensated if you make a purchase after clicking on an affiliate link.