Last updated on January 22nd, 2019 at 01:50 pm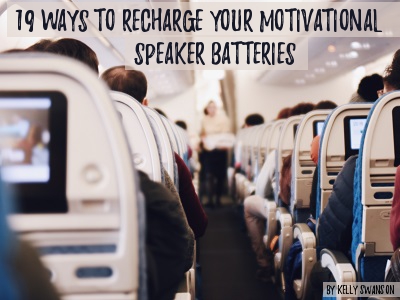 Living the dream as a motivational speaker has its upside for sure. I'm living the dream! People are paying me to do what I love. I'm actually getting business in a business that is hard to get business in. (Wow. That was a mouthful.) 
But being a motivational speaker is also exhausting. Truly exhausting. I'm running all aspects of my business, trying to stay two steps ahead, writing speeches, selling products, and hopping from plane to plane.
Every morning I wake up and take a moment to figure out where I am and what day this is.  And even though I'm talking for a living, it wears me out. It takes a tremendous amount of energy to be a keynote speaker at an event and attend to the audience before and after the show.
Sometimes I'm in several different states in just a week's time. This much travel can take its toll on a motivational speaker. That's why it's so important to stop to recharge your batteries.
Because if you don't. Your body will stop you. And it won't be pretty. Trust me. I learned how the body responds to exhaustion the hard way. More than once.
19 Ways to Recharge Your Batteries
1. Determine how often your speaker batteries need recharging. Once a day? Once a week? Once a month?
2. Determine what your batteries need to recharge.  A nap? A run? A trip to the beach?
3. Schedule it and treat it as seriously as anything else on your business calendar.
4. Stay focused on your speaker business plan and the priorities you have chosen for this week/month/year.
5. Have weekly meetings with yourself to keep you focused on those speaker business priorities.
6. Make sure you have structured daily processes to keep you from getting distracted by those tasks that aren't a top priority.
7. Create a group of people you can be yourself with. Your inner circle. Cultivate a relationship with them. Stay in touch.
8. Write joy into your speaker business plan. Don't just do the things you should. Do the things that light you up.
9. Keep your speaker travel schedule light. Choose rest and sleep over playing in the different cities you visit.
10. Invest in a few luxuries that will make travel easier.  Like the private clubs at the airport. Or taking an Uber instead of renting a car.
11. Don't add extra work to your load. If every job is creating hours and hours of extra work, you might need to find a way to lessen that.
12. Pad your calendar with downtime.  For example,  never schedule anything the day after you return from a trip.
13. Say yes to your client–but with limits. You don't have to go to all their parties.  Just drop in for a moment.
14. Don't take a speaking booking that you shouldn't and that you'll regret later.
15. Say no to personal things that aren't really that important to you.  Stop hosting parties if you don't have the time.
16. Don't feel guilty for shutting off your computer–even during the middle of the day–to go out in the sunshine for an ice cream cone.
17. Stay on top of yearly health appointments. You can't afford to get sick.
18. Pay attention to your inner script.  When you start comparing yourself to others and coming up short, you are creating more stress in your life.
19. When you feel the stress weighing on you–stay focused on positive self-talk. The more you tell your brain that you are stressed, the more it will act like it.
Being a motivational speaker is an important job. You are changing lives. Being a professional speaker also comes with the added responsibility of taking care of yourself. Your message is too important. Take time to recharge your batteries.
And if you need help rewriting that inner script, and finding a little more "happy" in your life, go to KellysFreeGift.com where I have some goodies waiting to help you.
Kelly
Enjoy my books on public speaking!
Kelly Swanson is an award-winning storyteller, motivational speaker, published author and TV personality who is passionate about helping women harness the power of their stories to connect, influence, and get the results they dream of accomplishing. Laughing the whole way, Kelly teaches women how to master the art of connection through the power of strategic storytelling. You can find her on The Fashion Hero show airing Fall of 2017 on Amazon Prime or on her website MotivationalSpeakerKellySwanson.com.
Note: Articles by Kelly may contain affiliate links and 8WD or Kelly will be compensated if you make a purchase after clicking on an affiliate link.