Last updated on January 22nd, 2019 at 02:56 pm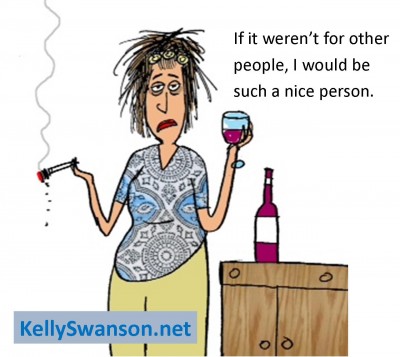 The Shame Attached To Asking For Help
Growing up, whenever I asked my father for help or advice, his favorite answers were Figure It Out, Look It Up, and Go Ask Your Mother.
My mother's mantra was You Made Your Bed Now Lie In It. She had it stitched on all our pillows. She taught me that you never ever never ever ask anybody for help. You do it all yourself and then complain incessantly about how much people take advantage of you.
So it's no wonder that I grew up and stepped right into this big bold scary dream of mine (to be a successful motivational speaker) with the idea that I must do this one hundred percent by myself, and that asking for help was one step over from standing on the corner with a cup. And for a long time that worked. I got where I am today without any shortcuts or magic mentors who "noticed" me and made me famous.
Obviously, since I'm still not famous.
Yes, I had mentors, but they were people who approached me. I would NEVER reach out to someone else and ask them for help.
And what a mistake that was.
My Call of Shame
I have been in the speaking business for ten years now – and about ten years before that as a professional storyteller. That's twenty years (for you basic math dropouts) that I have been finding ways to tell the world I'm here and trying to get paid for telling stories. And only today, for the first time ever, have I reached out to someone I admire from afar.
I'm not talking about the professional business woman you admire from across the room, or the lady you go to church with who has some good ideas. I'm talking about someone who is famous in your world. A well-known name. A celebrity in their own right. In this case I'm telling you about today, the celebrity is a household name in many circles.  She is someone who I want to be – or better to say, I want her gigs.
Or better to say, I would like the kind of gigs that she gets. She is a model I want to follow. I would never think of reaching out to her.
Pulease. She's famous!
I would never bother her. That's just crazy. People like her don't want to be bothered by people like me.
But today I broke that rule and sent this woman an email. I told her how much I admire her, and how often I have wished to have the kind of work that she gets. I apologized for bothering her, and said I totally understand if she doesn't have time to write back – but does she have any advice for a woman wanting the same opportunities?
I sent the email. Called myself crazy for sending it.
And totally forgot all about it. Never crossed my mind that she would write back.
She did.
A couple of hours later and I have an email from my HERO. Not only is she sweet and personable, she invited me to her home to hang out with her and some other ladies next month. Hello? Am I dreaming?
I won't tell you who it is. I'll save that for another post when I WRITE ALL ABOUT IT. Yes, I'll share every glorious wonderful detail.
But for now, I need to share the really big lesson in all of this. The one question that keeps popping into my head as I dance around in excitement and plan my outfits for the visit with my hero:
What if I had not reached out?
What if I had not sucked up my pride and sent her that email?  What other opportunities have I missed because I was too proud to ask for help?
Ladies (and men) . . . there is no shame in reaching out to the people you admire and asking for help. Let it go if they're too busy. Let it go if they charge for their help.  Move on with no bitterness.  But don't let that stop you. You never know. You just might find someone who is more than willing to share what they know. And it could make all the difference.
But after you reach out and get advice, the next step is still all yours – to go and, as my father would say, figure it out.
As I look around at the business female population, there seems to be a consensus that you must do it alone and once you get there, guard your post. It seems that some women are threatened by the success of other women – as if it takes away from our own opportunities.
This is a limiting belief.
I believe just the opposite. I believe that women are at their strongest when they link arms and leverage their gifts, talents, and opportunities. I believe there is room for all of us, and that success is waiting if we cultivate the art of giving and the art of receiving.
We are truly stronger together.
Kelly Swanson
You. Your Story. Make an Impact!
[fbcomments]
Kelly Swanson is an award-winning storyteller, comedian, motivational speaker, Huffington Post Contributor, and cast member of The Fashion Hero television show airing on Amazon Prime. She is also the author of Who Hijacked My Fairy Tale, The Land of If Only, The Story Formula, and The Affirmation Journal for Positive Thinking. She was a featured entertainer for Holland America Cruise Lines, keynote speaker for the International Toastmasters Convention, and has keynoted major conferences and corporate events from coast to coast. She just launched her one-woman show Who Hijacked My Fairy Tale in theaters, and it is being booked all over the country. In July of 2022, she was inducted into the National Speakers Association Speaker Hall of Fame.
Note: Articles by Kelly may contain affiliate links and may be compensated if you make a purchase after clicking on an affiliate link.