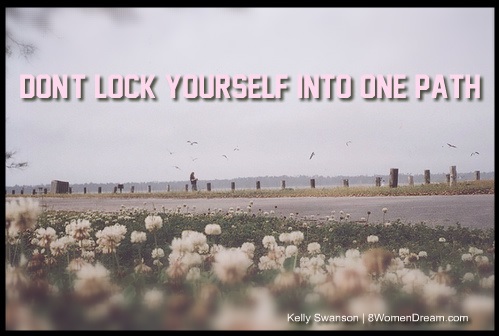 Welcome To My Dream…
Being a member of 8 Women Dream is an honor. I get to dream out loud. And I get to dream with seven other women who have linked arms with me to share this journey.
And I get to dream with YOU – the reader – that woman (or man) sitting out there in your own quiet corner of the world, with your own delicious dream–wishing, hoping, right along with us.
So when I write this post, I'm not just writing to the one who wants to be a keynote speaker, I'm writing to the reader who wishes to make dreams come true–the one who is out there wishing on a star. Some parts of this post may not apply to you, but some parts will.
And that's where you need to listen and get the encouragement you need, the wisdom you seek, and the knowledge that you aren't alone on this quest to doing what you know you were called to do. I'm honored to share this journey with you.
And today's topic is about creating products to sell and accepting that our "message" we send to the world will take many different shapes.
And by "message", I mean what it is that you are sharing with the world, whether it's a speech, food, encouragement, photography, your travels, your music, your gift. For at the core of every dream is the desire to share it with the world.
Don't Lock Yourself Into One Path
Because I was the picked-on kid, I grew up with this idea that to be successful meant you had to look like everyone else. How wrong I was! I learned that the very thing that made me different, would be the thing that made me great!
I  think we have a natural tendency to look around, see what others are doing, and copying it.
We see one path, and think we should follow it. But dreams take different paths, different shapes, and end  up in different places. It's important to know that you will create your own unique dream. Yes, you will learn from others (like me).
Yes, you will hear an idea and try it for yourself.
But the true key to reaching your dreams is defining the dream that really works for YOU! So fight the urge to say things like, "I'm a good writer, so I must have a book published and seen on the shelves of Barnes and Noble."
No. This may not be your path.
You may start a blog that becomes wildly successful, and turns into a radio show, and you do what you love every day, and never get that book on the shelf at Barnes and Noble.
My point is this:  Step back from your dream, and see it from a bigger picture. See it as more than what you think it should look like, or what you've seen it look like for others. Get out of the box. See the message from a bigger perspective. See what is you want to bring to people. See how your gifts meets a need they have.
 What is it that I am giving to the world? How does my dream fit their lives? What is my universal message? And who needs to hear it?
The reason that I am asking this question is because I want you to see your dream from a bigger perspective.  I don't want you to focus on something tiny like "I want to publish a book" but something bigger like "I want to help young girls see the power they possess beyond the outer appearance."
When you can see your dream from higher up, it makes it easier to create product because instead of being laser focused on one specific path, you open yourself up to more possibilities and more ways that you can send your message to the world.
And then you can get laser focused later.
Once you have defined what it is you are giving to the world, think of all the ways that you can deliver this message. Think of who your market is, and everywhere that they are. Where do they spend their time? What are their channels of communication? How can you get in front of them? How can you enter their world?
And then you simply make a list of all the many ways your message can be re-purposed, repackaged, presented to your audience in different ways – sometimes different ways of saying the same thing. For today's post, I will focus on motivational speakers and give you a list of ways you could send your message to the world. And be encouraged to find ways that aren't on the list.
That's the point.
8 Ways to Create Products to Sell —
1. Speaking.
You deliver your message live in front of a group. That's your most obvious product. Don't neglect it. Be a good speaker, and selling product will naturally follow. People see you and they want to take a piece of you home with them.
By the time I was creating product, my audience was begging for product.
2. Recorded Speeches.
They can buy a copy of you giving this speech – live, or recorded in a studio.
3. Live Speech Recordings.
These are harder to get due to quality issues and expense. But every time you give a speech, you have the chance to record it by audio or video. You can record it yourself by hiring a video crew (which I don't recommend until you have thousands of dollars to invest, and a close-to-perfect venue) or by using some sort of digital recorder clipped to your collar.
Even if the whole thing isn't great, pieces of it will be. And even pieces/clips can be turned into product somewhere else like radio, blog radio, mp3's, as part of other packages, or piecing them together in a collection.
Start getting in the habit of asking all your clients if they have the ability to record your speech. Sometimes this can be a bartering tool in negotiations. Many clients already have the equipment to make this happen. I tell my clients that they can use the video in whatever way they want, as long as they give me a copy.
But you might decide to come to some agreement that you are comfortable with. It is your content after all.  Later you can pull out the pieces you like.  Or hire someone, like a  wedding videographer, to take the pieces and put them together in a better way.
4. Studio Speech Recordings.
These are so easy to do. And with technology where it is today, you shouldn't even need to go into a recording studio. Simply record yourself telling your speech, or making your points. If you are a speaker, you should have an endless amount of material. And it shouldn't be any problem recording it.
The fact that there isn't a live audience doesn't matter. The people are buying your information – not the experience.These speech recordings can be packaged in any way that your consumer might get their information: DVD, CD or set of CDs, MP3, iTunes, Teleseminar, Podcast, Webinar.
5. The Book.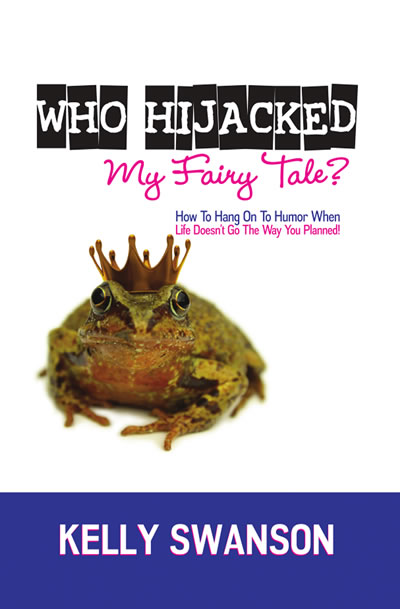 Everybody wants to write a book, and most people are freaked out about it. A book is awesome, and these days can be self published for very little expense, without even having to buy any inventory. I'm a huge fan of www.CreateSpace.com.
For some, writing a book is a daunting task – so daunting they never get around to doing it. Don't worry if you think your book won't be good enough.
Write it anyway.
If you stand behind your material on stage, why shouldn't you stand behind it in print?
Your book can be thick and content heavy, or it can a book of light funny stories, or even a book of devotions or encouraging messages. Cookbooks are great sellers. And so are funny cartoon books.  But if the idea of writing a book still freaks you out, then write a workbook instead. You won't feel as much pressure. And you can still sell it for the same amount, sometimes even more.
One day I will take the posts on this blog and put them together in a book. So I'm using the blog to write my book. (Wouldn't it be cool to do this, and then in your book, actually include some of the comments from the blog?)
6. The Workbook / E Book. 
These are really easy to create (again, CreateSpace). Just think of it as an extended handout. This is where you get to put all those things you didn't get to say on stage, with lots of white space for them to take notes. I like to customize my workbooks for the customer, changing the cover and a couple of key parts, but the rest stays the same.
7. Other People's Books.  
Yes, you heard me right. You can always sell someone else's book that your audience would like, with a message similar to yours. Find  a speaker who will sell to you at a discounted price. That way, both of you win. Nobody said the book has to be yours.
8. Fun Gadgets That Relate To Your Message or Theme.
My theme is fairy tales, the title of my book is "Who Hijacked My Fairy Tale", I open my speech talking to a mirror, and I deliver a message about believing in who you see when you look in the mirror. One of my phrases is
"You are not the reader of your fairy tale, you are the author."
We've created products like mirrors with that phrase on them, bags, purses, etc. Anything that can be printed on (you want your information and maybe one of your nugget phrases) is a good opportunity to sell. I've seen people sell bedazzled T-shirts, gag gifts, greeting cards, note cards, mugs.
If photography/art is part of your dream, you can create note cards with your art on them. The key is not to spend a lot of money until you know it's going to sell.
These are just a few obvious ideas off the top of my head. I'm sure if you got creative, you could come up with even more. And then when you have several things created, you can package them together and sell for a discounted price. People buy  more when they're getting a deal.
Now I can hear you saying, "But how much do I charge for this stuff?"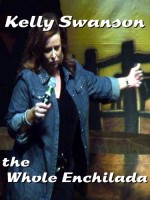 And that just really depends on you, your audience, and what sells. I've seen some speakers create extensive product and sell it for hundreds of dollars, and I've seen some create smaller cost items with a low price and sell out every time.
Look around. Do some research.
See what other speakers are charging. See what a book on Kindle costs, what an MP3 costs, etc. Do what feels good to you. And it's okay to play around with your pricing until you see what works.
Okay. That's enough to get started. Don't freak out. And don't put it off any longer. A "nothing fancy" product is better than no product. And once you start selling, and seeing your income grow, it will become fun!
Happy creating!
Kelly Swanson
You. Your story. Make an Impact!
[fbcomments]

Kelly Swanson is an award-winning storyteller, motivational speaker, published author and TV personality who is passionate about helping women harness the power of their stories to connect, influence, and get the results they dream of accomplishing. Laughing the whole way, Kelly teaches women how to master the art of connection through the power of strategic storytelling. You can find her on The Fashion Hero show airing Fall of 2017 on Amazon Prime or on her website MotivationalSpeakerKellySwanson.com.
Note: Articles by Kelly may contain affiliate links and 8WD or Kelly will be compensated if you make a purchase after clicking on an affiliate link.