Last updated on January 22nd, 2019 at 02:56 pm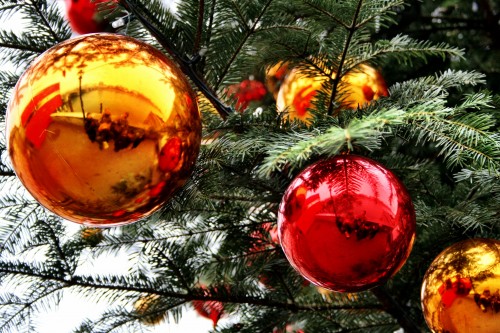 In the Northern hemisphere, today marks the shortest day and longest night of the year, the twenty four hours that is known as the Winter solstice.
Winter holiday celebrations have part of their roots in the winter solstice, as a way to brighten up the darkest season.
Evergreens have long been considered a symbol of rebirth. The modern Christmas Tree tradition is part of the pagan practice over the winter solstice of bringing evergreens into a home as a symbol of life in the dead of winter.
Don't you feel better when you see streets lined with tiny Christmas lights, or a decorated Christmas tree brightly glowing from someone's window as you pass by on a dark night?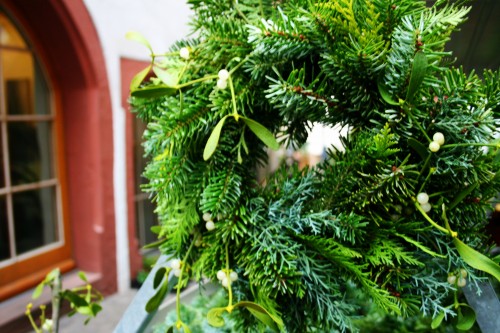 Thanks to Albert the Prince Consort this German custom has spread enthusiastically throughout the English-speaking world.
And the Swiss city of Basel was the birthplace of the decorated Christmas tree.
Basel really goes all out for Christmas display, in the best possible European taste of course. There are over 100 Christmas trees dotted across the city, including by the Rathaus or City Hall (a former Renaissance palace with a frescoed inner courtyard).
During Advent, Basel assumes a unique charm. The Christmas markets in Basel are the largest in Switzerland and are located in the heart of the city center, nestled among the Christmas decorations adorning the historic Old Town in Barfüsserplatz around the historic Barfüsserkirche and in Münsterplatz right next to the cathedral, which is probably the city's best-known landmark, where a magnificent Christmas tree is decorated by Christmas specialist Johann Wanner. (Source: basel.com)
Traveling for the Christmas holiday is a wonderful tradition and should be added to your world wandering bucket list for next year.
And if Christmas has seemed to have lost it's magic for you, then I invite you to follow the winter solstice tradition of bringing some evergreen into your home to remind you of the beauty of life in the dead of winter.
Happy holidays to all the travel dreamers out there and thank you for making my travel dream stories a part of your life!
Natasha von Geldern
Go Travel! See the World!
For more on Basel, Switzerland Christmas traditions, see Basel: A very Swiss Christmas.
[fbcomments]
Natasha von Geldern is a travel writer, editor, and blogger who is passionate about making the pages of the atlas real by traveling the world. She is a contributor to Travel Wire Asia, Wild Junket Magazine, Yahoo! Total Travel, and Travelbite. You can find her on her travel website and blog, WorldWanderingKiwi.
Note: Articles by Natasha may contain affiliate links and may be compensated if you make a purchase after clicking on an affiliate link.