Last updated on January 22nd, 2019 at 02:08 pm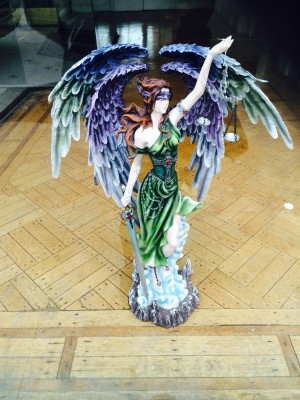 It was the statue of a redheaded angel, with purple wings and a green gown, who made me decide to take the leap.
Sometimes in life, we have leap in order to pursue a dream that is outside of our comfort zone, and that feels beyond our reach. This angel was in the window of the commercial property I just purchased in downtown Troy, and she felt like my "building angel" who guided me to make this happen.
Tonight, I'm finding happiness in making a big dream a reality, and getting ready to start a new venture that will change my life!
Loving My Little City! 
I have lived in historic downtown Troy, New York since 1997, with the exception of a year that I spent earning my Master in Public Administration degree at Harvard University, and three years when I lived and worked in my other favorite U.S. city, San Francisco. Troy was once the fourth wealthiest city in the U.S. with the highest per capita income.
Troy flourished post-Civil War, during the Industrial Revolution, and was also a hotbed of abolitionist activity. I own a home in Troy that was previously owned by Harriet Tubman's cousin, John Hooper, and that was a stop on the Underground Railroad.
The city is sometimes called "Hollywood on the Hudson," because so many movies have been filmed here. The architectural stock is reminiscent of Victorian-era Brooklyn, and some say Troy looks more like Victorian Brooklyn now than Brooklyn itself does!
Finding the Dream Property
When I first moved to Troy in 1997, the downtown was a ghost town, with predominantly empty storefronts. Troy did not have the best reputation in those days, but I fell in love right away anyways.
I am a sucker for a beautiful historic property: the grandeur, the elegance, the cornices, the plaster medallions. I swooned over these Victorian brownstone mansions built in the 1800s that remained intact.
When I first moved to town, I made a hobby of finding my way into as many historic properties as possible to explore, whether they were occupied or long vacant, whether they were residential or commercial. I loved the high ceilings, the peer mirrors, the chandeliers.
I loved the adventure and mystery of poking around old buildings that had been vacant for a while, and that smelled of must and danger. It was thrilling in an illicit way, something that I was not really supposed to be doing, and yet it was not harming anyone.
Even when I moved away to San Francisco in 2005 to work for then-Mayor Gavin Newsom, and fell head-over-heels for SF, my love for Troy remained. I still sometimes wondered if I should move back there to run for office, as was once my game plan.
I had invested so much time, energy and love into urban revitalization projects to help move that city forward between 1997 and 2004 when I left for grad school at Harvard. I did not want to "abandon" my sweet little historic city, and figured that I would return if I felt "called" back.
A Fire Called Me Back!
Well, Troy did call me back in the most sudden and unexpected way. In 2008, my tenants accidentally set my house on fire, and I was suddenly compelled to return to my fair little city to oversee what turned out to be a yearlong renovation project.
I discovered that I love designing and renovating homes, although of course no one wants to have to do so because of a fire! Having a good insurance policy helped tremendously.
Troy could not let go of me, it seemed, and I moved back to my little historic city on the Hudson River, which is also famous for being the home of "Uncle Sam" (Sam Wilson, who inspired the Uncle Sam character, is buried in the Oakwood Cemetery). Somehow no matter how much I travel and roam the world, this city always seems to remain an important part of my destiny.
 Fast Forward to This Latest Dream Come True!
Right before moving away to San Francisco for my dream job in 2005, after graduating from Harvard, I toured a group of my Harvard classmates through Troy. One of the buildings that I toured them through, showing off the grandeur of my beautiful little city, was the "Devane Building" at 38 3rd Street in Troy.
I was in love with this property, with its grand wrought iron gates at the entrance, and mosaic tile floors in the entranceway, and 20′ high tin ceilings with an ornate balcony. It was exquisite!
Never did I dare to imagine at the time that I would someday own this building. It was just something to be admired, and loved. I really was in love with so much of the historic architecture in this city!
But this spring, that building was destined to become mine. It started when I was scouting out downtown commercial spaces, just for fun, for a friend in San Francisco who is a bar owner.
I wanted to convince him to open up a branch of his successful Miami and SF venture here in Troy. And I accidentally stumbled onto a building for sale – the Devane building – the one I had always loved!
Why Not Make The Leap?
I found the building just a few short days after it had gone on sale. I found out the the owners, who wanted out fast, were asking only $199,000 for a 9,000 square foot, gorgeous, historic commercial downtown building.
This was on a block where another building had recently sold on Sotheby's for $500,000. And, I found out, other developers were investing $2.5 million into the building next door.
So on my birthday, on April 15th, I made a big leap and put an offer in on the building without having totally figured out yet the source of the funding. I knew somehow that I would make it happen!
Three days later, my parents were in Troy for Easter weekend, and I toured them through the property. My parents are also real estate investors, and they became the first members of my team for this building.
I would find out the following week that the seller was going to require a cash close – within 30 days!
And thus would begin the wild process of acquiring this magical building, with the clock ticking….!
To read more about this dream, go to Part II! And then read on further for Part III!
POST-SCRIPT: This post was originally published one year ago. Today, Tuesday, June 9th, 2015, my team and I are so much closer to having the building up and running, and I will post updates on that soon!
What a wild, wonderful year of learning, growth and adventures it has been!
Lisa