Last updated on April 26th, 2014 at 11:17 pm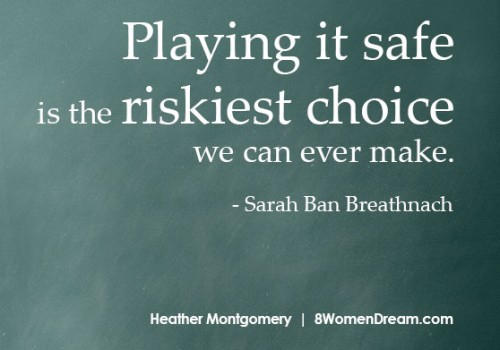 You know those barriers you put up for yourself on the path to your dream action? Breaking your dream down into small goals is how you accomplish anything. Occasionally just pursuing those goals may remind you why you want to take dream action to begin with.
When I put my dream fitness goals out there for all to see a while back, I didn't anticipate it would lead to a lovely sunny Saturday afternoon in January spent breathing air into a plastic CPR dummy.
The plan was to get CPR certified as part of my bigger goal of achieving my personal trainer certificate. For obvious reasons, in order to be employed as a personal trainer in any professional setting, you are required to have current CPR certification.
I've had this task on my list for months.
I knew that a CPR certificate was on the list, but there was no driving factor to getting it done. I didn't have a deadline attached to it. Raise your hand if your dream goals get caught up in the same deadly detail.
Ask yourself: If it's on the list, but there is no priority assigned to it, will it get done?
I know myself better than that. Which is why I signed up for this class only a week before it took place.
Deadlines make dream action happen faster.
"I love deadlines. I love the whooshing noise they make as they go by."
― Douglas Adams, The Salmon of Doubt
Here's the lesson in getting stuff done that you have heard in several variations from my fellow 8 Women Dreamers.
Sometimes you just have to do it.
The only opportunity I had for this class was to take one available on a Saturday. The next one on the calendar for the foreseeable future on the American Red Cross site was only a week away, and it included first aid. The extra training in first aid wasn't something I planned to include, but in order to get the certification, this was the course I decided to take.
Did I have time to add over 8 hours of online learning to my week? No.
Knowing I had a deadline clarified my time priorities and I started to rearrange things to make it work.
Dream barriers have a way of popping up in your way.
As I started studying the material an interesting concept got stuck in my head. When talking about emergencies and recognizing the need to help, the American Red Cross refers to issues that may come up as you are deciding whether you are willing to assist as "Overcoming Barriers to Act". Of course in an emergency situation, there are several other scenarios, but these few seem to have a lot in common with acting on your dream goals.
In an emergency, you may hesitate to act if you:
panic or are afraid of doing something wrong
are not sure of what to do
assuming someone else will take care of it
Now think back on the last few times you may have hesitated to take action on your dream. I'll share a few internal conversations that are painfully obvious I was experiencing these dream action barriers.
"I have no idea when I will have time to do that. I better put that lower on the priority list."

"What the hell am I doing? I know I'm going to screw this up."

"I bet I waited too long now. Someone has done a better job launcing that idea."
Sound familiar? We all let barriers to act get in the way of taking dream action.
I learned a lot this past week in a very short period of time, and had my fair share of panic during the classroom learning when I could not get my dummy to breath. Really, it's harder than it looks.
After having the opportunity to practice, even in such a small window of time and introductory setting, I am so much more confident in my skills. I'm not admitting that in a real emergency there won't be panicky thoughts, or concerns about my ability to help, but the barriers to act have been reduced from mountains to a small molehill.
Have you taken a leap of dream action and gained from your experience?
Most of the time it's not even what you expected to gain, but turns out to me much more. Do yourself and your dream a favor. Pull out your calendar and add some dream action to your schedule this week.
Your turn to chime in on the comments… What dream action that is going on your list this week?
Go get your fit on – Heather

Heather Montgomery is a fitness writer, triathlete, and serial entrepreneur who is devoted to sharing what she has learned about becoming a triathlete after age 40. She uses her Metabolic Training Certification to help other women struggling to get fit in mid-life. She lives and trains in Santa Rosa, California, the new home of the Ironman triathlon. You can find her biking the Sonoma County wine trails.
Note: Articles by Heather may contain affiliate links and will be compensated if you make a purchase after clicking on an affiliate link.