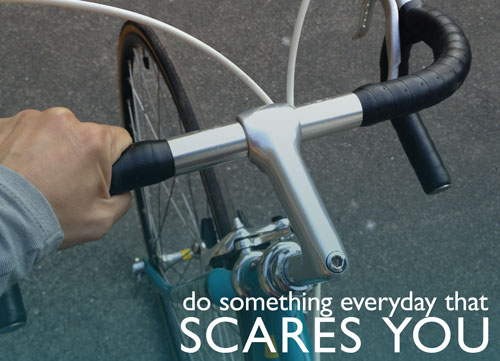 You know that old saying that "it's just like riding a bike"? That once we learn something, we know it. It may be days, months or years before we take advantage of that learning, but most of the time when we need it, that knowledge will come back to us.
While pursuing my very own health and fitness dream this past weekend, on a gorgeous warm fall day here in wine country, I realized that we can't always determine the speed of our dreams.
The errands and running around were typical for a Saturday – groceries, return a few things, and find new bike tires for my husbands bike. You may remember my post a few weeks back "Triathlon Training Dream Saved by Rusty Bikes" where I planned on taking advantage of the currently neglected bicycles at my house to start training for this crazy triathlon dream of mine. The intention was to get his older, but very high-end Bianchi road bike, in working order so that I would have 2 wheels to get on the road.
Did I mention that he is 6 inches taller than me?
I had completely convinced myself that I could make his bike work. It wasn't the process of getting on and riding that worried me, but the stopping. The bike is way too tall for my barely 5'4″ height, and always needing a curb, or potentially leaning out into traffic in order to balance while stopped was a dangerous option. I convinced myself that my budget didn't have room for even a low end bike solution.
Warning: If you haven't been in a bike shop lately, be prepared for sticker shock.
Wandering through a few bike shops earlier that day was dangerous. Everywhere there were very shiny new bikes, hanging from every surface, including the ceiling. Surrounded by bikes in all shapes and sizes, with all the possibilities that came with them. Want to race down the road? Try this gorgeous Cervello! Ready to ride down the mountain? Specialized is ready to get muddy with you!
Of course those shiny brand-new beauty's come with a hefty price tag, with numbers that include a comma. On my "want" list, but not a reality for my budget right now.
Luckily I'd done a little research and had found a local used bike shop that I had been wanting to check out. Tucked off of Industrial Drive in Santa Rosa is Uncle Crusty's Bike Shop. To be honest, I am willing to check out any business who's name makes me smile.
My hubby and I wandered in late on Saturday and started looking at their selection. New, classic, refurbished, well-loved and very used bikes were all around. I had an idea of what I was looking for and immediately gravitated toward a small group of road bikes leaning against a wall. The one sitting in front was an older Schwinn road bike in a pretty teal color that was clean, but no price tag to be seen.
The shop was busy and I chatted with the owners about my plans while eying the teal number. Their blow out sale had me taking a quick ride on a very inexpensive bike, that while it fit, would be a tough ride for the miles I knew I would be putting in for my triathlon training.
The teal Schwinn was still calling me, so I hopped on. I was a bit nervous about falling on my face since its been several years- I won't say how many years – since I'd been on a bike at all. A few quick adjustments and a few more rounds around the parking lot and I felt free.
I had forgotten just how fun riding a bike could be!
We had a great opportunity here. Take advantage of a great deal for a used bike that was a great fit for me, plus get all the tires and goodies for Ray's bike while we were there… OR save up and buy something fancier in spring when riding season came around again.
My reality voice piped up and tried to pop my dream bubble with the thought… Did I have money set aside for this? Nope. But getting wheels now made training over a longer period of time a possibility.
The team at Uncle Crusty's Bike Shop helped us out with great advice and a great deal so we jumped on the opportunity and a few minutes later, my new-to-me bike was on it's way home with us.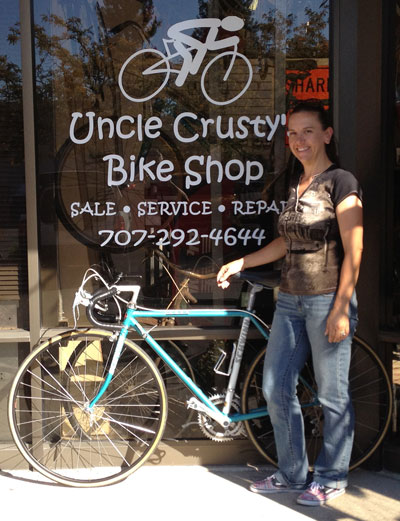 I couldn't believe how giddy I felt about being able to ride a bike!
I glanced over my shoulder at the teal machine placed carefully in the back of my car, and found myself bouncing in my seat. I was totally excited about being able to pedal fast down the road again. If it wasn't for this health and fitness dream goal, I wouldn't have even been looking to add bike riding back into my life.
We got home and I got a whirlwind tour of basic bike maintenance. My husband used to ride quite a bit, and not only did he have the know how to get his bike back up and running, but gave me the low down on keeping mine road ready. For now there wasn't much to do, but to get on and see how I felt on 2 wheels again.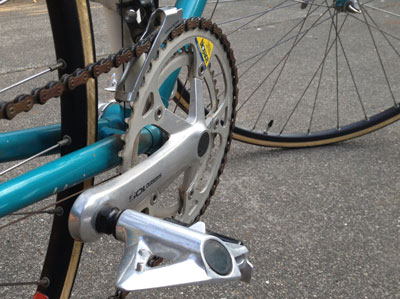 Our very steep driveway curves into a dirt road – and a deep ditch – until connecting back with a perfect private road with almost no traffic. The hill and ditch made me walk the bike to the road for my first ride at home.
Pedaling fast, I attempted to change gears and nearly ditched it anyway. The shifters are located on the down tube, not the handlebars,  and were a bit daunting to test out. Each timeI took a hand off the bars, my weight would shift precariously while I attempted to shift and stay straight. Add that to the fact that I had no idea what my shifting would actually do. Was I supposed to shift up or down? I had a complete case of "what's this lever do?" and managed to find the brakes before heading off the road.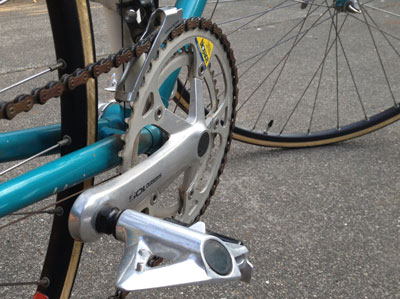 A few quirky laps up and down the road and I was getting more comfortable with the set up. The wind was louder than I remember, rushing by and letting me relive the thrill of speeding around as a kid, no care in the world. This wonderful feeling lasted until we took a ride the very next day and I was painfully reminded why riders wear those padded shorts.
The dream progress is like riding a bike
Anything can be like "riding a bike". From dreams and passions, to actually riding a bike. We know the information is there, and occasionally we might have to remind ourselves to pedal faster. I'm learning to ride all over again, and finding a new exhilaration for my dream along the way.
What dream progress would you like to take out for a ride this week?
Until the next ride – Heather

Heather Montgomery is a fitness writer, triathlete, and serial entrepreneur who is devoted to sharing what she has learned about becoming a triathlete after age 40. She uses her Metabolic Training Certification to help other women struggling to get fit in mid-life. She lives and trains in Santa Rosa, California, the new home of the Ironman triathlon. You can find her biking the Sonoma County wine trails.
Note: Articles by Heather may contain affiliate links and will be compensated if you make a purchase after clicking on an affiliate link.