Last updated on May 17th, 2012 at 07:51 am
"If I absolutely had to turn 40, I thought I could do it gracefully  in Paris … for a month."
Karen A. Chase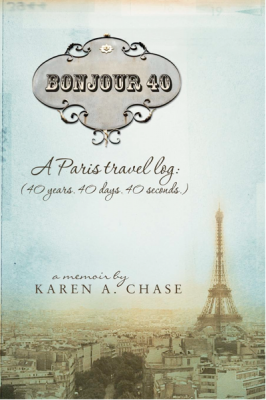 Photo: bonjour40.com
And so begins the premise of the mid-life memoir book Bonjour 40 – A Paris travel log (40 years, 40 days, 40 seconds).
Author Karen A. Chase escapes to Paris for 40 days to celebrate her 40th birthday. Her gift to us is that she so humorously and poignantly captures and details her experiences into an easy-to-read, less-than-100 pages book. Each day that she spent relishing the City of Lights is a new chapter chronicled in her book.
We at 8 Women Dream are fortunate enough to share  with you a sneak-peek-excerpt from the author herself.
We can't all travel to Paris, but this book will take you there in no time–in 40 seconds, to be exact. Most of the daily chronicles in her book are intended to be read in less than a minute.
AN EXCERPT — ON SPEAKING FRENCHÂ 
By Karen A. Chase
Author of Bonjour 40: A travel log
(40 years. 40 days. 40 seconds)
So I worked with a tutor one-on-one, went to a few French-speaking Meetup groups, watched foreign films, studied DVDs and podcasts, and more. As I mentioned on my first day in Paris, I quickly discovered my French sucked. Really though, it didn't suck so much as I was just afraid to use it. I was afraid I would say things incorrectly, and instead of asking to buy a hat, chapeau, I'd ask to buy a horse, cheval. My biggest hurdle upon arrival was I simply wasn't brave enough to try it. I was afraid they would know I was a foreigner, roll their eyes, and say, "Merde, another American comes to Paris."

I would slowly grope around for words, or quietly whisper, or give up entirely and just simply point and grunt at things. Finally it occurred to me. You don't know these people. Dive in! If you screw it up, you'll learn. Maybe they'll help out and correct you, or you'll end up with a nice horse. Just start with Bonjour, Madame or Monsieur, and get going. I'm now convinced that speaking a new language is 25 percent knowledge, 50 percent experience, and 25 percent having the balls to open your mouth and speak it.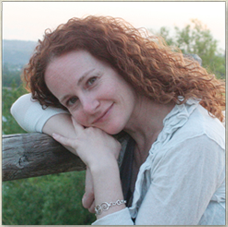 Bonjour 40Â launched as an e-book on Kindle, Nook, iBook and Smashwords on October 11th. Just in time for the holidays, you can pick this one up for the Francophile and Travel Bug in your life.
For a sneak peek, watch the Bonjour 40 book trailer at www.karenachase.com.
Enjoy your traveling dreams.
Katie

Enjoy this special 8WomenDream Guest Contributor story submitted by new and experienced big dreamers throughout the world, edited and published to capture a dream perspective from different points of view. Do you have a personal dream story to share with 8WomenDream readers? Click here to learn how to submit dream big articles for consideration.
Note: Articles by Guest Post Contributors may contain affiliate links and may be compensated if you make a purchase after clicking on an affiliate link.