Last updated on March 7th, 2010 at 11:14 am
It was a typical Friday:  I push the snooze button one two many times, climb out of bed and put on yesterday's clothes.  I like my sleep.  I commute my fifteen year old son to school in another town.  Usually I leave the house in a flurry with un-brushed hair and teeth to make sure he arrives at 7:30AM.
Who ever came up with the brilliant idea of having teenagers start school this early?  Don't they know their mom's need their sleep?  We have a Friday tradition of hot chocolate from Starbucks.  Today I also need gas.  I cross my fingers that I will not see anyone I know, since today I look particularly scruffy.
I enter the crowded Starbucks to a loud exclamation of  "Wendy!  How are you?  I am ready to paint Saturday."  It is one of my Saturday painting students who is too cheerful and awake.  I stammer my response in time to hear, "Wendy?  Is that you?  It's Amanda!" A woman rushes up and gives me a huge hug.
Am I going crazy?  I do not know who this woman is, but she definitely knows me.  She goes on to tell me she is living back on the farm and asks about my mother.  I am nodding and racking my brain as to who she is.  My mother was a teacher for years.  Maybe she was a student.  She does look familiar.  I am too embarrassed to admit I do not know her.  As I leave I wonder if I really know her at all.
It dawns on me later, after I rush my son to school without a minute to spare, that I do know her.  I have not seen her since I was a teenager.  The mother she was referring to was my step-mom who used to work with her mother.  I breath a sigh of relief.  I was beginning to think the paint fumes are doing more than making me euphoric.
This is a crazy busy week.  Last Sunday my mother helped me hang my Healdsburg art show, then went with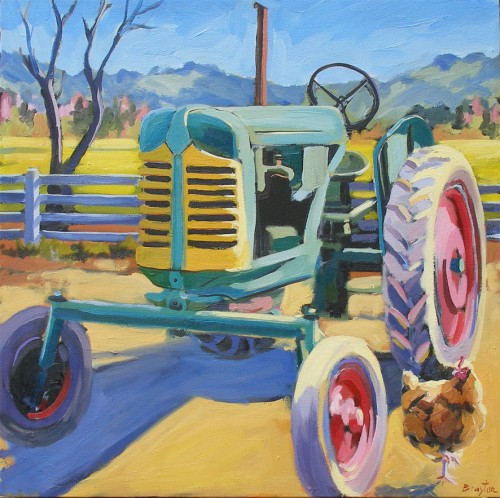 me to Napa to deliver paintings to be juried at the Napa Art Museum. After the museum, we went to Yountville where I meet a woman who owns a gallery.
We talk about putting art there. Everyday this week has been packed with no painting time for myself.  It included; my husband's Birthday (a day in SF), Passover (my husbands family is Jewish ), work (I teach at a private school in Sonoma), paperwork for competitions and volunteer hours at the Sonoma Arts Council.
For both Artrails and Art at the Source, artists have to volunteer 8 hours along with paying a fee.
The silver lining of this week is that next week is Easter vacation.  I will have a whole week with no commute time, extra sleep and extra painting time.
My goal is to paint everyday.
Wendy
(Wendy's dream is still to become a influential international artist, but she left 8 Women Dream in March of 2010 to complete grad school.  She is still a strong supporter of 8 Women Dream and you will see her in the comments on the blog.)

Enjoy this special 8WomenDream Guest Contributor story submitted by new and experienced big dreamers throughout the world, edited and published to capture a dream perspective from different points of view. Do you have a personal dream story to share with 8WomenDream readers? Click here to learn how to submit dream big articles for consideration.
Note: Articles by Guest Post Contributors may contain affiliate links and may be compensated if you make a purchase after clicking on an affiliate link.