Last updated on November 6th, 2019 at 10:45 pm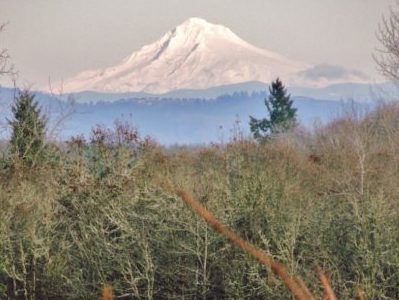 There is much to be done out here living my American dream in and around our little house in the vineyard. Chickens and a bunny to be fed, watered and cared for.  Eggs from our beautiful Americana hens, to be collected. And as of Monday two kitties, we adopted into our family need to be loved and cared for and played with.
Four of the eggs I collected today went into this delicious recipe, I have been perfecting for baked chai tea spiced pumpkin doughnuts. My children helped frost and decorate the tasty treats and we took them into the crew on the crush pad at the winery.
We're around the halfway point I would say for vintage 2011.  With approximately 700 tons of fruit in, pressed or to a tank of fermenter, depending on whether it's white or red varietal.
Everyone has been working very hard, long days for more than a week now, and I love to show up with baskets full of treats whenever I feel like it.  I think it's really fun and I know my husband is proud as a peacock when he catches me in the act. With my little son and daughter in the mini-van, we tootled off to the big, little city of Salem to have some more fun.
Popping in for some home school supplies and swinging by the feed store was definitely on our list of things to do, but so was spending Mr. "I'm not six anymore," birthday money on a toy of his choice, from the place of his choice.
Before that adventure, though, we enjoyed a giggly, delicious lunch at a sandwich shop.  The birthday boy was a hit with the other diners as he was in his Halloween costume in his getup as, "The Count" from Sesame Street, complete with a black velvet cape and shiny red rain boots.
With all of our supplies tucked in and everyone buckled and excited, we sang our way and counted how many leaves would touch our car as we drove the long beautiful road that follows the Willamette River back to our home.
Any return trip, concludes with tumbling out of the mini-van, jumping onto the gate while I open it and riding it to its lock post.  I pull the vehicle through and we ride the gate shut. Then, it's a run as fast as we can down the ever so long driveway, with a stop at the tire swing before we unload our "loot."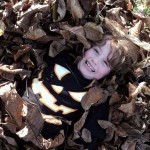 My son was the first to skip out to the back garden, where he set to the raking of leaves under the walnut tree with his new "toy" of a bright green kid-sized rake, which was what he spent his birthday bucks on.
He got about three great and crunchy leaps into the pile before it was dinner time.
With my children, "scrubbed and tubbed and adequately fed," I got into my own footie pajamas and joined my boy up in his bunk for storytime. After kisses and cuddles and more big laughs, I climbed down and noticed my cheeks were actually aching from the smiles and laughs of this chore-filled day.
Before I snuggled under my down comforter, I finished the dishes and put away three more loads of laundry. I made sure the beans were ground and coffee maker set for a good morning. I wrote a love note to my husband and set it on top of a plate of food that I made for him. It's waiting in the 'fridge, hoping he would make it home to enjoy before midnight.
Whether he makes it here earlier or later, though, I know he will delight in our nice, cozy environment. I put my whole heart into the care and keeping of this gift of a grape life and home that my wine-making husband has provided for our family.
Chai Tea Pumpkin Spice Baked Doughnuts & Pumpkin-Orange Cream Cheese Icing
Doughnut Ingredients:
Dry goods-
2C AP flour, I always use Bob's Red Mill
1/2C packed brown sugar, light or dark, I like dark
1 1/2t baking powder
1 1/2t combination of your favorite fall spices, I play with cloves, mace, allspice, nutmeg, cinnamon, ginger, whatever you like:)
1/2t salt
1/4t baking soda
Combine these dry ingredients in a medium-sized mixing bowl and use a whisk or fork to incorporate very well.
Wet stuff-
1/2C pumpkin puree, yep it's from my garden, I like it that way. You certainly can use canned
2 eggs, also from my garden…I hope you can get yours from a country neighbor or at least cage-free
1/4C whole milk with 2 chai tea bags, cold steeping while you get all of the other ingredients together
1/4C unslated, softened butter or shortening or margarine.
Combine these ingredients and add them to the dry goods.  Mix in your mixer or with a handheld beater until it's all good to go.
Method:
Preheat your oven to 375*
Pull your eggs and milk out to come closer to room temp.
Put the two tea bags in the 1/4 C milk as early as you can think. I knew I wanted to make these today because I had loads of icing leftover from my little son's birthday cake, so I put the chai tea into the milk, covered it and let steep overnight. Any amount of chai, in my opinion, is delish, so if it's only 10 min., it's worth it.
Let's talk about piping now. I have a pastry piping bag I got it in my Christmas stocking two years ago and I love it, but if you don't you can easily make your own out of a 1 gallon Ziplock bag with a good-sized "snip" out of the bottom corner or if you are trying to avoid BPA's, you can use parchment or wax paper to make a pastry cone.  Snip a good-sized tip in this case too.
Either grease your baking sheets or use a Silpat liner on the baking sheet,  load your bag, squeeze some doughnut shapes down, give 'em a little room and bake to the smell and touch. They should be gloriously yummy and define the smells of the season in aromas AND slightly push back to the touch. Since these are baked their texture seems more like a scone, than fried dough does. All in all the first batch was 15 minutes and the rest were around 12, for me.
The Icing:
8 ounces of softened cream cheese
1/4C pumpkin puree
1/2 stick unsalted butter
1T carrot-orange juice, or just orange juice or any complementary flavors of juice, (this time I used Trader Joe's  Dynamo Blend)
1t orange zest
1/2t really good vanilla
4C sifted powdered sugar
Combine all ingredients in order, take it slowly when introducing the sugar, cause it can get really messy, but you already know that.
Let those doughnuts cool completely before you ice them or it'll slide right off, most importantly enjoy! If you have children in your life, then you are very blessed, and they will have bunches of fun making these with you.
Shellie Croft

Enjoy this special 8WomenDream Guest Contributor story submitted by new and experienced big dreamers throughout the world, edited and published to capture a dream perspective from different points of view. Do you have a personal dream story to share with 8WomenDream readers? Click here to learn how to submit dream big articles for consideration.
Note: Articles by Guest Post Contributors may contain affiliate links and may be compensated if you make a purchase after clicking on an affiliate link.