Last updated on December 10th, 2010 at 12:07 pm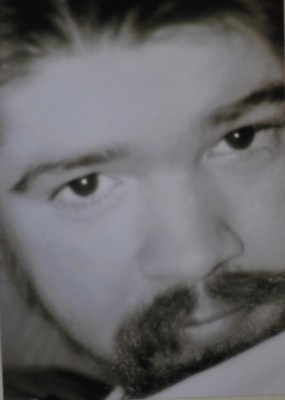 I got hit up hard this past week with the dream interruption blues. It completely threw me off my game. Have you ever been kept from your dreams by a mountain of obstacles or a stack of distractions?
Meet my favorite distraction: Jackson. He is my oldest (30) severely disabled son.
He is deaf, 5'4 200 lbs and a lower left leg amputee with an unsteady equilibrium, compliments of an outgrown prosthesis. He has extensive brain damage and suffers a severe seizure disorder due to the ravages from meningitis he contracted in 1982.
Jackson lives in independent living facility an he requires constant attention 24/7.
I was really looking forward to having him home for a week long visit (he usually comes home for the weekend). It didn't take long before all the painful memories rushed back in, leaving my soul cloaked with grief once again. I was racked with uncontrollable tears, and I felt my already scarred heart take another hit.
But I must go on for Jackson's sake, and not let him in on the personal hell that has invaded my very being.
I must focus solely on him –
To fulfill his needs.
Anticipate his wants.
Keep an ear perked for seizures and other dangerous situations Jackson has a knack of getting into.
There is no time, energy or desire to dream while he's here. Ideas and the flow of creativity quickly evaporate into thin air. My dreams are pushed aside until Jackson is back in his facility, and I've regained my emotional and physical strength.
Each time, it gets harder and harder to recover. A little bit of me dies every time I have to say goodbye to him. Never knowing if this will be the last time I see his precious, innocent face. I try to conduct a normal life. But there is nothing normal about it. I am the mother of a son who survived a deadly disease and have had to sit by and helplessly watch the aftermath.
It's a traumatic thing to give birth to a disabled child.
It's inconceivable to have a perfectly healthy child (his pediatrician proclaimed Jackson was the smartest three year old he had ever seen) become stricken with a disease that would eventually permanently disable him. I've witnessed the "death" of my son, the one I had for three years. His "rebirth" left him saddled with a whole host of disabilities.
Thank God, his spirit was left intact. And that is what I dearly hold onto. It keeps me from completely falling apart. His infectious smile and twinkly eyes lets me know that this his chosen path and I am a part of it.
In spite of it all, we laugh a lot. Laughter had been my life preserver. It keeps me afloat. It masks the never ending pain.
It's times like these, that I'm going to let my dear friend Wil E. Coyote show you what kind of week it was for me, trying to juggle taking care of Jackson and working on my dreams.
I've renamed this "Soup or Sonic" cartoon with "Dreams Interruptous" starring Wil E. Coyote (Nemesis Ridiculii) and the Road Runner (Ultra-Sonicus Ad Infinitum).
There will be times in the future that I'll have to put my dreams on the shelf. For I am Jackson's mother and I will do everything in my power to fill his life with love and laughter for as long as we have him here on earth. I'm going to give myself time to breathe and heal.
My dreams will be waiting for me, right where I left them.
Toni
Toni left 8 Women Dream in November of 2010 to work on her screenplay and focus on Club B.


Enjoy this special 8WomenDream Guest Contributor story submitted by new and experienced big dreamers throughout the world, edited and published to capture a dream perspective from different points of view. Do you have a personal dream story to share with 8WomenDream readers? Click here to learn how to submit dream big articles for consideration.
Note: Articles by Guest Post Contributors may contain affiliate links and may be compensated if you make a purchase after clicking on an affiliate link.