Last updated on December 8th, 2010 at 03:18 pm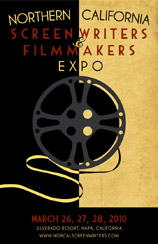 I am about to converge on the 1st Annual Screenwriter's Expo held at the posh (blue language will have to be kept to a bare minimum) Silverado Resort in Napa, CA.  My mentor, screenwriter, editor, creative writing and screenwriting instructor Anne Jordan has taken on the herculean task in corralling a passel of movie producers, directors, production companies and other creative types to form this expo.
They will be telling everyone the tricks of the trade.
Lights – camera – action: let the dreaming begin!
I'm looking forward to hearing the presenters and garnering those golden nuggets of insight that will help further our dreams.  I scored "green room" passes, so I'll be rubbing (I hope more than that) elbows with the big Hollywood mucky-mucks.
I'm just going to be my adorable self and charm the argyles off these gatekeepers.
Want to hear about the big dreams Ill be pitching?
"Divine Intervention" is a screenplay of mine that's been kicked around for five years. It's the story of Intuition Jones (aka Indiana Jones), a beautiful, brilliant young woman of mixed racial background. Through wild adventures and recurring dreams, she realizes that being the hero in an ancient prophecy is her destiny.
I'll also be shopping our screenplay "Club Bitch". This one centers around a middle-aged white woman who comes to grips with the fact, that in order to be her authentic self, she just has to rap.
Envision Jack Black (a one hit wonder) as her unfulfilled house-husband neighbor who also is questioning his place in life. Their group, The Heat (portrayed by hep, gorgeous actresses because, hey art should imitate life) will perform my friend and rapper Laurie's righteous raps.
And, "The Bitter Bus", a reality show, will hopefully be snatched up by a television company that's able to think outside of the box.
It will be a cross country event with stops in six major cities in a bejeweled bus (how do you feel about different shades of pink?), picking women from each city (who have been nominated-by their friends/family – think What Not To Wear) who aren't living their authentic lives.
You know who they are.
Women who aren't happy doing what their doing because they feel they need to conform to society and or other people's standards, or the women who complain about everything but aren't willing to do the necessary work to make the changes they need to become their real selves.
At the end of each episode, there will be a party and different "motivators" will help these women discover their true essence. It may be a burlesque dancer, a NIA instructor or a pole dancer. The bus will bring only the women that are ready to get off the Bitter Bus.
So there you have it – my Hollywood dreams.  What about you?  If you were going to the Screenwriters Expo, what would you be pitching?  What do you think of these ideas?  Let me know your thoughts!
I'll leave you with a quote from my favorite singer, David Cook –
'Cause if you don't dream big,
What's the use in dreaming?
If you don't have faith,
There's nothing worth believing.
It takes one hope,
To make the stars worth reaching for.
So reach out for something more!
Much love,
Toni
Toni has written the screenplay Divine Intervention and left 8 Women Dream in November of 2011 to work on Club B.  She is still working on getting her screenplay published.


Enjoy this special 8WomenDream Guest Contributor story submitted by new and experienced big dreamers throughout the world, edited and published to capture a dream perspective from different points of view. Do you have a personal dream story to share with 8WomenDream readers? Click here to learn how to submit dream big articles for consideration.
Note: Articles by Guest Post Contributors may contain affiliate links and may be compensated if you make a purchase after clicking on an affiliate link.