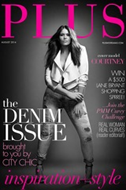 Hey friends! This month I'm featured in Plus Model Magazine! How cool is that? It's in their health and wellness segment on positive thinking. I'm so excited. I guess this means I'm a Plus Model now? Hey, I'll take it!
And so many people to thank……I'd like to thank L'Oreal, and Hershey, and Spandex, and Sebastian, and Bacardi, and Bojangles………….Here's the link if you want to read it. I'm soooooo excited. I'm on page 131.  I think this link takes you right to the page: http://plusmodel.uberflip.com/i/356327   PS  I never saw this coming. I guess it proves that sometimes doors open where you least expect them. I sure love being a motivational speaker and living a plus-sized life.
Kelly Swanson is an award-winning storyteller, motivational speaker, published author and TV personality who is passionate about helping women harness the power of their stories to connect, influence, and get the results they dream of accomplishing. Laughing the whole way, Kelly teaches women how to master the art of connection through the power of strategic storytelling. You can find her on The Fashion Hero show airing Fall of 2017 on Amazon Prime or on her website MotivationalSpeakerKellySwanson.com.
Note: Articles by Kelly may contain affiliate links and 8WD or Kelly will be compensated if you make a purchase after clicking on an affiliate link.