Last updated on October 17th, 2013 at 02:07 pm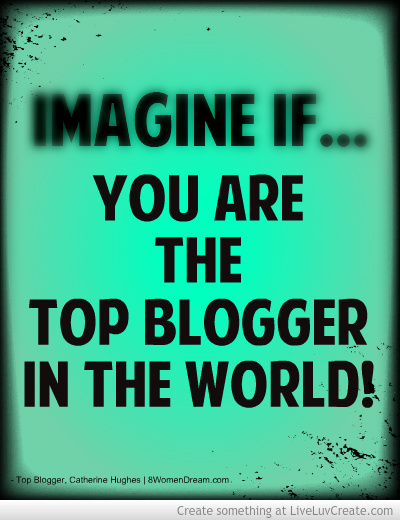 If you dream of becoming a top blogger like me, then I'd like to save you some pain before you get started down the road I am on.  I've created this resource page to help you create your dream of having your very own top blog. This is everything I wished I knew when I started blogging years ago … just for you.
Here's how to create a top blog website:
1. Before you start, decide on your passion —
You must decide on a niche and this niche needs to be something you are passionate about so that you won't get tired of posting articles about it. Nothing will scream unprofessional more than a blog that is about everything and nothing.
People use the Internet for information and entertainment.  Picking a niche will force you to represent something to your readers and help you stay on topic.  Staying on topic is the most important (and the most difficult) rule for blogging.  You will not create and audience for your writings if you do not pick a niche and stick with that topic.
• Introduction to Blogging by WordPress.
• Darren Rowse of ProBlogger: How to Blog: How to Choose a Blog Niche (6 Tips)
• Brian Clark of Copyblogger: How to Choose a Popular Niche for Your Blog
Picking your niche will help you with keywords for your posts so that search engines will find you.  It will help you with your choice of images and find creative ways to tell your story.
2. Naming your blog —
Naming your blog a highly-searched keyword is one of the smartest moves you can make when starting to blog.  You need to decide on several keyword-rich names before searching to register and buy your URL (domain name).
• Darren Rowse of ProBlogger: Choosing the Domain Name for your Blog
• Daniel Scocco of Daily Blog Tips: How to Choose a Blog Name
• SEOMoz: 12 Rules for Choosing the Right Domain Name
3. Buying your blog domain name and hosting companies —
• Dreamhost
• HostGator
• BlueHost
• Media Temple
Some websites with great tips on beginning blogging are: How To Start a Blog and How to Set Up Your First Blog the Right Way the First Time (Problogger).
4. Best blogging software —
• WordPress.  Hands down.
• Lorelle on WordPress does a great job at helping readers understand and use WordPress.
Here's a Blog Software Review chart for you to compare blogging software.
5. How your blog should look —
There are rules for being considered a professional blogger (when you want your writing to be be taken seriously) just like there are rules for grammar. Not following the rules of good blogging web design will also kill your following just like poor grammar.
In fact, poor website layout is probably worse than grammar mistakes because a bad layout (long paragraphs, text without breaks, too many ads, too much color, too many font types, not enough white space, too many choices, etc.) stops new visitors in the first four seconds and they leave without reading you.
Your readers need to trust you, and nothing screams trust like a professional look to your website.  Forget using anything that moves that isn't a video — especially graphics.
Don't make your site too busy.  Everything you put on your blog distracts from your writing.  At some point you have to decide if you're doing paper mache or producing a publication. You don't have to pay someone to do this for you when you have WordPress (and install a good theme). You can do this and should know these rules by heart.
First, I'd start by studying Webpages that Suck — read it — memorize it.
• 99 Designs has a free guide to blog design called Blog Design.
• Choosing the Right Colors for Your Web Site
• Ten Good Deeds in Web Design
If you aren't a graphic designer and are stuck for a logo, brand or banner design try 99Designs where thousands of graphic designers compete for people who need logos, websites and branding work done.
WordPress themes that help do all the design work for you –
8 Women Dream uses Canvas by Woo Themes — love it.
I know a lot of professional bloggers love Thesis WordPress theme.
6. How to use images on your blog —
I'm sorry, but now that we have entered the twentieth century you should know how to use some type of photo editing software.  If you don't know how to use Photoshop, or any of the other lesser photo editors out there, find yourself a good tutorial.  If you need a free photo editor to start, do a search on CNET. To be a professional-looking blogger you need to understand how to place images on the Internet.
• Tentblogger has a great article called, The Complete Guide to Using Images in Your Blog Posts
• Creating Accessible Images
• Darren Rowse of ProBlogger, How to Use Images in Your Blog Posts
The best images are the ones you take of your life over stock images.  But if you hate your own photographs try iStock.com and set up an account. You can buy photos there for as little as a dollar.  There's Open Stock Photography where you can find free images to use.  Always read the website's image-use policy before you download any images from the Internet.  Do not use images found in Google image search.
7. How to write on a blog —
I recommend you become a regular reader of Brian Clark's Copyblogger blog for how to write properly on the Internet.  Long paragraphs are bad, not having sub-titles is bad, and not getting to the point is bad.
Believe it or not, people will forgive your grammar mistakes if you write like you talk and if you make them laugh, but making them read long, drawn-out paragraphs that sound like corporate-speak — or posts that are all about you with nothing in it for them will drive readers away from your blog faster than a bad check.
• How Little Do Users Read? – Tells you why you need to change from the way you were taught to write in school and understand how to write for the Internet.
• Are You Staying on Topic — or Losing Traffic? – The importance of staying with your blog topic along with what to do when you have that urge to tell everyone about the new person you are dating instead of sticking with your blog subject.
• On laying out your post so people will read it see : 8 Incredibly Simple Ways to Get More People to Read Your Content on Copyblogger.
• 7 Powerful Ways to Get Your Blog Post Noticed by Chris Towland is another must-read.
Set a schedule for blogging and stick to it.  You will be excited in the beginning and want to post something every day, but it is better to start off posting once a week or three times a week and allow yourself room to grow, then to start out blogging seven times a week and quitting after a year because it was too much work.  Your readers will appreciate it if you tell them when they can expect to see new posts and they will be fine with visiting your blog even if you only post once a week.
8. How to get your blog found on the Internet —
Learn search engine marketing.  Don't hire out — learn it.  If you want to be considered a professional on the Internet and understand how the Internet works you must learn how to write your blog posts and title your articles so that they are search-engine friendly to attract readers.  You do want to be read…right?
• Aaron & Giovanna Wall of SEOBook offer The Blogger's Guide to SEO.
• SEOMoz offers The Beginners Guide to SEO.
Writing compelling, keyword-rich titles is the big secret to gaining readers for your blog.  Brian Clark of CopyBlogger hands-down has the best articles on writing great blog titles –
• How to Write Magnetic Headlines
You also need to register your blog with blog list sites like Technorati and Blogged.  Top Rank blog has a comprehensive list at Blog Directories for you to submit your blog.
9. Use statistics —
Yes you should use statistics.  They tell you what is happening on your blog and what your visitors are doing.
• Google Analytics – We have this installed too.  It's great for fixing broken webpages once your blog gets big enough.
About.com has a great little guide to the Top 5 Blog Statistics Trackers.
10. How long it takes to become a top blogger —
Bigger is better on the Internet. You'll want to give this blog of yours 5 years of regular, quality blogging before you get noticed (all best are off if you are rich and famous). The size of a website is determined by the number of pages. Every time you post an article it becomes another page to your blog. Think about how large your competition is if they started 3 years ago.
Understand that for a while they will be found in search before you.  Size matters and you need to give your blog time to grow before people find your writings online.
You can help this process by commenting on other blogs and using social media to connect your blog with other people. But don't give up blogging for the first two years. Use the time to perfect your craft to become the famous blogger you are meant to be.  The Internet is a very crowded place.
Don't get insulted if no one is reading your blog.  Keep reading and learning about blogging and it will happen for you too.
11. Other resources —
For getting started with WordPress –

Blogging tips –
SEO –
This book is my bible –