Last updated on July 2nd, 2012 at 05:57 pm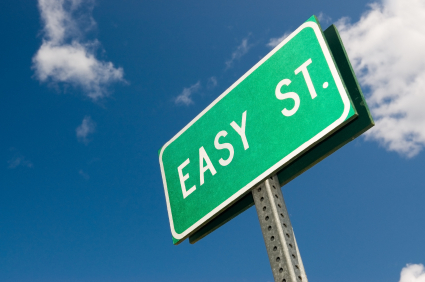 Most entrepreneurs have heard this encouraging fact:
The first million dollars is always the hardest.
The idea is that on the way to that first million dollars, you've developed the habits, mindset and beliefs that keep the momentum going. In other words, making the 2nd, 3rd, and 4th million will be automatic.
Most entrepreneurs also know there are no shortcuts to getting there.
When you are desperate to make something work — even the craziest million dollar, money-making schemes start to look pretty good.
$1200 for that expert video marketing to tell me what I can do to make a million dollars? Sure!
$2700 for a 5 week program with weekly phone conference AND live event in San Diego… and I get to know all the million dollar, money-making secrets behind mobile app development? You got it!
$400 a month for an "automatic system" that only the members of this "exclusive club" can get too… and it's guaranteed to drive traffic and increase your email list? Too easy – yes!
These are all examples of the online marketing programs I get emails about every day. Some strike me as truly a benefit for legitimately growing a business. Of course, those never scream "Make a million dollars NOW" which is probably why they feel (slightly) less sleazy.
Most of us have had that light bulb moment, the 2 a.m. idea that we have to write down before the magical moment passes. And that's where most of us leave it. Personally, I think that's OK. If it really kicked-butt, you'd be passionate about working on it, right?
The honest truth is that the first million dollars takes tons of time, energy and investment.
Blah. That wasn't the answer I was looking for either.
To make myself feel better I did some research on bad business ideas. I ran across this post from Jeremy Schoemaker of Shoemoney that had me laughing, and feeling much better about my harebrained schemes. Be sure to read the whole list. His #1 on the list is crazy!
What his list, and confession that his success ratio was 5 to 500, made me realize something. I have a strong tendency to make stupid desicions when desparate. Or when I have PMS.
Just a few examples of my stupid decisions…
At a hair appointment while PMSing, I tell my stylist I'm ready for a shorter look. The next thing I know 6 inches worth of hair lay crying on the floor. I wake up the next day completely pissed-off at myself for not paying attention to the calendar.
Signed up and paid WAY too much money for a coaching program "guaranteed" to get you government grant money for any business venture. I can't tell you how much. It's been years and it still stings. Oh, and no grant money ever magically arrived in the mail.
Car shopping after my car was totaled, again while PMSing. I managed to stop myself just shy of buying a used Mini Cooper for more money than the new car I ended up driving home. I love a Mini and will have one — when I don't have teenagers to drive around.
Life is full of make a million dollar ideas that can (sometimes) be stupid. What was the last stupid million dollar idea you had?
– Heather

Heather Montgomery is a fitness writer, triathlete, and serial entrepreneur who is devoted to sharing what she has learned about becoming a triathlete after age 40. She uses her Metabolic Training Certification to help other women struggling to get fit in mid-life. She lives and trains in Santa Rosa, California, the new home of the Ironman triathlon. You can find her biking the Sonoma County wine trails.
Note: Articles by Heather may contain affiliate links and will be compensated if you make a purchase after clicking on an affiliate link.