Last updated on January 22nd, 2019 at 02:09 pm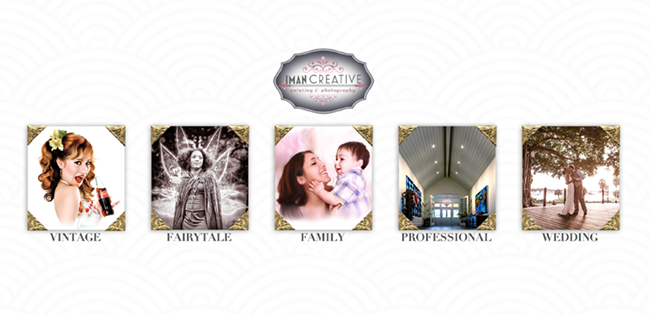 When I first started out in photography, I put all my specialties on my website. Then after reading and studying marketing, I decided to focus on pinup art.
That served me well until I had friends and clients hire other people to do other specialties they didn't realize I offered. When it came time to rebuild my website this year (something I usually save for the industry's slow period of early in the year) I knew I wanted to figure out how to showcase all of the work I love doing. I also knew that it would be a large task. Here's a rundown of how I built my new website.
I started by going through my portfolio and choosing the work I wanted to use.
My style has changed a lot over the years and I needed to cull the styles (both photographic and editing) that I'd grown away from. Once I had all of that in a folder, I tried to see themes that could be organized to make sense to someone visiting my website for the first time.
Then I made a text layout of the website.

I use Photobiz for my design templates and highly recommend them.
REAL people will help when you have questions. And even a seasoned web person like me had LOTS of questions.
I was connected to Jeffrey P. and he walked me through what the site should look like.
We talked about what options were available and workarounds for things that mattered to me. I could not have finished this so quickly without his expertise and feedback.
We decided a splash page with five options would be ideal. Each subdomain has it's own info.
About me, pricing, press. Since each genre has it's own pricing, this makes the most sense to keep it organized and easy to find what you're looking for.
Jeffrey showed me other Photobiz clients who had done something similar and that helped me get a feel for where we were going. I could finally see it.
For years I've wanted to do something like this but never did because it would be such a huge undertaking. Jeffrey made me feel like it was not only possible but less of a mountain to climb than I'd thought.
He helped with things I have less knowledge about and I worked on sorting photos, designing logos, and making the images for the splash page and five subdomains.
Followed by organizing all the photos into folders of subcategories. Then uploading hundreds (HUNDREDS) of photos. I chose templates with a feature they call color shifting and each photo's color has to be chosen and input by hand. But I really feel the final result showcases each photo and does it justice. Most of the time photographers understand that our photos won't look as good online as they do in print. I have to say I love how they look here.
Photobiz templates have the option of using your own imagery and I had a FIELD DAY walking around downtown Mebane searching for interesting textures. The wood background above is from the floor of our local coffee shop. I might have had too much fun with that part.
The last step was creating the info pages and making sure all the text was correct. I did some seo work which is my very very very least favorite part.
If you're planning a new website, re-design, or re-brand,  I'll let you know how long each step took. (This is NO indication of how long it will take you! I tried to fit this in with working on shoots, managing the store, and being a mom.)
Culling and choosing portfolio – three months
This took the longest. I'd been searching and saving for about three months. But if I'd sat down and focused on just that I think I could have done it in a week. I did have to go through my archives which added time. I had previous website imagery but the size, resolution and watermarks didn't jive with my new brand.
Buying a new domain name and having it forwarded to the new site – 24-48 hours
And Jeffrey helped with this on the Photobiz side of things.
Building new logos, watermarks, and custom background images – 1-2 weeks
Granted I kept going back in and changing things. Web design is like painting. You could change things foreverrrr but must walk away.
Uploading the photos to Photobiz – 48 hours
I tended to do this while watching tv. So the photos might have uploaded faster if I hadn't been using hulu or netflix.
Entering text and seo – three weeks
I. Hated. This. Part.
Color shifting each photo – 3-4 days
Again while watching tv. At one point I was overthinking things because I made a pastel color palette in Photoshop with my favorite tones to compliment the photos. Walk away, Iman!
I've always dreamed of having an umbrella that housed each of my passions under one "roof". I know there will tweaks and changes ahead but that is the nature of running your own business. For now, I'm happy that I've gotten this far. I have been a Photobize customer for years, but I have to say that they have once again gone above and beyond. I can't take credit for this new iteration of my company. I wouldn't have this site without Photobiz. Their mission, their designs and the way they help made an enormous task doable. And (aside from adding text and seo) it was actually fun.
[fbcomments]

Iman Woods is an American artist who specializes in pin-up photography. Through a unique and therapeutic process, she's spent over a decade in perfecting, Iman helps women undo the damage from a negative self-image and unrealistic beauty industry expectations. She helps women embrace their own style of beauty and see themselves in a new light. You can find her on her website, ImanWoods[dot]com.
Note: Articles by Iman may contain affiliate links and 8WD will be compensated if you make a purchase after clicking on an affiliate link.