Last updated on April 2nd, 2012 at 12:23 pm
It was a chilly March day. We were at his favorite beach.
We had driven an hour down the coast from my house in San Francisco to get there, chatting and laughing with the radio playing in the background, my bare feet propped against the dashboard, flip flops kicked off.
It was our first date, dear reader, and already, I was smitten…
We finished our picnic, and lay down in the sand in our T-shirts and jeans. I crawled into his arms to get warm.
Later, he would kiss me. But first, he held me.
I remember feeling his heart beat, the wind whipping over us, hearing the waves crash on the shore, when three birds flew overhead.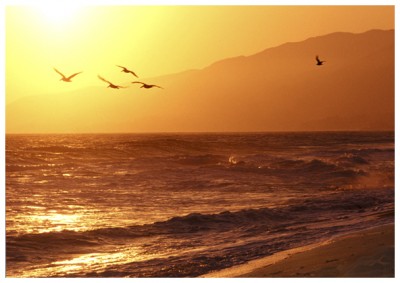 There was something about the simple purity of the moment, the sounds and sensations, the warmth of his body, the elegance of birds in flight, and the feeling of it, the rush of a wild new crush, my heart-a-flutter, that made it unforgettable. It was one of those perfect moments, etched indelibly in my memory, a snapshot frozen in time.
I emailed my sister the next day to tell her, "I think I'm in love."
First Comes Love, Then Comes Marriage…
Fast forward a few years. The wedding is in just a few weeks.
And no, dear reader, Steve isn't marrying me…
Life doesn't always work out as we hope or plan. Yet even the greatest losses can sometimes turn into the greatest gifts.
Steve would inadvertently turn into one of my Zen teachers, become my "accidental guru."
Our dance in life taught me more about myself, what I want and who I am, than anyone had up to that point.
Steve helped me find myself, helped me tap into my own deepest sense of joy, and to find a kind of freedom I'd never known before so intensely – the freedom to be myself completely and to live in each moment as it was unfolding, without fear of what was coming next.
They Met Across the Interwebs…
I met Steve not long after separating from my ex-husband. I'd been so afraid to enter the dating world again.
After several months of shying away from men, I wrote down a vision for what I was seeking in a man and in a romance. Three days later I met Steve.
As if I had dreamt him up, he delivered everything on my list – passion, whirlwind romance, laughter, joy and heat – and turned me into a giggling, blushing, frantically texting teenage girl in no time.
Oh we were over the top. We joked that this would be the Grand Epic Romance, that our first date would be one for the movie marquees – the Greatest First Date in the History of the Universe (or, at the very least, the greatest first date between Lisa and Steve).
Before we even met in person (we connected first on eharmony), we declared that the "world was on fire." Steve joked about baby names.
He told me he didn't need to see other women. I canceled my date with another eharmony guy before I even met Steve. This made him giggle so hard he spit his water out all over his notebook, just from the sheer hilarity of being "the other man" before we'd even connected live.
It was ridiculous, dramatic, hot, campy fun.
Our lives were going to be the "Endless Frolic."
We Hadn't Even Met Yet!
And then we met . . . and yes it was all laughter and sweet kisses, fun and naughty fantasies. We texted or emailed back and forth all day long, joking and teasing and bantering, plotting out what we would do to each other later.
Our emails and texts were so hot that I'm surprised my computer and phone didn't just burst into flames.
We talked about the trips we'd take – Los Cabos, Whistler, Tahoe, Taos. We gave each other sweet and silly nicknames.
I was in so deep, hooked hopelessly on the Steve love-drug.
The day after our second 12-hour date, I said to a co-worker, "Stick a fork in me. I'm done."
And Here is Where Your Heroine Loses Her Sh*t…
And then, right before our one-month anniversary, Steve decided that things were too intense for him. He needed space.
I wish that I could say I handled things gracefully and let him take all the time he needed to recover from his own broken engagement (Steve had left his fiancee a few months before meeting me) and just encouraged him to do the things he wanted to do, to go "be Steve" for a while and come back to me if and when he was ready. Given the chance to do it over, that's what I'd do today.
But in that moment, I had no sense of distance or space from Steve, and I wasn't ready to give him up. I had become a love junkie. I wanted my fix. 
I vacillated between adoring Steve and excoriating him – how! could! he! leave! me!
I used to laugh with Steve about what a little hippie Zen girl I was, meditating daily. Yet IÂ acted anything but Zen. All I could focus on was that the thing I thought I most wanted in the world – i.e. Steve – was being taken away from me.
Our break-up therefore was just as over the top as our romance. The day we broke up, we emailed each other back and forth 75 times (I counted).
Steve's "need for space" became a permanent break, which was hardly shocking, considering the daily barrage of love and hate mail he got from me.
I really just about became the poster-girl for "what not to do" during a break-up.
Revising The Story Of "The One Who Got Away…"
For years I was so mad at myself for "screwing things up" with Steve. If only we'd moved more slowly. If only I'd let him go more gracefully. If only we could have dated longer. If only I had not gone completely crazy.
If only, if only, if only . . .
My "go-to" fantasy whenever I wasn't happy with my life in the moment was this happy-la-la-land I imagined I would have inhabited with Steve, where every day was full of bliss, hot sex, utter hilarity, endless adventures.
What I forgot, what I lost sight of, was that creating a fun adventurous life doesn't actually require Steve (and, by the way, case in point, I am living one).
Steve is not the source of all laughter. Steve is not the Universe's go-to source of joy. Steve is not the only one who can generate passion and heat.
That is the "myth of Steve."
Paradoxically, Steve was a catalyst for me to remember that my happiness lies in my own hands, and to recover my own sense of innocence and magic.
During our brief courtship, in my state of glee, I tumbled into the happy childhood I never really had (because I was such an anxious, overachieving child, taking the troubles of the world onto my shoulders at a very young age).
Meeting Steve reminded me that simply enjoying life is important, that life is as much about the joy in the journey as about reaching any "end goals."
Recovering A Sense of Innocence and Magic…
So Steve was my teacher, but not "the one" for me.
And – let's get real – so much of what I felt for Steve was steeped in fantasy. We dated for one month, which is a blink of an eye in a lifetime.
Yes, it was one helluva wonderful month.
However, a lot of what I grieved was the idea of what "could be," the plans we'd talked about that never happened, the dreams for my life that started to grow jungle-wild when I thought I had found a willing, dedicated, joyful partner for me.
I am grateful that somehow I have recovered my own sense of innocence and magic again along the way because for a while there, I thought it died with Steve, with the ending of our romance.
I felt like I temporarily lost my innocence again when Steve ended things because I followed my heart with him so blindly, and felt a deep sense of trust and security both in Steve and the future of our relationship. 
Writing my book is such a gift because I get to rewrite not the history of what actually happened in my life, but my perception of it. Writing about the past has helped me to make sense of it, finish healing from it, and to bring closure to what still felt incomplete.
I get to decide what the story of my life means, and learn from what happened to me.
Perception is Reality…

Steve used to say, "Perception is reality." Â If I believe that my life is tragic, I get to live that reality.
If I believe that everything happens for a reason, that's my truth.
When I viewed Steve as "the one who got away," it made me sad.
When I look at it instead as a sweet perfect moment in time that taught me about myself, blew the doors of my heart open wide, and allowed me to believe deeply in the possibilities of love, I am filled with gratitude.
I think I learned more about myself from that experience than I have through any other experience in my life so far.
I had to shine the light on my own darkness, and to acknowledge the role I played in how the "drama" unfolded. I had to grow up.
Still Enjoying The Endless Frolic!
Now, that said, "growing up" doesn't mean not having ridiculous amounts of fun. Steve reminded me to lighten up on myself and to enjoy life, and his version of "enlightenment" still resonates for me to this day. I am all about the fun.
Steve shows up in my book, and yet he's far from being the main event. The book is about my journey of learning to love myself, as I am, despite the trauma of my early 20s, despite the moments when I fell into despair, despite any mistakes or perceived "failures."
I am nearly 200 pages into my book now and as I continue to write and revise, I want to focus on the innocence and magic that are at the heart of my life again.
Because my life can be the "Endless Frolic," with or without Steve. Living joyfully every day, living my dreams, is up to me.
I choose to love my life and to live it fully, giving thanks for the gifts along the way, loving what is and honoring the changes life brings.
I'm grateful that I ever met Steve, grateful that I experienced such a fun, silly, hot, over-the-top romance, and grateful that I learned that the greatest gift that you can give someone you love is freedom.
I'm grateful that knowing Steve ultimately made me a better me.
How do you choose to interpret the things that have happened to you? Can you revise some of your own stories about your life to find more freedom and joy in the now? Can you find the innocence and magic in your own life?
Lisa

Lisa has launched her dream by signing up for Ellen Sussman's "Memoir-in-a-Year" class, speaking her story out loud at a Take Back the Night rally, and committing to a regular writing schedule — 50 pages completed by December 5th, when she also turned in her first book chapter! She recently achieved another milestone — 150 pages written in her manuscript! Being invited to join 8womendream.com was a dream come true, and she looks forward to chronicling her writing process. Lisa is currently bi-coastal with her home in historic Troy, New York and her heart in San Francisco.  Lisa's post day is Tuesday.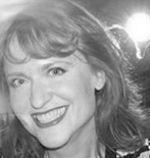 Lisa Graham is an inspirational writer, life coach, motivational speaker, and globe-trotter whose passion is to help others to find happiness and meaning their daily lives. A political activist at heart, Lisa would like to empower more women to run for political office as a way to create positive change in the world. You can find her on the Madam President Project or watch her TEDx speech on YouTube.
Note: Articles by Lisa may contain affiliate links and may be compensated if you make a purchase after clicking on an affiliate link.