Last updated on May 17th, 2012 at 07:52 am
This past weekend, Â I made my first trip to the Grand Canyon. It took me six months of living near it to finally visit it. I brushed it off for awhile because I didn't think it was a big deal. Plenty of other people I know have been to the Grand Canyon and while they liked it, they didn't manage to convince me it was worth the trip.
So much for listening to what other people have to say because I loved it.
It's billions of years in the making spread out of 1.2 million acres of perfectly painted peaks, valleys, plateaus and buttes which provide plenty of room for contemplating its creation – yours, too.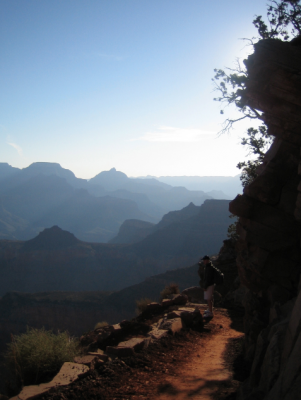 With so much room to breath, awe and dream, I got to thinking how my weekend of camping, hiking and sightseeing at this natural wonder of the world is similar to my bigger travel dream overall. It's not for the faint of heart.
You will . . . sweat.
See rattlesnakes.
Kill your knees.
Get nauseous from the altitude.
Want to quit.
But if you can plan for it and pace yourself, you're in for the time of your life.
1.  Dream big.
You have to make your dreams big enough to stay motivated enough to catch them. If you never aim for the moon, you never land among the stars, or worse, you never attempt the world's greatest travel adventures.
Just remember, there's no failing in travel dreaming, just detours, which can turn out to be the best part sometimes.
2.  Have a map.
You need to plot out where you are going in travel and life. Without a vague idea, you'll never take the first real step towards it. There are many routes to choose from, and distraction will win if you don't pick a trail.
Know your starting point and pick the end destination. The journey in between can –and will–change. Nonetheless, having your map will keep you sane.
3.  Choose your views.
They actually say this on signs all over the Grand Canyon. In a playground this vast, you have many choices, but if you don't choose a few, you will miss the experience. It's impossible to do it all and see it all, so pick what really matters to you and what is actually doable.
I'm sure the view from the top of Mt. Everest is breathtaking, but I know I'll never make it; I'm not world-class climber. So I'll maximize my time with other views that are in my range.
4.  Be prepared — if not — overprepare.
The Grand Canyon is no place to be cocky. Without adequate hydration, food, shade and rest, you will find yourself being helicoptered out by a rescue team. It happens quite often to some of the fittest people who enter.
Point being, danger awaits those who don't wisely think about what they need before doing it. Travel can take us to challenging places. Read up beforehand, use common sense and have enough on hand to sustain you.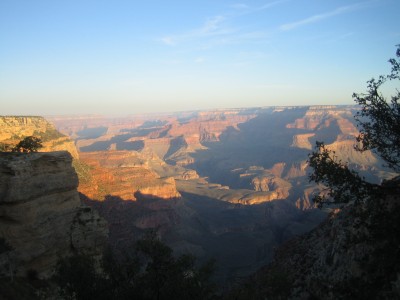 5.  Enjoy the journey.
With all the preparation and caution signs, it's also important to look past them to see the splendid Grand Canyon views. On 8 Women Dream we talk a lot about how the "your dream/life is what you make it" principle and how you choose your attitude with it.
While frustration can set in, take time to adjust your thinking and enjoy the sights that surround you.
6.  The road to success is not often paved – or marked.
I must say the Grand Canyon main trails are expertly maintained and marked. However, there are lots of other trails that people do that you will not find on a gift shop map. At some point in time none of the main trails had names either, but someone had a vision to create them.
There will be times when your dream might not have a clear path. Maybe no one ever traveled down that road before? No one is going to travel it for you, you have to blaze that trail. You have to carve your own path for your travel dream. 8 Women Dream, and your support team, will help shine the light.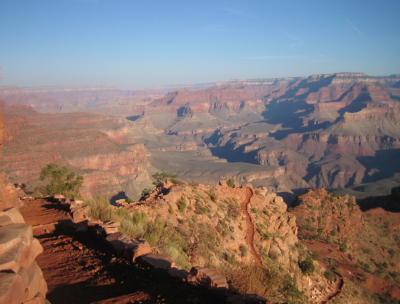 Hiking the Grand Canyon has only been a recent dream of mine. Check it off the list and make room for the next travel dream.
Where will your travel dream take you next?

Enjoy this special 8WomenDream Guest Contributor story submitted by new and experienced big dreamers throughout the world, edited and published to capture a dream perspective from different points-of-view. Do you have a personal dream story to share with 8WomenDream readers? Click here to learn how to submit dream big articles for consideration.
Note: Articles by Guest Post Contributors may contain affiliate links and 8WD will be compensated if you make a purchase after clicking on an affiliate link.