Last updated on April 8th, 2012 at 08:17 pm
Happy Positive Thursday!
Last week in my post Positive Thursday: Living Life in Peace I wrote about living life in peace, shared a few tips to reaching inner peace and how peace is a conscious choice and lifestyle.
Here's an excerpt from the post last Thursday:
Being at peace means being okay with who you are, where you are at, and what it is you are doing. Peace is a journey. And a very worthwhile one to embark on.
Finding peace has been a journey for me and will continue to be one, but it was an important conscious decision I made. I will live my life in peace. I will strive for peace.
I'm currently sitting here contemplating what to write and just asked fellow dreamer Rayne what a good subject to be. You know when you have so much to say yet don't know exactly WHAT to say? That's where I'm at. Rayne suggested I blog about TRUST and I think that's a perfect topic for my post today.
Let's look at the definition to start off.
trust:
reliance on the character, ability, strength, or truth of someone or something
dependence on something future or contingent
something committed or entrusted to one to be used or cared for in the interest of another
Trust is vital when you are making steps toward your dreams. You will never be 100% absolutely, positively certain about the future. Even if you plan, research, strategize, analyze and organize something to happen, it might not happen. Things might not go exactly according to your plans. This is where trust falls into place.
First, you need to trust yourself.
A Benjamin Spock quote comes to mind:
"Trust yourself. You know more than you think you do."
It's so easy to over-think or second guess yourself. The day before my first day of work, I had a mild meltdown to a close friend. I was rethinking if it was a bad or good decision that I moved to California, accepted this job, reached this dream. My friend was there to snap me back to reality.
I need to TRUST that I made the right decision. I need to TRUST that I am in the right place. I need to TRUST that everything will work out. A daily challenge? Do one thing everyday that scares you. That'll teach you a good lesson about trust!
Another great quote:
"Life is not easy for any of us. But what of that? We must have perseverance and above all confidence in ourselves. We must believe that we are gifted for something, and that this thing, at whatever cost, must be attained."
Second, trust others.
Building relationships with other people means you need to trust them. You need to trust someone else to not break your heart, you need to trust someone else to support you, you need to trust other people.
If you don't believe in other people, you end up limiting yourself and limiting your dreams.
I trust my parents to give me honest and loving advice, I trust that my relationship with my friends won't change despite thousands of miles, I trust that other dreamers will continue challenging me. Who do you trust?
It's good to be wise about selecting those you trust, but be vulnerable to let yourself have trust and faith in other people.
Third, trust your situation, your dream, your life.
With dreams – big or small – and changes, we often cling to a tight grip of control. Sometimes, it's just best to let the grip go. Moving forward and trusting means accepting the ups and downs, the twists and turns, the ins and outs.
This ALIVE Magazine excerpt said it perfectly:
Trust that, if we keep moving forward we won't step into a hole that causes us to trip and fall. Or that, if we do trip and fall…that we will be able to stand back up, dust ourselves off, regain our bearings, gather positive resources/tools, and proceed forward once again (hopefully with lessons learned and wisdom gleaned).
Craving more info about trust? See 25 Quotes About Trust, which shares 25 quotes about trust.
Above all else, trust means accepting sorrows and joy. Trust takes courage. Trust takes practice. Trust takes an open mind and an open heart.
May today be the day you trust yourself. You deserve it.
May today be the day you let others in – trust others – embrace their support, encouragement and that relationship.
May today be the day you trust your dreams – and accept that although things might not going according to plan, everything will work out.
May your week be full of trust – thanks for reading!
Until next positive Thursday
XO — Andi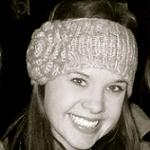 Andrea's dream is to graduate college from Ohio University in spring 2011, to find a job that allows her to utilize her public relations education and skills; to launch her own personal website www.polish-my-crown.com; and to become a certified life coach and motivational speaker.

Enjoy this special 8WomenDream Guest Contributor story submitted by new and experienced big dreamers throughout the world, edited and published to capture a dream perspective from different points-of-view. Do you have a personal dream story to share with 8WomenDream readers? Click here to learn how to submit dream big articles for consideration.
Note: Articles by Guest Post Contributors may contain affiliate links and 8WD will be compensated if you make a purchase after clicking on an affiliate link.