Last updated on February 7th, 2013 at 04:34 pm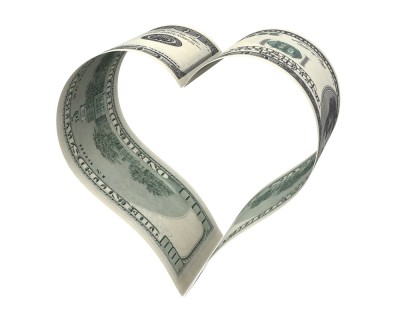 It's a little early to be talking about Valentines Day – still about ten days away. But I can't help it, Dreamers. I've been inundated with hearts and flowers in every retail outlet since the day after New Year's. Okay, I give! Let's talk about dollars, cents, and valentines.
The folks at Ziplist sent us an e-mail with some at-home dining tips, figuring that what with the sluggy economy, people will spend less this year. You ought to go over there and look at the Toasted Marshmallow Hot Fudge Cake recipe. It's a little pre-fab for my taste, but love the idea. Maybe I'll try it from scratch.
Anyway, in the same e-mail, Ziplist included some fun Valentines Day facts from the National Retail Federation. To wit:
The average man will spend $158, and the average woman will spend $75.
This does not seem right to me. I'm trying to remember ever getting anything for Valentines Day, from any guy, ever. Well, Virgo Man bought me some tulips for our first Valentines Day, and gave me a very sweet card. But honestly, that's the only Valentines Day gift I ever remember getting. To be fair, I'm not big on spending money for Valentines Day myself, so I guess I get as good as I give. But if these averages are to be believed, each couple will spend about $230 on each other – assuming they're monogamous. If they're not monogamous, we're talking serious money here.
What would a gal buy for $75 as a gift for her man? I have heard of some girls sending flowers or chocolates, but I bet that's pretty rare. Over on Yahoo Answers, one guy said he would love to get a Playstation console for Valentine's Day. How romantic, and how wistfully wishful.
I bet lots of women buy themselves silky underthings, as a gift for their lovers. And I bet lots of lovers buy additional silky underthings for their women, too. In 2009, $4.5 billion was spent on clothing, including lingerie. It's supposed to be a bad idea to buy someone else lingerie as a gift. Too much pressure, too much expectation. Plus you might get the wrong size, and no good can ever come of that.
Total Valentines Day spending is projected to be $15.7 billion this year.
This is a big number, don't you agree? That is a whole lot of $230 gift exchanges. There are too many zeroes involved, so I'm not going to even try to calculate precisely how many gift exchanges.
I was under the impression that Valentines Day, like Mother's Day and Father's Day and Secretary's Day, was invented by Hallmark; and if that were true, $15.7 billion in revenue would have been quite an accomplishment for a recently fabricated holiday. But actually I was misguided. Wikipedia set me to rights. Valentines Day was popular in Chaucer's era, back in the Middle Ages, when troubadours wandered the land singing songs of love. And actually, the holiday ("holy day") was invented by Pope Gelasius the First in 496 AD. For some reason, in 1969, Pope Paul VI took it off the calendar of saints. That does not appear to have had a chilling effect on the gift angle, however.
Of that $15.7 billion, $3.4 billion is for dining out.
I ask you, who can get a dinner reservation for Valentines Day? Anyone who can did it weeks or maybe even months ago. But I've never been one for dining out on any holiday anyway – it's too crowded, and there's too much pressure to Have a Good Time, Or Else. I'd rather stay in, and I'll probably spend more cooking a special meal than I would going out. Aphrodisiacal food tends to be expensive.
My ideal would be oysters – the little kumamotos with their sweet, briny pop. I like them on the half shell with a good mignonette sauce. But I'd take Hog Island sweetwaters, too, Â lightly fried (VERY lightly) and served with quarters of meyer lemon. I think artichokes would be a perfect side dish: just a little vegetal bitterness to contrast with the sweet luxury of the oysters. And then that Toasted Marshmallow Hot Fudge Cake. Champagne with everything!
But get this – the American Culinary Institute says the most romantic foods are:
Chocolate
Coffee
Hummus
Ice Cream
Nuts
Prunes
Seafood
Did a couple of those things catch you up like they did me?
For instance, I am addicted to coffee, but I don't see it as romantic. It's too utilitarian. Anything that I must have in order to face another day is, by definition, not romantic.
Also, hummus. All the hummus I like has garlic in it. I guess if you both eat it, that's not so much a problem. Even so, it doesn't seem very romantic to me.
But really, nuts and prunes? Â I ask you – is that supposed to be symbolic or something?
I think I'd better leave this post at that. Dreamers, you have a few more days to plan your dollars, cents, and valentines. But no resting on your laurels – because as of February 15, get ready for shillelaghs and four leaf clovers, with the Easter Bunny not far behind.

Enjoy this special 8WomenDream Guest Contributor story submitted by new and experienced big dreamers throughout the world, edited and published to capture a dream perspective from different points-of-view. Do you have a personal dream story to share with 8WomenDream readers? Click here to learn how to submit dream big articles for consideration.
Note: Articles by Guest Post Contributors may contain affiliate links and 8WD will be compensated if you make a purchase after clicking on an affiliate link.