Last updated on May 23rd, 2012 at 10:36 am
 
All too often do we take the freedoms of our great country for granted–and it's amazing domestic travel adventures. But thankfully we have this nationally holiday to reflect on and celebrate those two things.
For today's post, I dedicated it to the top US Travel routes.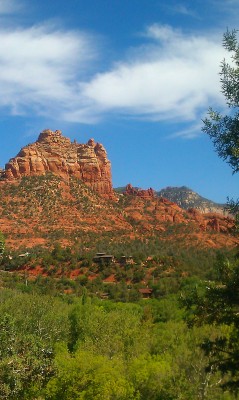 Sedona, Arizona–my quick weekend escape.
When most of us dream of traveling, we take mental vacations to far off, exotic lands. I am all for that, and guilty of it myself, but the great thing is that we don't have to shell out loads of money or fly halfway around the world for a memorable adventure.
With plane travel continuing to rise in cost (and frustration), you don't even have to jet to experience the country.
Here is my unofficial list of top 5 U.S. train and car travel routes complied from National Geographic, my own experience and autoweek.
1. Route: Los Angeles to Chicago on the Southwest Chief train 
Duration: About 40 hours
www.amtrak.com
This 2,256-mile trip starts in congested Southern California but within hours climbs through Cajon Pass into the lonely beauty of the Mojave Desert en route to Arizona.Then come Kansas, Missouri, Iowa, and Illinois as the train passes through the backyards of small towns–peer guiltily into windows of countless homes at night–and the downtowns of big cities.
Noteworthy: Miles and miles of the Painted Desert east of Flagstaff, Arizona, interspersed with dusty towns; from June to August, the train delivers thousands of Boy Scouts to the Philmont Scout Ranch through the stop at Raton, New Mexico; as part of the Trails and Rails program, National Park Service guides from Bent's Old Fort National Historic Site (La Junta, Colorado), Pecos National Historic Park (Pecos, New Mexico), and Petroglyph National Monument (Albuquerque, New Mexico) tell stories on the train between Albuquerque and La Junta, Colorado.
2. Route: Anchorage to Seward, Alaska 
Duration: 4½ hours
www.alaskarailroad.com
The Alaska Railroad system covers 500 miles of some of the world's wildest landscapes–with this 114-mile stretch through the Kenai Mountains by far the most impressive section, says Susie Kiger of the Alaska Railroad. Leaving Anchorage, the route hugs the coast of the Turnagain Arm to a stop at Girdwood; overnight if you wish at the Alyeska Resort.
From there the train veers away from the scenic Seward Highway to areas inaccessible by car, traveling through five tunnels, past cool blue glaciers, and over a river gorge. Watch for moose and bears. Overnight in Seward or simply explore the village and return to Anchorage for a perfect day trip.
Noteworthy: Beluga whales, bald eagles, moose, and Dall sheep along Turnagain Arm; the Alaska Sealife Center in Seward; passing within 800 feet of Bartlett Glacier; sunsets over Cook Inlet on the return trip; the Glacier and Wildlife Cruise into Kenai Fjords National Park.
3. Route: Williams to the Grand Canyon, Arizona 
Duration: 8 hours 15 minutes, round-trip
www.thetrain.com
This rail trek has been offered, on and off, since 1901, taking passengers to the South Rim of the world's most famous canyon. Today you have your pick of coach, first-class, observation dome, or luxury parlor service, with each offering progressively better views and comforts.
All options deliver you to the canyon for a just-under-four-hour stopover to take in the sights. Or overnight in a lodge on the rim. Noteworthy: Views en route of the 12,000-foot-plus San Francisco Peaks; the twisting switchbacks of Coconino Canyon, where passengers can see the curving train out the window; an Old West theme with cowboy musicians and mock train robberies by the Cataract Creek Gang.
4. Highway 1–California Coast
I have driven this route many times, but my one of my favorite stretches is spending the whole day wine tasting in the Russian River Valley and then heading towards the coast and taking it all the way back to San Francisco.
5. Michigan's Upper Peninsula
This offers some great driving and spectacular views, and it hosted the Press-On-Regardless Rally for many years.
Heading east from Hiawatha National Forest near Escanaba, Routes 2, 149, 94, 28, 123 and 221 take you through scenery that looks like locations for the Discovery Channel's Sunrise Earth series.
Other contenders are the 26-mile stretch of SR-35 from Negaunee to Gwinn and US-41 and SR-26 from Houghton to Copper Harbor and back on the Keweenaw Peninsula.
To read more on the Top US dream travel routes see: The 50 best U.S. driving routes.
I know this list is fairly short, and does not do justice to the amazing array of top US routes, so that's where you come in.
Help me add to the list, and comment by answering this question:Â  What your favorite US travel route?
Katie 

Enjoy this special 8WomenDream Guest Contributor story submitted by new and experienced big dreamers throughout the world, edited and published to capture a dream perspective from different points of view. Do you have a personal dream story to share with 8WomenDream readers? Click here to learn how to submit dream big articles for consideration.
Note: Articles by Guest Post Contributors may contain affiliate links and may be compensated if you make a purchase after clicking on an affiliate link.