Last updated on August 30th, 2012 at 03:59 pm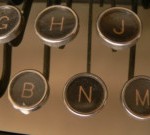 While I've been very productive writing for a living, when it comes to working on my memoir, "Confessions of an Undutiful Daughter," I've spent considerable head time thinking about writing instead of writing.
Add to that stress, a neck and back ache, eating too much, avoiding the gym — even ditching walking the dogs, which I love.
I'm entering week two of this self-sabotage loop and my book project is dead in the water.
But why?
As the book project finish line comes into view it's almost as if I subconsciously don't want to share all I've written, all the cases I've collected, all the methods for protecting daughters from toxic moms I know.
Can I really be that selfish?
Here's my theory. Fear has finally raised its ugly head – – but good.
Fear of actually accomplishing a huge goal.
Fear of actually writing my first book.
Fear of getting it wrong.
Fear of getting it right.
Fear of toxic mothers burning me in effigy at book signings.
My dad always said turning your back on fear was like walking into the ocean backwards. You were going to get wet anyway, why not dive in?
1.  Stick to a schedule – From now until April 30 I am scheduling two hours each day to working on the book. If I have to get up early, fine. If I have to skip other things — like doing laundry — fine.
2.  Take care of your health – I am committing to an hour of exercise each day.
3.  Work collaboratively – I will send new work to my editor each Friday for review.
4.  Factor in time for contemplation – I will alternate write and review days to be sure to let my work "rest." Allowing this float time will help me pare my words down to the bone; crucial for a project like this.
5.  Planning reduces stress – I will write this column each Wednesday in advance of the Sunday run. Lately I've been waiting till Friday, even Saturday to write my Sunday column, which is a clear sign of procrastination. No more.
Just declaring all this makes me feel empowered. It makes me feel like I'm suiting up for battle; A really fun, exhilarating battle that I can win.
I'd love to hear from you on this topic of self-sabotage and procrastination.
What strategies work best for you when you are self-sabotaging?
Rayne 
Rayne Wolfe completed her dream journey May of 2011 on 8WD after a year living her dream. You can find her at Toxic Mom Toolkit on Facebook.

Enjoy this special 8WomenDream Guest Contributor story submitted by new and experienced big dreamers throughout the world, edited and published to capture a dream perspective from different points-of-view. Do you have a personal dream story to share with 8WomenDream readers? Click here to learn how to submit dream big articles for consideration.
Note: Articles by Guest Post Contributors may contain affiliate links and 8WD will be compensated if you make a purchase after clicking on an affiliate link.