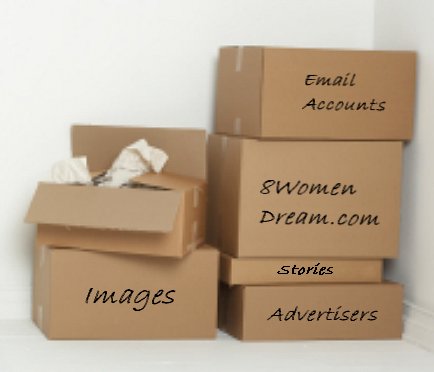 Sometimes dream travel does require that you move everything you own.
My favorite joke to friends who move around a lot has always been, "Why don't you just travel more? Then you don't have to pack your entire house every time you want to experience something new."
This week 8 Women Dream moved to a new web hosting provider: BlueHost.
You might not think of this as a travel-related subject, but moving a website to a new web hosting provider has many of the same qualities of travel: the quest for adventure and a new perspective — along with the need to change things that are no longer working.
Except moving a huge website is very much like moving your home to another country.
To make your dream to have a top blog come true you will need to understand the nuances involved in running an online publication, which includes how well your site performs for visitors and search engines.
In order to be a success you will need to forge business partnerships that are willing to grow with you. Who you choose to host your website is one of the most important partnerships in your online success formula.
From the very beginning 8 Women Dream was hosted with Media Temple, but I cannot say with all honesty that they took care of us very well, or even acted like we mattered as a valued customer. And hosting with them was anything but cheap.
Sometimes when some tech companies get to a certain size they begin to believe their own pr and feel that customers don't know how great they have it, and if they leave they will soon be back, so "good luck with that" they laugh.
As someone who used to make a living as the liaison between software engineers and the end user, I was always fighting for what the end user needed. Without the end user, you have nothing — I don't care how great you think your widget is.  Apple is a great example of how this relationship can work to the benefit of all.
When 8 Women Dream grew 5 times its size in less than a year, we transferred the site to a Media Temple dedicated server in the hopes that the site speed would improve, along with the down time. I have to say that the move to the new "location" created more hassles than solved problems — at a greater expense.  Moving in real life can go this way too.
We tried to work things out with Media Temple, but no one seemed to care what was happening with 8 Women Dream. The load times were driving me nuts.
I know our loyal readers hated it too.
It was during one of these frustrating times that I helped fellow dreamer, Andrea Teggart set up her Polish My Crown blog on BlueHost. I needed to contact BH online support for help with some steps and their customer support ended up completely blowing me away.
Fellow dreamer, Heather and I continued to shop web hosting providers, but kept coming back to the support BlueHost offered online — and how it was way above and beyond what they needed to do.
Sometimes people come into your dream life for a reason, and maybe Andi came to write for 8 Women Dream just to teach me where to take 8 Women Dream so that we could move the site upward to the next level of success.
See … even seasoned dreamers hesitate in the face of good.
Last week when 8 Women Dream maxed out the memory on the MT dedicated server, Heather and I came to the conclusion that it was just time to make the change. Time to leap. Time to move my dream forward. Time to take a risk.
So we up and moved 8 Women Dream to BlueHost on Thursday evening. This morning (on a Saturday!) I received an email from BlueHost tech support that they had fixed a database file for us (without us initiating it) and advised us to update some other files with instructions on how to do it.
Have I died and gone to heaven?
I had to forward the email to Heather because I was so shocked and impressed. Now that's what I call partnering with a company that will help you be a success.
In risking something new, based on a gut feeling, 8 Women Dream was immediately rewarded for making a change.
Sometimes you out-grow things as your dream gets bigger. You may outgrow negative friends, relationships that are stale, old ways of hurting yourself, and old ways of thinking that never moved your life forward. If you are willing to let go of what isn't loving and kind and open to the new and positive, you may find your dreamers trail a friendly, exciting place to be.
Just like those tech companies who think you don't know how good you had it and will be back, some people in your life will judge how much you've changed and believe that you will get over yourself soon and go back to being the person they could influence with their negativity. They probably won't like the new you, and they won't offer much in the way of  dream support — just like Media Temple.
But you must be willing to continue traveling down your dream path anyway, even if it requires big changes — like a move.
Life is too short to spend pleasing others at your own detriment.
Take a risk this week.  Do something in your best dream interest.
Thank you BlueHost for reminding me of this.
Catherine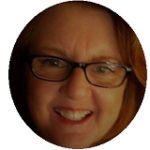 Catherine Hughes is the founder, content director and editor-at-large of 8WomenDream. She is passionate about helping women step out of their own way and strike out into a world waiting for their special talents. She's a published author and a former award-winning mom blogger. Catherine has helped companies both large and small create engaging web content, social media narratives, and unique blogging platforms. She claims to be a redhead, but don't hold that against her.
Note: Articles by Catherine may contain affiliate links and 8WD will be compensated if you make a purchase after clicking on an affiliate link.