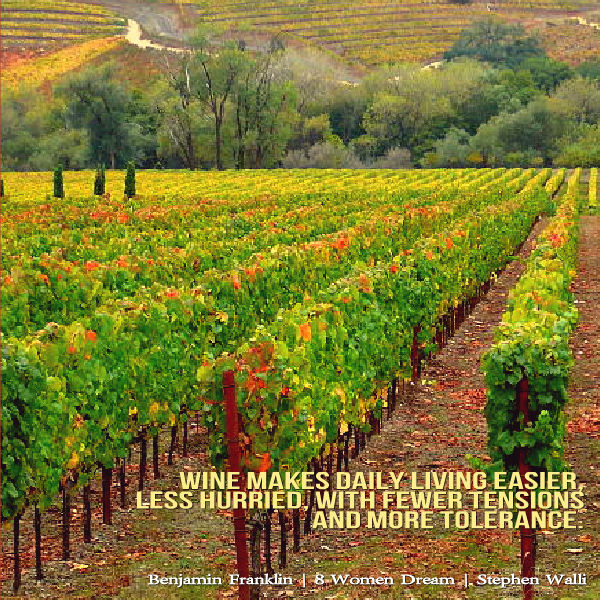 Is your dream to travel to the heart of the California Wine Country and spend time exploring what some have called, "a wine-lovers paradise"?
Then today is your California wine country travel day!
Nestled in this so-called wine paradise in the heart of the California wine country is the 8WD project director, Catherine and her 8WD counterpart, Heather. It's where the 8 Women Dream Project got its start. They will tell you that, while it is a lovely, and expensive place to live, they rarely think of it as wine country, even though they both love wine.
Since so many people dream of visiting the California wine country and have added it to their travel bucket lists, I thought I'd talk about traveling to the sunshine state to drink wine and ask Catherine and Heather for their feedback.
The recent California 6.0 earthquake damaged only a part of the Napa city area, but the destruction was limited to one small part of the California wine country–and a very small portion at that.
California has much to offer if you are looking for a wonderful wine country experience. Napa is only one town in a state filled with grapevine-surrounded communities with great wines to share.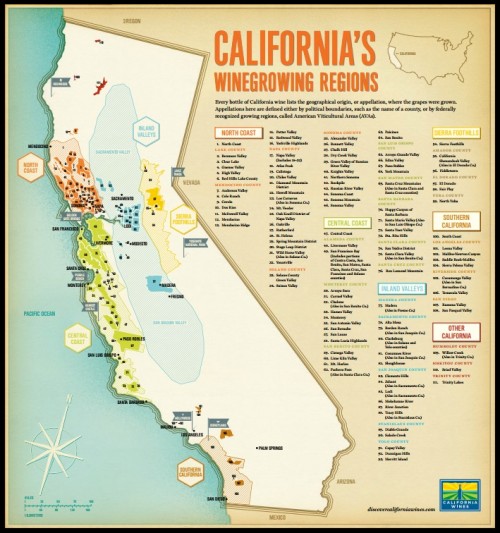 Click on this image for a map of these California wine regions (opens in a pdf)
There are 6 wine regions in California: North coast (where Catherine and Heather are from), Central coast, Sierra Foothills, Sacramento Valley, South coast, and the San Joaquin Valley region.
• The North coast wine region covers the area around the cities within certain north coast counties. In the county of Sonoma it includes the cities of Santa Rosa, Windsor, Healdsburg, Asti, Cotati, Petaluma, Sebastopol, Occidental, Kenwood, Sonoma, Guerneville, Windsor, Geyserville, Cloverdale. In Napa county the cities of Napa, Yountville, Rutherford, St. Helena and Calistoga. There's also Lake county and Mendocino county.
• The Central coast wine region covers the area around the cities of Livermore, Paso Robles, Monterey, Santa Cruz, and Santa Barbara (think Sideways, the movie) to the south.
• The Sierra Foothills wine region covers the area around the cities of Placerville, El Dorado, Amador, Calaveras, and Murphys.
• The Sacramento Valley wine region covers the area around the cities of Sacramento, Lodi, Stockton, Clarksburg and the counties of Yolo and Solano.
• The South coast wine region covers the area around the cities of Los Angeles, Ventura, Malibu, Temecula, Riverside, Cucamonga, and San Diego County.
• The San Joaquin Valley wine region covers the area around Fresno, Modesto, and Madera.
Sonoma County residents will argue that Sonoma County is the true heart of the wine country with famous wineries such as Korbel Champagne Cellars, Francis Ford Coppola Winery, Kendall Jackson Wine Estates, Silver Oak Cellars, and Chateau St. Jean.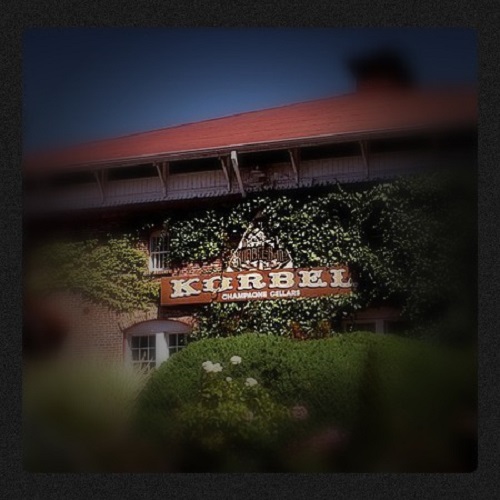 But it can be difficult to know how to plan your trip since even in these smaller regions the wineries are spread out in different locations so it's best to look at a map and maybe plan on visiting four wineries in a day and explore that area. California is a vast state and visitors always underestimate its size and how far apart locations can actually be from each other.
If you are coming to Sonoma County, Catherine recommends that you break up your visit this way (she was born in Santa Rosa and has watched the wine scene play out over the last 30 years) —
1. Russian River Region.
This is the area off of River Road, California starting with Korbel Champagne Cellars then drive east to Westside Road and visit the wineries on Westside Road to lower Dry Creek Road ending in Healdsburg. Favorite winery along this route: Korbel if you are new to the area. Their excellent guided tour explains the rich history of this region.
2. The Lake Sonoma Region.
Start in Healdsburg at West Wines or Murphy Goode and move on to Dry Creek Road again. Locals consider Dry Creek in two sections – lower Dry Creek below Madrona Manor at Healdsburg and upper Dry Creek above (or north) Madrona Manor at Healdsburg. Favorite winery on this route: A. Rafanelli Winery (you have to call and make an appointment, but well worth it!). Pack for a picnic as so many wineries along this route offer great outdoor eating areas, or you can wait and picnic at the grounds on Lake Sonoma and stop at the salmon fish hatchery.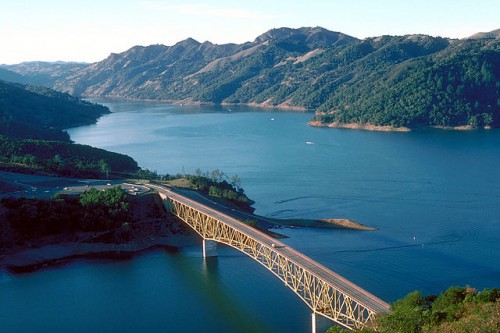 3. The Knights Valley / Alexander Valley Region
This route begins by taking the Shiloh exit off of highway 101 in Windsor travelling east to Faught Road and turning left and following the winery signs. Start at Field Stone Winery and be sure to end with Catelli's restaurant in Geyserville. Favorite winery: Johnson's because of the Basset Hounds and pipe organs. The family are original pioneers of Alexander Valley – go for the experience.  It still has that old family feel that all the small Sonoma Country family wineries were like before larger corporations whitewashed it with marble counter-tops, tile floors, Louise Vitton handbags coupled with bicyclists thinking old roads make great touring routes. The old farmers just shake their heads.
4. The Highway 12 Region.
This route is on the highway between Santa Rosa and Sonoma known as highway 12. This can be a dangerous two-lane road. Accidents that happen here don't turn out well. But it's worth a trip to see this area known to locals as "The Valley of the Moon." Glen Ellen Village Market & Deli is worth the stop along the route. Ledson Winery & Vineyards is worth the stop just to see the site, but a favorite winery along this route would have to be St. Francis Winery. End in Somoma and take in the park and the Sonoma Cheese Factory.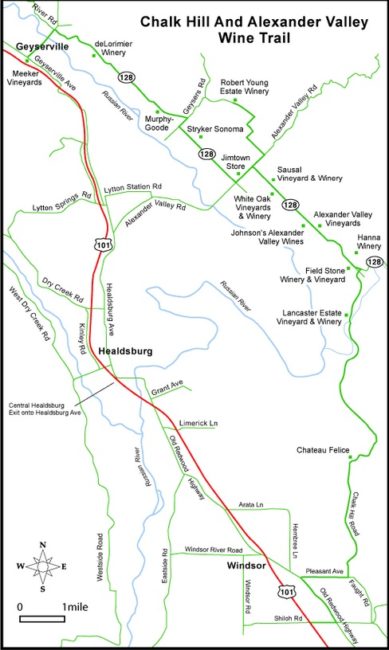 Note: There is no way to travel the entire Sonoma County wine region in one day.  If you want to do that–stay a week.  You'll be lucky to get through part of a wine region in a day.
As for places to stay Catherine and Heather say to avoid lodging on Santa Rosa Avenue in Santa Rosa itself .  A popular hotel is the Hyatt Vineyard Creek Hotel because you can walk to restaurants and downtown Santa Rosa. There are some great Bed and Breakfasts in the area and people rave about Vintners Inn, but it is VERY pricey for a wine country experience. Some love the out-of-the-way Flamingo Hotel.
Other California Wine Country places to visit in Sonoma County?
• Petaluma – Catherine and Heather love the downtown area and Volpis Italian restaurant.  Cops are persnickety in this town so consider yourself warned.
• Marin French Cheese Factory. Lovely spot for a picnic.
• McDonald Avenue Santa Rosa. Be sure to take a photo of Hitchcock's movie "Shadow of a Doubt" house at 904 McDonald Avenue, "Scream" movie location 824 McDonald Avenue, Disney's "Pollyanna" house at 1015 McDonald Avenue.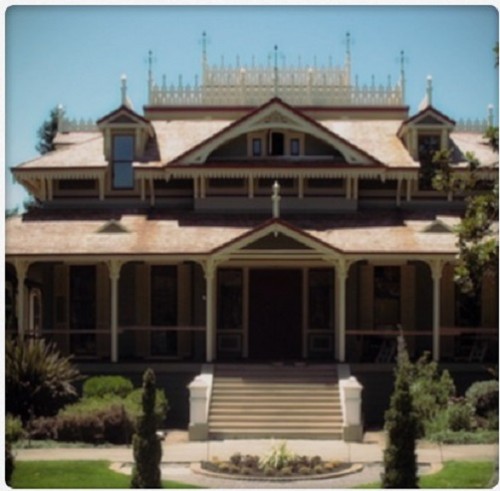 • Charles M. Schulz Museum. The locals don't think much about this place because they could see the man himself sitting in his corner of the ice arena whenever they wished, but they do love that there is a place for people who never knew him to enjoy his work.
• Annabel State Park & Spring Lake. If you like to walk or hike, this is a great little treasure right in Santa Rosa. Check out Lepe's Taqueriaon Montgomery Drive. Great Mexican food next to the park!
• Safari West. Safari West is a 400-acre private wildlife preserve located in Sonoma County, California, United States. The selection of wildlife emphasizes species native to Africa, including giraffes, rhinoceros, cheetahs, and numerous species of birds. (Source).
• Wild Flour Bread. It's famous for its brick oven baked sourdough breads, scones, and biscotti.
• Gravity Hill. Located at the top of Lichau Road in Rohnert Park. If you can find it, it's worth the illusion.
• Bodega and the Sonoma coast. It can be windy, the water cold with dangerous riptides, but a definite must see. Pay the day park fee at Doran Beach and spend the day there. It's a family and dog-friendly beach that's safe to enter the water. Get there early in the morning in the summer or you won't get in at all. On the way there, see if you recognize the famous scenes from the movie, "The Birds."
• Lake Sonoma. Locals know how to get to the water for a nice swim by way of Dry Creek Valley Road. Ask.
• Armstrong Redwoods State Reserve. If you love California redwoods and love to hike this is a must see on your trip to Sonoma County. Gurneville has always been interesting to say the least. Stop at Boon Eat + Drink.
• Occidental.  Eat at Howard Station Cafe.  Old school residents love Negris.  Mama Negri is still there seating everyone.
The best time of year to visit Sonoma County is September and October when the tourists have left and the county experiences its actual summer weather. Summer weather in Northern California tends to happen in August, September and October.  The locals joke that Halloween is the night when the weather finally changes to fall and the rains begin or the nighttime temps make you take your coat with you "just in case."
The wine crush happens during this time as well and depending on Northern California weather, the crush can happen early or late so maybe if you are lucky you'll arrive while the crush is happening and see the grapes harvested from the vine.
Try some wine while you are there too.
Is your big dream to visit the California Wine Country? Or have you already knocked this one off your bucket list? What was your personal favorite?
Natahsa
"The grapes on a score of rolling hills are red with autumn flame. Across Sonoma Mountain wisps of sea fog are stealing. The afternoon sun smoulders in the drowsy sky. I have everything to make me glad I am alive. I am filled with dreams and mysteries. I am all sun and air and sparkle. I am vitalized, organic."

– Jack London
[fbcomments]