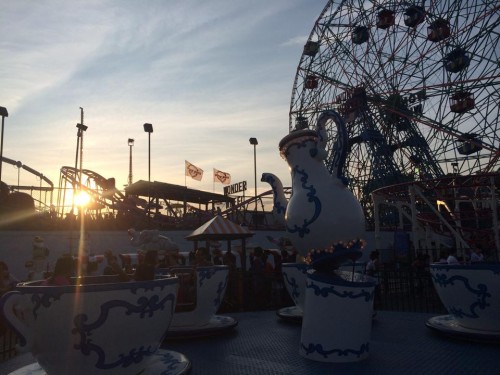 I am a big proponent of checking items off your "Bucket List" as often as you can, vs. saving them all up for "someday." Sometimes "someday" never comes, and in the meantime, we can find happiness in doing what scares us, thrills us or awakens our curiosity.
I don't know the last time you updated your "Bucket List," or if you even have one at all. I update mine generally at least once a year, and did so recently.
Life is too short, I think, to save all the great adventures up for years from now. I got to check a few things off my list this past weekend in New York City, and had a blast.
Coney Island, Here We Come! 
I have always romanticized Coney Island in Brooklyn, because it seems like such a beachfront slice of Americana, filled with history and nostalgia, and of course something this girl loves – roller coasters! I convinced a dear friend to accompany me there last weekend, and we lucked into a gloriously sunny day.
The drive from midtown Manhattan to Coney Island takes about 40 minutes. It was a perfect day to blast the radio and sing along to silly pop and rap songs.
As you get closer to the park, which is appropriately located at 1000 Surf Avenue, you pass Mermaid Street and Neptune Street. That by the way is a bucket list item for 2015 – attending the famous Mermaid Parade on Coney Island, in which people dress in sea-themed costumes and perform for the judges.
Friends of mine have won the Mermaid Parade group performance competition as the "Brooklyn Bombshell Revue" for the past several years. They are swing dancers who do the historic style of American vernacular jazz dance that I do, which is the Lindy Hop.
Next year, I plan to whip up a sparkly costume, heavy on the glitter and fins, and to strut my stuff as a slinky, sexy Mermaid! This trip to Coney Island was more of a jeans-and-T-shirt kind of day, although I did wear big movie star style sunglasses, large round white frames with rhinestones, just because it seemed Coney Island appropriate.
Seeing the Silhouettes for the First Time!
It's thrilling to drive up and see the silhouettes of the roller coasters from a distance, if you are a mild adrenaline junkie like I am.  There is apparently one roller coaster that is new in 2014, which is called the Thunderbolt.
The looping, twirling track is bright orange, characterized by one fold of track at the beginning that sends you straight up towards the sky and then drops you straight down before flying through some upside down loops and whipping around some curves.
A good part of the fun of the park is the kitschy, nostalgic touches that are still there, from the Zoltar game that was featured in the movie Big to the Tea Cup ride that seems straight out an Alice in Wonderland set. Of course, there were all of the sugary delights one would expect: Italian ices, cotton candy, fried dough.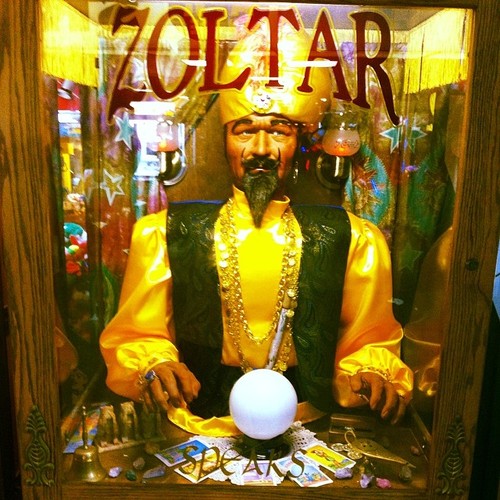 Taking It For A Spin!
I tend to like to challenge myself with big, scary roller coasters, and my friend was less of a fan. We compromised on some rides that twist and spin without tossing you upside down, and without any straight vertical drops.
For someone who doesn't like heights, he was honestly a really good sport. I was just happy to finally check out this kitschy, fun park that is an iconic part of American history.
Of course, we had Italian ices. Watching the sun set at the beach was beautiful.
Next year, I will return to Coney Island as a mermaid. This year, I giggled my way through the day and got to ride some fun, twisty, spinning rides.
And I got to check something else off my bucket list! My friend had never been either, so he was grateful to have finally made it as well.
Next on the List!
My bucket list is long, so hopefully I will live a long, happy, healthy life and be able to travel more of the world as I aspire to do.
I still plan to write books, would love to have a baby or two, want to do more public speaking. I might run for office at least once someday, just to do it, since I've been involved in politics, on and off, for most of my life.
I want to do more dancing. I want to go hang gliding.
Mostly, I want to do things that thrill me, scare me a bit, and challenge me to stretch and grow. Life for me has been a grand adventure, always, and I feel like there is so much more to explore.
Writing Your Own Bucket List!
Do you have a current version of a bucket list? If not, what are you waiting for?
Are there exotic destinations you hope to visit? Instruments you have always wanted to play?
Romance languages that seduce you with their beauty? Dances you'd like to learn?
The point of a bucket list is not to short-change your life now, because every life has an abundance of blessings to appreciate, wherever you are at this moment. It can however help you to stretch yourself, dream bigger, and to better understand what your soul is really yearning for.
I figure it can never hurt to dream big, and I am thankful for all the adventures in my life.
Why not write down a list of things you'd love to do in this lifetime, and go make something happen in 2014! There is no time like now to live fully, and be happy.
The now is all we ever really have. So enjoy it!
Lisa
[fbcomments]