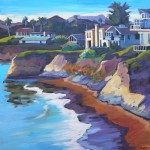 Artrails is an "Open Studio" event where artists open up their studios to the public for two weekends.
Today was opening day and though I had decent foot traffic, sales were still a reflection of our ailing economy.
I feel very calm about this.
I see these events as ways to continue putting my name out there as a plein air painter and not worry about whether someone is buying or not.
I am proud of the fact that I was picked to be a part of Artrails.  It's a "juried event"  and it took me 4 years of applying to get in.
There are 3 sayings I have learned about success –
1.  Failure is the first step towards success.
2.  You must never give up.
3.  The only way to guarantee failure is to never try.
I remind myself about step number 3 every time I feel fear.
Wendy
Wendy Brayton is a plein air painter residing in Sonoma County California.  She was a guest blogger for 8 Women Dream in 2009.